Senator Ben Cardin on US Foreign Policy
Senator Ben Cardin joins the Chicago Council on Global Affairs for a discussion on United States foreign policy.
COST AND REGISTRATION
This video discussion will be facilitated through YouTube and the link will be sent in a confirmation note upon registration.
Register for this event
About This Event
Recent years have brought significant shifts to US foreign policy. From Russia's war in Ukraine and increasing competition between the United States and China, to threats from climate change and human rights abuses, American policymakers are adapting to the ever-evolving global challenges confronting the country. Join US Senator Ben Cardin for a conversation on US foreign policy, his work on the US Senate Foreign Relations Committee, the US Helsinki Commission, and his view of America's role in the world.
United States Senator, Maryland

Ben Cardin was first elected to the United States Senate in 2006. The second-ranking Democrat on the Senate Foreign Relations Committee, Senator Cardin has been a member of the committee since arriving in the Senate.

Related Content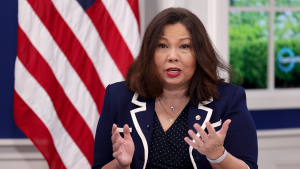 Join Senator Tammy Duckworth at the Chicago Council on Global Affairs for a discussion on security and trade in the Indo-Pacific region.

Representative Elissa Slotkin unpacked her legislative foreign policy priorities, including the conflict in Ukraine, the rise of domestic terrorism, and more.