From the Lester Crown Center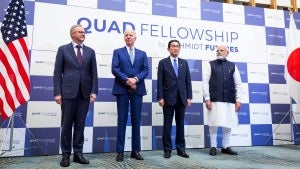 Advancing the group's pillars of prosperity and development will be at the very heart of competition with China in the coming decade.


Sign up to receive a biweekly email with all the latest survey findings, research, analysis, and commentary from Crown Center experts and featured speakers.

The US strategy toward Africa today is neither effective nor sustainable. It's time to flip the script.

Senior Fellow, Public Opinion and Foreign Policy
Dina Smeltz, a polling expert, has more than 25 years of experience designing and fielding international social and political surveys. Prior to joining the Council to lead its annual survey of American attitudes on US foreign policy, she served in the Bureau of Intelligence and Research at the US State Department's Office of Research from 1992 to 2008.


Senior Fellow, US Foreign Policy
Elizabeth Shackelford, a former career diplomat who served the US Mission to Somalia and the US Embassy in South Sudan, focuses on building awareness and understanding of a "restraint" approach to foreign policy, which seeks to limit the use of force to core US security interests and favors diplomatic engagement.


Marshall M. Bouton Fellow for Asia Studies
Karl Friedhoff was a Korea Foundation-Mansfield Foundation US-Korea Nexus Scholar and a member of the Mansfield Foundation's Trilateral Working Group prior to joining the Council. Previously, he was a program officer in the Public Opinion Studies Program at the Asan Institute for Policy Studies based in Seoul, South Korea.
All Lester Crown Center experts