Emerging Leaders Program
Deepen your understanding of global issues and cultivate the skills you need to step into your future as a global leader in Chicago.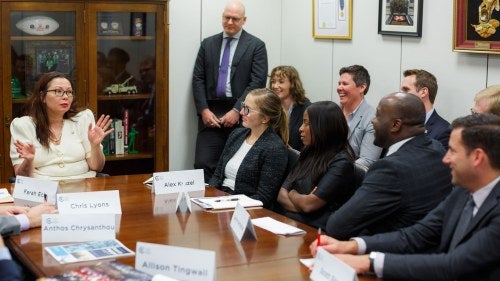 Applications for the Class of 2024 are now closed. The application for the Class of 2025 will open early in the new year.
Think Global, Lead Local: Build a Better Chicago
Through the Emerging Leaders Program, you will:
Develop your knowledge of global affairs
Join a committed, compassionate community of diverse peer leaders
Learn how to influence policy discussions and debates through research and persuasive writing
We do this through:
Bimonthly collaborative learning sessions from October through June
A cohort trip to Washington, DC
Special events and off-the-record meetings with world leaders, policymakers, and other experts
Exclusive Emerging Leader gatherings
Questions?
Director, Emerging Leaders Program


Becoming a Global Leader
Global leaders are globally attuned, civically minded, and locally engaged.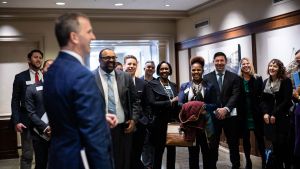 Emerging Leaders class of 2020 speaking with former EL and Member of Congress Sean Casten.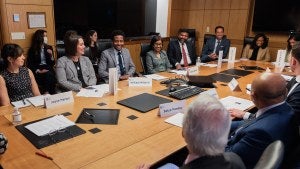 The Emerging Leaders class of 2022 during a meeting in Washington, DC.
By participating in the Council's Emerging Leaders Program, you can expect to:
Develop a thorough, multifaceted understanding of global affairs and US foreign policy
Consider how global challenges impact your field and how your field impacts the world
Formulate and articulate clear, informed opinions on global issues
Hone your public speaking skills
Learn how to write op-eds and policy briefs
Deftly handle television interviews and other media engagements
Become part of a broad network of global leaders from a wide range of industries
Connect with global leaders and experts, including ambassadors, US representatives and senators, government officials, policymakers, and journalists
51%
of recent EL participants
Of our 2021 and 2022 classes of Emerging Leaders, 51% have changed jobs or been promoted within two years of completing the program.
Strengthen Your Leadership Skills
The Emerging Leaders Program centers community connection and experiential learning. We do this through:
We meet twice monthly, February through November (only once a month in July and in August).
Sessions include: 
Presentations by subject matter experts
Skill-building workshops
Group exercises
Conversations with consuls general and global practitioners
Our annual cohort trip to Washington, DC offers a behind-the-scenes look at US foreign affairs and policymaking.
We meet with key figures in US government and global affairs to hear about their work and, during intimate cohort outings, reflect on lessons learned.
We support our Emerging Leaders in making the program their own!
Past Emerging Leaders have:
Toured BP's Chicago headquarters
Presented flash talks to Council staff and board members
As members of our Presidents Club, Emerging Leaders are central members of our community.
ELs join our in-person and virtual events, attend briefings with Council fellows, and engage in private roundtables with world leaders and foreign policy experts.
The Emerging Leaders enjoy an active community of exciting peers.
ELs attend intimate cocktail receptions, board-hosted dinners, and other social events.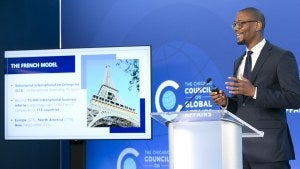 Julien Rosan, Class of 2022, presents the value of developing a "Trade Corps," public-private partnerships that support US-company commercial objectives abroad.
EL Class of 2024 Program Dates
EL Class of 2024 Orientation and Welcome Reception: December 1, 2023
Retreat: January 12-13, 2024
First Friday of each month, beginning February 2, 2024

2024: February 2, March 1, April 5, May 3, June 7, September 6, October 4, November 1

Third Wednesday of each month, beginning February 14, 2024

2024: February 14, March 20, April 17, May 15, June 19, September 18, October 16, November 20

Summer months: July 10 and August 14, 2024
Washington, DC Trip Briefing: date TBD – late April 2024
Washington, DC Trip: date TBD – early May 2024


Founding Principal and Partner, Studio Gang Architects
Jeanne Gang, a 2011 MacArthur Fellow and member of the 2011 class of the Council's Emerging Leaders Program, is the principal architect of Studio Gang Architects, a Chicago-based firm that has been recognized internationally for its innovation in design. She also serves as an adjunct professor at the Illinois Institute of Technology and has been a visiting professor at Harvard, Yale, and Princeton.


Raja Krishnamoorthi represents the 8th District of Illinois, which includes Chicago's west and northwest suburbs. He is the Ranking Member of the House Select Committee on Strategic Competition Between the United States and the Chinese Communist Party and is also a member of the Emerging Leaders Class of 2010.


President, Heartland Alliance
As President of Heartland Alliance, Evelyn Diaz—a member of the Council's Emerging Leader Program class of 2011—is responsible for directing domestic and global strategy for Heartland Alliance's five nonprofit corporate entities. Previously, she was appointed by Mayor Rahm Emanuel to lead the City of Chicago's Department of Family and Support Services.
See all program alumni