Emerging Leaders Selection Process
We invite you to apply now to join our next class of Emerging Leaders in discovering how to think globally and lead locally.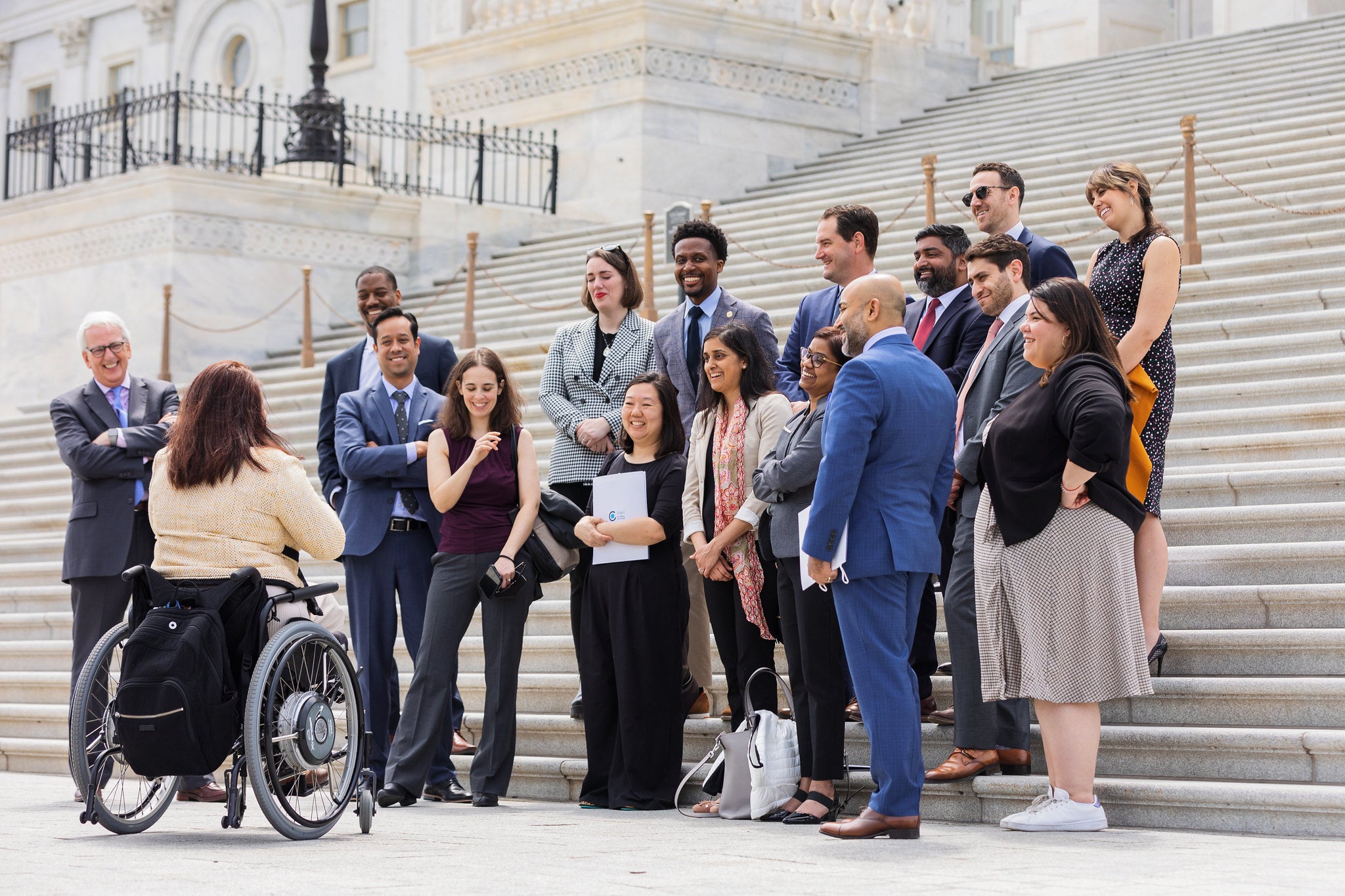 Class of 2024 Applications
Applications for the class of 2024 will be accepted from January 6–September 15, 2023.

Meet the Current Class
For one year, 15 of Chicago's best and brightest from some of the city's most prominent organizations are engaging in a rigorous program to further their knowledge of US foreign policy and global affairs and strengthen their leadership skills.
How to Apply
Applications for the Class of 2024 are now closed. The application for the Class of 2025 will open early in the new year.
You'll complete a candidate information form and submit two essays and two letters of reference. Letters should be completed by references who can speak to your qualifications for the program.
Selection Timeline
Mid to late September 2023: Application evaluation by a selection committee composed of Council leadership members, Emerging Leader alumni, and Emerging Leaders program staff
Early October 2023: Candidates selected for interviews will be notified

These candidates will also be asked to confirm the participation fee, employer sponsorship, and candidate commitments

October 13 and 16-18, 2023: Interviews with subgroups of the selection committee

Interviews will last 20 to 30 minutes and take place in-person at the Council offices.

Early November 2023: Candidates will be notified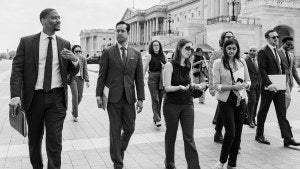 Members of the class of 2022 walk in front of the US Capitol during a trip to Washington, DC.

Members of the class of 2022 discuss the program during their orientation meeting.
Who We're Looking For
You must:
Be at least 35 and no older than 45 on December 30, 2023.
Reside in the greater Chicago metropolitan area, with long-term intentions to remain in Chicago
Ideally, you will demonstrate:
Ambition and drive—You should be highly accomplished in your career and expect to rise to the top of your fields in the next 10 years.
Enthusiasm for global affairs—You demonstrate a strong professional and/or personal interest in global issues, trends, and events.
Community engagement—You are active in your community and committed to working on issues that will have a positive impact on Chicago as a global city. 
Diverse experiences and perspectives—You convey well your diverse contribution to the Emerging Leader community, not only in personal and professional backgrounds but also in intellectual and political perspectives.
We expect that you will be:
Committed to the Emerging Leaders program

Participants agree to be active cohort members, meeting on the first Friday (2 to 5 pm CST) and third Wednesday (5 to 8 pm CST) of each month.

Meetings for the class of 2024 will be in-person, barring unforeseen circumstances.
Participants commit to attending sessions in person.
Employers must be supportive of the time commitment.
On average, participants commit three hours weekly to the Emerging Leaders program.

Participants complete an end-of-year project on a key issue within the Emerging Leaders curriculum. Design and execution support will be provided.
Participants join their cohort for a welcome retreat and trip to Washington, DC.

Invested in the Emerging Leaders program

Participants and their organizations share the costs of participating in the program with the Council. See FAQs below.
Participants become active members of the broader Emerging Leaders community, continuing their involvement by contributing to events, committees, and other engagement opportunities.

Invested in the Council

Participants attend Council events during and following their participation in the program.
Participants continue to financially support the work of the Council with personally significant annual donations.
Financial Commitment FAQ
The Council is committed to investing in globally minded leaders in the Chicagoland area, as demonstrated by its investment in the program since 2008.
For the Class of 2024, the participation fee is:
$20,000 for corporate sector participants
$12,000 for entrepreneurs and those who work for small businesses with annual operating budgets of $5 million or less
$6,000 for academic, nonprofit, and public sector participants
Additionally, each Emerging Leader must make an individual $500 contribution. 
Emerging Leaders are expected to cover some meals and their flight for two days of meetings in Washington, DC in May 2024. Additionally, Emerging Leaders individually continue their engagement with the Council and maintain active membership at the President's Club level after the completion of their program year.
Payment of the participation fee is due before January 1, 2024, and is nonrefundable and nontransferable. Installment payments may be available, with full payment of participation fees due by April 19, 2024.
Once you have been selected to the program you can work with the Emerging Leaders Program staff to arrange for installment payments of your participation fee if needed.
Yes. Payments of participation fees by a third party (not the individual or their employer) are considered charitable donations and tax-deductible as allowed by law. Please note that places in the Emerging Leaders class are nontransferable.
Do you want to articulate the benefits of the EL program to your organization's decisionmakers? Download a sample letter to request their support.
A very limited number of scholarships are available thanks to generous donors to the Emerging Leaders Program. These scholarships support candidates who do not work in the private sector and who would not be able to participate in the program due to financial needs.
All Emerging Leaders candidates are chosen based on the candidate criteria. The expectation is that the participation fee will be paid either by the candidate's employer or by the candidate. Limited scholarship support is available to a small number of candidates. Regardless of scholarship support, candidates must make an individual financial contribution of $500 in addition to their participation fee.