Board of Directors
The Council's governing body is composed of 80 individuals from diverse backgrounds who have a fiduciary responsibility to the organization's future and financial health.
Officers of the Board
Ivo H. Daalder
CEO
Chicago Council on Global Affairs
Sarah Gilbert
President
Chicago Council on Global Affairs
John R. Ettelson
Chair
Chairman Emeritus, William Blair
Lester Crown
Chair Emeritus
Chairman, Henry Crown and Company
Sam Scott III
Chair Emeritus
Retired Chairman, President, and Chief Executive Officer, Corn Products International, Inc.
Brett J. Hart
Vice Chair
President, United Airlines
Michael H. Moskow
Vice Chair
Distinguished Fellow, Global Economy, Chicago Council on Global Affairs
David K. Reyes
Vice Chair
Chief Executive Officer, Reyes Holdings LLC
Jennifer F. Scanlon
Vice Chair
President and Chief Executive Officer, UL LLC
Steve Koch
Treasurer
Managing Partner, Bowline Group
Douglas A. Doetsch
Secretary
Partner, Mayer Brown LLP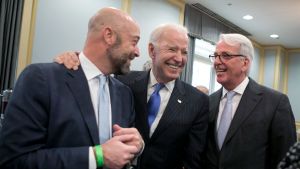 Council board member Chris Keogh, Vice President Joe Biden, and Council President Ivo Daalder.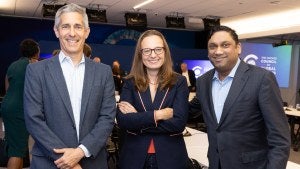 Mark Williams, Council President Sarah Gilbert, and Raj K. Fernando.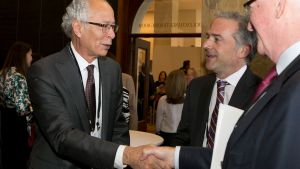 Board member Samuel Scott III, retired chairman, president, and chief executive officer of Corn Products International, Inc.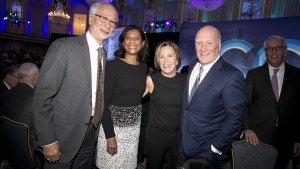 Council board member Sam and Donna Scott, Bernadette Keller, and William M. Daley.
Directors
Eduardo M. Alvarez
Chief Operating Officer, Amyris
Michael Amiridis
President, University of South Carolina
Justin Bandy
Investor, Self-Employed
Sam Barnett
Founder & Chief Executive Officer, SBB Research Group LLC
Bruce Braun
Partner, Sidley Austin LLP
Carlos E. Calderon
Chief Financial Officer, Ariel Investments
Donald A. Cooke
Vice President, Alford Group
Stephen A. Cruise
Managing Director & Global Co-Head of Industrial Corporate Advisory, Greenhill & Co.
William M. Daley
Vice Chairman, Public Affairs, Wells Fargo
Francesca DeBiase
Former Executive Vice President, Chief Global Supply Chain Officer, McDonald's
John DeBlasio
Chairman, DT Global
Founder and Executive Director, Global Peace and Development (GPD) Charitable Trust
Marilyn R. Diamond
Honorary Consul General of Morocco to Chicago
Evelyn J. Diaz
President, Heartland Alliance
Maria Doughty
President and CEO, The Chicago Network
Mary M. Dwyer
Interim President and CEO, Scholarship Foundation of Santa Barbara
Zach Egan
Investment Fund Manager, Anthropocene Capital Management, LLC
Charles L. Evans
Former President and Chief Executive Officer, Federal Reserve Bank of Chicago
Amy Falls
Vice President & Chief Investment Officer, Northwestern University
Raj K. Fernando
Founder and Chief Executive Officer, Workstorm
Paul J. Finnegan
Co-Chief Executive Officer, Madison Dearborn Partners, LLC
Michael M. Froy
Partner, Dentons US LLP
Karen Gray-Krehbiel
Philanthropist
Josh Hale
President and CEO, Big Shoulders Fund
Caryn Harris
Philanthropist, Harris Family Foundation
Fay Hartog-Levin
Former US Ambassador to the Kingdom of the Netherlands
Brad J. Henderson
Chief Executive Officer, P33
Barbara Higgins
Independent Director, EMPLOYERS
David Jacobson
Vice Chairman, BMO Financial Group
Christopher M. Keogh
Co-Head of Midwest, Goldman, Sachs & Co.
Kimberly J. Keywell
Philanthropist, The Keywell Foundation
Becky Knight
President, Knight Family Foundation
Ashish K. Lal
Partner, BDT & Company, LLC
Eric Larson
Co-Founder, Chairman & Co-CEO, Tilia
John W. Madigan
Retired Chairman and Chief Executive Officer, Tribune Company
Angelo Manioudakis
Chief Investment Officer, Northern Trust Asset Management
Craig Martin
Partner & Chairman, Midwest, Willkie Farr & Gallagher, LLP.
Suzet McKinney
Principal and Director of Life Sciences, Sterling Bay
Dorri McWhorter
Chief Executive Officer, YWCA Metropolitan Chicago
Charles J. Moore
President, The Banc Funds Company, LLC
Greg Morris
Senior Vice President and President, Archer Daniels Midland Company
Clare Muñana
President, Ancora Associates, Inc.
Jeffrey C. Neal
Founding Partner, Horizon Capital Advisors, LLC
Pin Ni
President, Wanxiang America Corporation
Funmi Olopade
Walter L. Palmer Distinguished Service Professor of Medicine
Professor of Human Genetics, The University of Chicago
Douglas A. Pertz
President and Chief Executive Officer, The Brink's Company
Richard W. Porter
Corporate Partner, Kirkland & Ellis LLP
Jose Luis Prado
Executive Chairman, Palmex Alimentos
Quintin E. Primo III
Co-Founder, Chairman and Chief Executive Officer, Capri Investment Group
Margot Pritzker
Co-Founder, Community Food Navigator
Raghuram Rajan
Katherine Dusak Miller Distinguished Service Professor of Finance, The University of Chicago Booth School of Business
Allan Reich
Senior Counsel, Seyfarth
Heather Russell
Executive Vice President and Chief Legal Officer, TransUnion
E. Scott Santi
Chairman and Chief Executive Officer, Illinois Tool Works Inc.
Paul E. Schickler
Owner, III Ag, LLC
JoAnn Seagren
Managing Director & Wealth Advisor, JAG Capital Management
Alejandro Silva
Former Chairman and Chief Executive Officer, Evans Food Group Ltd.
Adele Simmons
President, Global Philanthropy Partnership
Ted Souder
Founder, Wiggs Holding
James H. M. Sprayregen
Partner, Kirkland & Ellis LLP
Louis B. Susman
Former US Ambassador to the Court of St. James's, Perella Weinberg Partners
Judy Toland
CMO, P&L Leader, and Board Director
Kay P. Torshen
Founder and Chief Executive Officer, Torshen Capital Management, LLC
Pat Vihtelic
CEO and Founder, Home Chef
David J. Vitale
Chairman, Urban Partnership Bank
Frederick H. Waddell
Retired Chairman and Chief Executive Officer, Northern Trust Corporation
Wanji Walcott
Chief Legal Officer, Pinterest
Decker Walker
Managing Director and Partner, The Boston Consulting Group
Alex Washington
Managing Director, Wind Point Partners
Michael E. Werner
Founder and Chief Executive Officer, Home Experience LLC
Eric E. Whitaker
Chairman and Chief Executive Officer, TWG Partners, LLC
Mark Williams
Chief Executive Officer & Member of Board of Directors, Magna Legal Services
Tom Wyler
Partner, Hakluyt & Company
Maria Wynne
Board Director Federal Home Loan Bank of Chicago
Darren Zeidel
Executive Vice President, General Counsel and Company Secretary, Aon
Endy Zemenides
Executive Director, Hellenic American Leadership Council (HALC)
Honorary Life Directors
Henry S. Bienen
President Emeritus, Northwestern University
Jim Edgar
Distinguished Fellow, University of Illinois
Cyrus F. Freidheim Jr.
Chairman, Old Harbour Partners
J. Douglas Gray
President, Chief Executive Officer and Chief Investment Officer, Marshall Street Capital
Verne G. Istock
Former Chairman and Chief Executive Officer, First Chicago NBD Corporation
Arthur L. Kelly
Managing Partner, KEL Enterprises L.P.
Mike Koldyke
Founder, Frontenac Company
Leo Melamed
Chairman Emeritus, CME Group, Inc.
Chairman and Chief Executive Officer, Melamed & Associates, Inc.
John E. Rielly
President Emeritus, Chicago Council on Global Affairs
Adjunct Professor of Political Science, Northwestern University
Shirley Welsh Ryan
Chairman, Pathways.Org
Richard L. Thomas
Retired Chairman, First Chicago NBD Corporation
Robert E. Wieczorowski
Linda S. Wolf
Retired Chairman and Chief Executive Officer, Leo Burnett Worldwide