Our History
Founded in 1922 to engage Chicagoans in public discussions on world affairs at a time of increasing American isolationism, the Council's mission has evolved as its reach has expanded in the digital era.
1922: The Council's Formation
The Chicago Council was formed during the period of fervent isolationism in the United States after World War I. On February 20, 1922, twenty-three men and women established the Council as an impartial forum for discussing foreign affairs. These founders believed that World War I had catapulted the United States onto the international stage, requiring reevaluation of traditional policies and greater public awareness of foreign policy issues.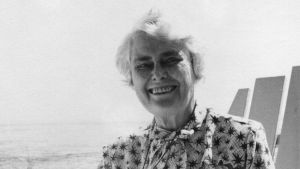 Susan B. Hibbard, co-founder of the Chicago Council.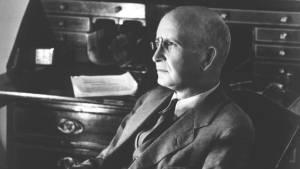 William Brown Hale, co-founder of the Chicago Council.
1920s-1930s: Establishing a Foundation of Excellence
The Chicago Council remained virtually the only voice on foreign affairs in the Midwest throughout the 1920s and 1930s. At a time when the mass media paid little attention to world events, the Council was the region's most reliable source of international news and analysis. In 1930 the Council began broadcasting discussions of foreign affairs and luncheon speeches over WGN radio. Regular meetings and public lectures featuring distinguished international personalities and experts, often drew thousands of guests.
Representative Speakers
British Economist John Maynard Keynes, U.S. President Herbert Hoover, French Wartime Premier Georges Clemenceau, former German Chancellor Heinrich Bruening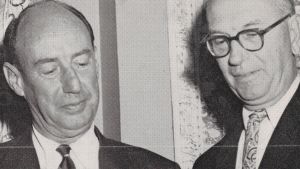 Adlai Stevenson, left, former Illinois governor and Council board chairman (1935-37) with Richard Templeton, board chairman from 1958 to 1960.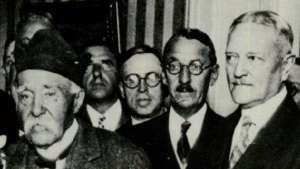 Former French Premier Georges Clemenceau, left, and Gen. John Pershing when Clemenceau addressed the Council in 1922.
1940s - 1950s: Increasing Relevance and Growth
After World War II, the Chicago Council pivoted to attract younger members by forming the Young Adults Group. In addition, the Council introduced suburban programs to reach beyond Chicago. For four years in the 1950s, the Chicago Council used the new medium of television to produce a weekly program, called World Spotlight, for the local public television station to advance understanding of world affairs.
Representative Speakers
First Lady Eleanor Roosevelt, India Prime Minister Jawaharlal Nehru, future Secretary of State John Foster Dulles, U.S. Senator John F. Kennedy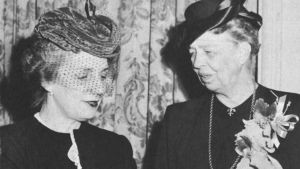 Louise Wright, the Council's executive director from 1942 to 1952, with Eleanor Roosevelt in 1947.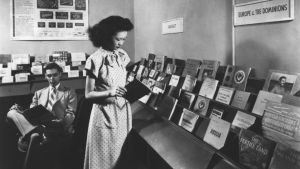 A member browses the Council pamphlet shop in the 1940s.
1960s - 1970s: Broadening Horizons
In the early 1960s, the Council's programming shifted its emphasis to the leading international issues of the day like world hunger and relations between the countries across the Atlantic. The Council also began sponsoring missions to foreign countries, drawing engagement and participation from local business and civic leaders. Entering the 1970s, the Council launched its biennial Atlantic Conference, which brought together foreign policy experts from North America, Europe, Latin America, and Africa for discussions of important themes. 1974 marked the first year the organization conducted and published results for its Public Opinion Survey on Foreign Policy Issues, a significant undertaking that continues to this day.
Representative Speakers
Italian Prime Minister Aldo Moro, Philosopher Mortimer Adler, Israeli Foreign Minister Abba Eban, U.N. Secretaries General U Thant and Kurt Waldheim, U.S. President Gerald R. Ford, Economist Milton Friedman, U.S. Secretary of State Henry Kissinger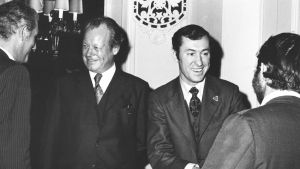 West German chancellor Willy Brandt, left, with Council President John Rielly in 1973.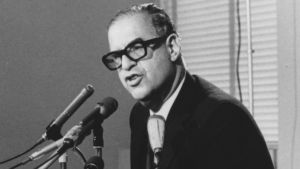 Israeli foreign minister Abba Eban, a regular speaker to Council audiences, in 1972.
1980s - 1990s: Expanding Our Reach
During the post-Cold War period, the Chicago Council expanded upon its specialized programming for business leaders, young professionals, secondary school teachers, international travelers, and the general public. Programming concentrated on European development, economics, and integration, which included facilitation of exchanges between young leaders in the Midwest and Europe. At the same time, human rights became a central topic as civil strife increased in countries around the globe.
Representative Speakers
German Chancellor Helmut Kohl, Canadian Prime Minister Brian Mulroney, Israeli Prime Minister Yitzhak Shamir, Polish Solidarity Leader and Future President Lech Walesa, former Prime Minister of France Valery Giscard D' Estaing, Egyptian President Hosni Mubarak, former British Prime Minister Margaret Thatcher, former Soviet President Mikhail Gorbachev, South Korea President Kim Young Sam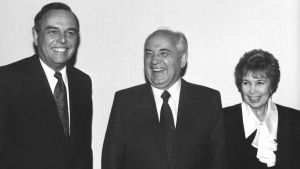 Former Soviet President Mikhail Gorbachev and his wife Raisa, with Council board chairman Bryan, 1992.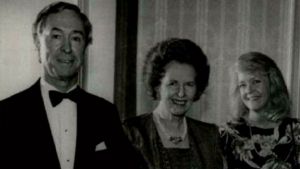 Margaret Thatcher with Council President John Rielly and his wife Irene, in 1991.
Early 2000s: Shifting Toward Globalism
The Council increased activities for public education, drawing US and international leaders and world affairs experts to Chicago. In addition, The Council heightened its focus on trends and themes, including the global economy, democratization, sovereignty and intervention, global institutions, and a changing America. The Council also shifted emphasis to less familiar areas of the world, especially Asia, Africa, and Latin America. Additionally, the Council moved beyond its historic concentration on public education in Chicago and expanded its influence on opinion and policy regarding global issues through activities such as task forces, conferences, and study groups. In recognition of these changes, in September 2006 the Council changed its name from the Chicago Council on Foreign Relations to the Chicago Council on Global Affairs and developed a visual brand identity to represent the organization's unique character and services.
Representative Speakers
Pakistan President Pervez Musharraf, Chinese President Jiang Zemin, Canadian Prime Minister Jean Chretien, Irish President Mary McAleese, Ukraine President Victor Yushchenko, U.S. Secretary of State Condoleezza Rice, President of the Republic of Liberia Ellen Johnson Sirleaf, Australian Prime Minister John Howard, future U.S. President Barack Obama, former UK Prime Minister Tony Blair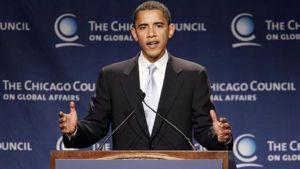 President Barack Obama (then US Senator) speaks at the Council in 2006.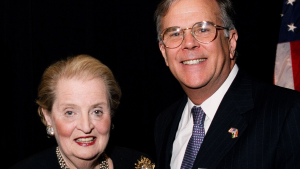 Former Secretary of State Madeleine Albright with Council President Marshall Bouton in 2003.
2010s: A Decade of Change
At the start of the new decade, Council President Marshall M. Bouton launched the Council's efforts to become  a "virtual think tank" by hiring its first fellows and shifted its public programming toward transnational and global issues while emphasizing the Council's ties to the Midwest. The Council's 2009 report on Global Food and Agriculture was given to the Obama transition team and was later implemented as the Feed the Future program under USAID. The Center on Global Food and Agriculture continued to produce annual reports and Global Food Security Symposia through the decade. The Council was the city's partner in organizing the 2012 NATO Summit, where the US Ambassador to NATO addressed Council members. A year later, the very same US Ambassador to NATO and widely recognized national security expert Ivo H. Daalder was named president of the Council succeeding Marshall Bouton. Under Daalder's leadership, the Council expanded its digital capabilities and with that, its stature on the global stage. Its communications staff grew quickly from one person to 10 and its digital reach grew with the use of Twitter, interactive reports, live streaming of events, an improved website, and podcasts.
The Council deepened its focus on global cities with the inaugural Chicago Forum on Global Cities (renamed the Pritzker Forum on Global Cities with a $5 million gift from the Pritzker Foundation). The three-day forum, cohosted by the Financial Times, began in 2015 and has been held every year since. In 2016, the Council moved into a large and modern office space and a state-of-the-art conference center and studio in Chicago's One Two Pru buildings. At the same time as the move, the Council refreshed its brand identity (supported by a subsequent $4 million grant from the Robert R. McCormick Foundation). A $10 million gift in honor of Council chairman Lester Crown established the Lester Crown Center on US Foreign Policy to support research on foreign policy issues, establish an annual lecture and convene a national security roundtable, and fund the Council's public opinion survey. The Council also expanded its network of supporters to include collaborative corporate partners, engaged young professionals, and a community of dedicated members.
Representative Speakers
Secretaries of State Madeleine Albright, Hillary Clinton, and John Kerry; Federal Reserve System Chairman Ben Bernanke; Secretaries of Defense Donald Rumsfeld, Chuck Hagel, and Jim Mattis; New Zealand Prime Minister Helen Clark; Australian Prime Minister Scott Morrison; Singapore Prime Minister Lee Hsien Loong; Ghanaian President Nana Akufo-Addo; NATO Secretary General Anders Fogh Rasmussen; National Security Advisor Susan Rice, President of the Czech Republic Vaclav Klaus; and Turkish President Abdullah Gul.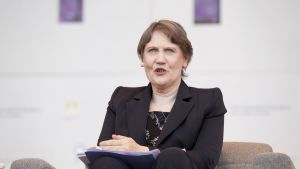 New Zealand Prime Minister Helen Clark speaking at the inaugural Chicago (now Pritzker) Forum on Global Cities in 2015.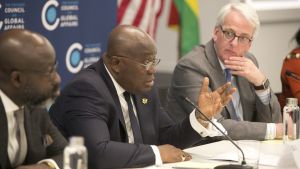 Ghanaian President Nana Akufo-Addo speaking at a roundtable with donors. 
2020 and Beyond: A Second Century
The COVID-19 pandemic profoundly changed our city, nation, and world. For the first time, the Council transitioned to online programming, initiated work-from-home for the entire staff, and cancelled all in-person events.  As the Council approaches its second century in 2022, this is seen not as a temporary solution for an extraordinary time, but a commitment to enhancing our community's experience to propel us all into a more digital future.
The pandemic's disproportionate effect on Black and other minority communities, George Floyd's murder, and the legacy of black suffering at the hands of those charged with protecting us all laid bare fundamental fault lines in our society—systemic injustice, deep-seated racism, and historic inequality. The Council is committed to executing on its mission by building a diverse and inclusive community of individuals who seek to understand the issues that shape our world
Representative Speakers
Former Secretary of State Madeleine Albright, former Norway Prime Minister Gro Brundtland, former Secretary of Defense Robert M. Gates, US Space Force Lieutenant General Nina Armagno, former US Trade Representatives Susan Schwab and Michael Froman, and Lt. Gen. H. R. McMaster. 

2020 Global Leadership Award Honorees Keith Williams, Helene Gayle, and Paul Farmer participate in the annual fundraiser virtually.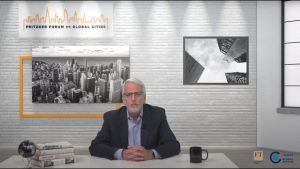 Council President Ivo Daalder kicking off the completely virtual 2020 Pritzker Forum on Global Cities module: Adapting Governance.