Senator Tammy Duckworth on Indo-Pacific Security
Join Senator Tammy Duckworth at the Chicago Council on Global Affairs for a discussion on security and trade in the Indo-Pacific region.
About This Event
As the United States prepares for long-term competition with China, economic and security relationships with trading partners in the region are evolving. From strengthening supply chain resilience to increasing domestic semiconductor development and production, policymakers are taking a host of steps that they believe will put the United States at a competitive edge. Join US Senator Tammy Duckworth for a conversation with Elizabeth Shackelford on Indo-Pacific security and economic relationships, her priorities in Congress related to the region, and America's role in the world.
This is a hybrid event, meaning members are able to attend in person in our conference center but there will be virtual elements. Space is limited. Not a member and want to join our community? Join now.
In-person COVID-19 related safety measures will be followed.
United States Senator, Illinois


Tammy Duckworth is an Iraq War Veteran, Purple Heart recipient, and former Assistant Secretary of the US Department of Veterans Affairs who was among the first handful of Army women to fly combat missions during Operation Iraqi Freedom. She was elected to the US Senate in 2016 after representing Illinois' Eighth Congressional District in the US House of Representatives for two terms.


Senior Fellow, US Foreign Policy


Elizabeth Shackelford, a former career diplomat who served the US Mission to Somalia and the US Embassy in South Sudan, focuses on building awareness and understanding of a "restraint" approach to foreign policy, which seeks to limit the use of force to core US security interests and favors diplomatic engagement.


Related Content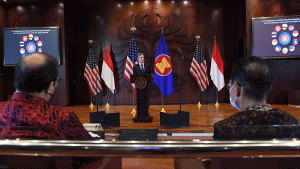 An expert panel assessed how the United States can work with allies in the Indo-Pacific to realize the Biden Administration's vision in the region.