How China is Contesting US Influence in the Pacific
Why is China so eager to make deals with Pacific nations? China experts Patrick Cronin and Bonnie Glaser join Deep Dish to discuss.

About the Episode
Last week, China's foreign minister Wang Yi met with ten Pacific nations to propose a sweeping trade and security agreement. China's intensifying diplomacy in the Pacific demonstrates the region's growing geostrategic importance. China experts Patrick Cronin and Bonnie Glaser join Deep Dish to discuss China's strategy in the Pacific, and how the US should respond. 
Like the show? Leave us a rating and review wherever you get your podcasts.
Reading List
Asia-Pacific Security Chair, Hudson Institute

Patrick Cronin is the Asia-Pacific Security Chair at the Hudson Institute and a former USAID official in the George W. Bush administration. He has a rich and diverse background in both Asian-Pacific security and US defense, foreign and development policy.

Director, Asia Program, German Marshall Fund

Before joining the German Marshall Fund of the United States, Bonnie Glaser was senior adviser for Asia and the director of the China Power Project at the Center for Strategic and International Studies. For more than three decades, she has worked at the intersection of Asia-Pacific geopolitics and US policy. 

Vice President, Studies


Brian Hanson is the Vice President of Studies at the Chicago Council on Global Affairs. He oversees the Council's research operations and hosts the Council's weekly podcast, Deep Dish on Global Affairs.



"The idea that somehow NATO has no interest in the Pacific and should stay away is a misnomer and is not going to happen," says Council President Ivo Daalder on CNN.

Dr. Michael Fullilove, executive director of the Lowy Institute in Sydney, joins Deep Dish to delve into the important but often-overlooked relationship between the US and Australia.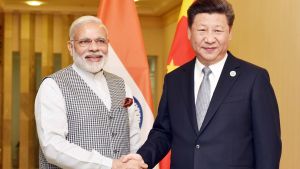 Sushant Singh, deputy editor of the Indian Express newspaper, and the University of Chicago's Paul Staniland discuss New Delhi's perceptions about the "Indo-Pacific" strategy.