How China's COVID Lockdowns Affect the Global Economy
What does China's economic slowdown mean for the world? UC San Diego's Victor Shih joins Deep Dish to discuss.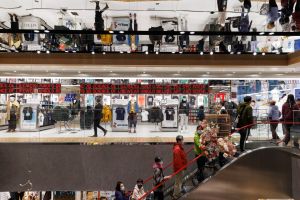 About the Episode
China's latest economic data show the lowest GDP growth expectation in 30 years, rising unemployment, and slowing industrial production in part due to strict COVID-19 lockdowns. Economics expert Victor Shih joins Deep Dish to explain how inflation and the war in Ukraine will exacerbate this decline, what it means for the Chinese Communist Party and Xi Jinping's leadership, and whether Xi's demand for China to match the United States' growth in 2022 is possible.  
Like the show? Leave us a rating and review wherever you get your podcasts. 
Associate Professor; Ho Miu Lam Chair in China and Pacific Relations, UC San Diego


Victor Shih is an expert on the politics of Chinese banking policies, fiscal policies, and exchange rate, as well as the elite politics of China. He was the first analyst to identify the risk of massive local government debt, and is author of the upcoming book "Coalitions of the Weak".


Vice President, Studies


Brian Hanson is the Vice President of Studies at the Chicago Council on Global Affairs. He oversees the Council's research operations and hosts the Council's weekly podcast, Deep Dish on Global Affairs.