Asia's Megacities and the Future of Geopolitics

There is no understanding geopolitical competition in the 21st century without an understanding of urbanization and cities.
Currently in Western societies, there is significant discussion about de-urbanization and suburbanization—people wanting to get away from cities and live the remote life. By comparison, young Asians still aspire to move to cities because of the quality of life, access to public services, education, higher wages, and better health care. Asia is going to continue to be a rapidly urbanizing region and represent the better part of the urban population of the world. Asian cities, especially Asian megacities, are an order of magnitude larger than Western megacities. If you take the entire US Northeast corridor (Boston, New York, and Washington together), this represents a population of 60 to 70 million people, which is approximating the Greater Bay Area of China. In the West, however, there are only a few "urban archipelagos" that could be characterized according to those geographical parameters—in Asia, there are many more.
As such a large proportion of the world's population, the urban demographics of Asian megacities obviously matter greatly, but how do they influence great power geopolitics? Within Asian megacities, there is stratification, a micropolitics depending on economic equality and inequality, access to services, and different spatial organizations. There is a clear relationship to geopolitics based on the function different city components serve in terms of domestic and international economic connectivity and connection to global supply chains. This is, of course, true of megacities across the globe. However, the difference in Asia is that some of the large urban agglomerations and wealthier countries have evolved beyond that to an extreme stratification and have built sufficient infrastructure to absorb populations that provide high-quality services across the board.
The story of this growth and stratification begins with Special Economic Zones (SEZs). As urban populations in Asia expanded rapidly through the 20th century, SEZs represented a conscious strategy for countries to attract investment, become part of global supply chains, expand the labor force, and boost incomes and savings. It is a story identified very often with Shenzhen, which just over 40 years ago was declared China's first SEZ. There are two models of how SEZs become part of the pursuit of national modernization: firstly, those with genuine spillover effects, where local firms copycat those inside the zone leading to more industrial activity and competition, and secondly, those where development spreads and regulations harmonize such that SEZs are no longer needed because the country has one common legal and regulatory standard for investment. Singapore is an example of the latter. Many countries have witnessed the success of China's SEZs and have begun to emulate those practices, as seen in Vietnam and India.  
Through a lens of geopolitics and urbanization, SEZs contribute to the historical process of building empires and superpowers. The origin of any system story of imperial rise is industrial policy. In many ways, this harkens back to the European colonial era and the way cities connect to global supply chains and anchor a country's growing economic weight and gravity in the world. In other words, geopolitical power begins with building a supply chain empire, and that begins with building cities. We really cannot and should not separate conversations about what constitutes or comprises a superpower in geopolitics from its urban foundations. 
The larger processes of urbanization, connectivity, and investment in urban infrastructure in Asia have intensely geopolitical dynamics and territorial consequences. In building a supply chain empire, there is always some resistance, and we are seeing this around the world, but particularly in Pakistan, South East Asia, and Africa. It is evidenced through the militarization of supply chains and particularly anti-Chinese protest in some of these regions.
The enormous investment in urban infrastructure across the Asian continent is further drawing young people to cities, and when projecting forward 10 to 20 years, we should question: which next set of cities will emerge as key hubs of commerce and diplomacy? These are the cities that will act as foundations of power for the countries or regions in which they reside. Many of these may be sitting at the intersecting lines of new Eurasian urban infrastructure. The answer to this question will also have an enormous territorial impact on Central Asian countries, becoming scenic, resource-rich passageways for the connectivity they enable between China and West Asia, the Gulf countries, and Europe.
These seismic shifts in geopolitical power on the Eurasian continent and worldwide are all linked to the complex history of the Western politics of outsourcing and globalization in the 1950s and 1960s and the expansion of Asian megacities as the world's factory floor. The dual processes of urbanization and globalization which have produced Asia's megacities as the foundations of geopolitical power are now reshaping those regions and global urban development on a global scale.
Acknowledgments
This essay was adapted from the workshop "Geopolitics and Urbanisation in the Asia-Pacific" held by the Melbourne Centre for Cities on June 3, 2021.
The Great Powers and Urbanization Project is a collaboration of global leaders in international and urban affairs: the Chicago Council on Global Affairs, the University of Pennsylvania's Perry World House, the Melbourne Centre for Cities at the University of Melbourne, the Argentine Council for International Relations (Consejo Argentino para las Relaciones Internacionales), the Barcelona Centre for International Affairs (CIDOB), and the African Centre for Cities.
Related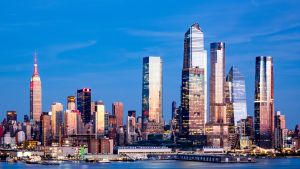 This workshop, part of the Great Powers and Urbanization Project, examines how Belt and Road cities are likely to shape patterns of globalization in the 21st century.
Founder and Managing Partner of FutureMap
Parag Khanna is Founder & Managing Partner of FutureMap, a data and scenario based strategic advisory firm. He is the international bestselling author of seven books, has traveled to more than 150 countries, and holds a PhD from the London School of Economics.