At US-Africa Leaders Summit, Russia and China Provide Subtext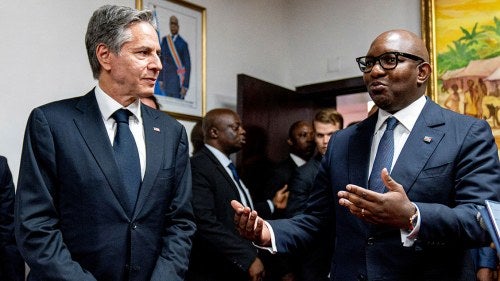 The US-Africa Leaders Summit in Washington, DC, is the first meeting of its kind since 2014. Africa's shift toward China and Russia will be a subtext of the meeting.
The most significant event in United State-Africa relations this year was covered by every major news outlet in Africa – and went largely unreported in American media. It was a state funeral held in Kinshasa, the capital of the Democratic Republic of Congo, on June 30. They were burying a tooth.
Gold-crowned, the tooth was the only existing part of the body of the country's first democratically elected leader, Patrice Lumumba, after his remains were dissolved in acid when he was murdered by Belgian authorities in January 1961. The Belgian policeman who oversaw the disposal of his body bizarrely, grotesquely, kept the tooth as a trophy. (The tooth was seized from the officer's daughter in 2016 and returned to Lumumba's family days before the funeral.) 
In the weeks before his murder, the popular Lumumba had been overthrown with help from the Central Intelligence Agency. The CIA had dispatched its own assassin from Langley to poison him but could not get close enough.
Lumumba's murder has for decades been a source of bitter anger in Africa, where his legend has grown with every passing year. His funeral in June was yet another reminder of US complicity in African destabilization and under-development.
Why does Lumumba's funeral matter? Many observers believe that the economic inroads that China is making in Africa, and the diplomatic successes that Russia appears to be scoring, are the main subtexts of next week's US-Africa Leaders Summit hosted by President Biden. Both phenomena cannot be divorced from anti-US sentiment evoked by events such as Lumumba's burial and a growing determination among leaders that an Africa that has for long been exploited and spoken down to now deserves a seat at the economic and diplomatic top table.
Further, African leaders know that there is a world beyond American soft and hard power, and they are testing it by engaging with Russia and China. They now have choices made possible by a fast-changing geopolitical landscape. Thus, issues of the historical power imbalance between the USA and Africa will be just outside the door of every meeting at the summit.
This imbalance matters now, more than ever, because the stakes have never been higher for the US. On the economic front, bilateral trade between China and Africa rose 35 percent in 2021 from the year earlier to $254 billion, with African exports hitting a record $106 billion, according to the Economist Intelligence Unit. China is Africa's largest trading partner. The US languishes in fourth place. On the diplomatic front, many African countries have consistently refused to support US and European condemnation of Russia's attack on Ukraine, leaving Western leaders fuming and Moscow beaming.
Africa's shift towards China and Russia – both regarded on the continent as more prepared to listen to African leaders – is discernible in recent diplomatic exchanges. Five weeks after the Lumumba funeral, US Secretary of State Antony Blinken arrived in South Africa on a four-nation African tour to "reinforce and deepen its [the USA's] commitment" to bilateral cooperation on global issues. He was told bluntly that Africa would not be bullied by the West into following US foreign policy diktats.
Naledi Pandor, South Africa's Foreign Minister, said: "One thing I dislike is being told to choose this or that. I will not be bullied that way, nor would I expect any other African country to agree to be treated that way."
It was this anti-colonial, anti-imperialist, sentiment that Russian Foreign Minister Sergey Lavrov had stoked when he arrived on the continent a week before Blinken. Lavrov visited the US's long-time ally, President Yoweri Museveni of Uganda, who refused to condemn Moscow over the Ukraine attack: "Whenever issues come up and some people want us to take positions against Russia, we say, 'But you people, these people [Russians] have been with us for the last 100 years, how can we be automatically against them?'"
This sentiment is what the administration will face next week. In a continent where memories are long, the West's past will not be easily erased from the table. It animates the competition between today's three contesting powers on the African continent: China, Russia, and the US.
Biden did well to initiate this summit. He started his term well, too, by addressing the African Union's virtual 2021 summit just two weeks after being sworn in as president. It was certainly a refreshing departure from President Donald Trump's dismissal of African countries as "s***hole countries" in 2018.
Biden can do more. Already, the fact that none of the 50 or so invited leaders has been scheduled to hold a one-on-one meeting with Biden has caused rumblings of unhappiness, particularly given that his Chinese counterpart President Xi Jinping meets tens of leaders at the Africa-China summits held every three years. Gestures matter.
It is a travesty that this is the first gathering of African leaders and a US president since 2014. China has held summits with African leaders every three years since 2000. This explains why it is regarded as a serious player in Africa, while leaders don't believe the US sees the continent as a strategic priority. That needs to change.
African countries are implementing an ambitious continent-wide trade agreement, the African Continental Free Trade Agreement (AfCFTA), which will culminate in the creation of the world's largest single market, connecting 1.4 billion people and 55 countries. The possibilities for collaboration are endless.
But both sides will need to listen, and co-operate as equals, to take advantage of the opportunities that lie ahead.
Columnist and author

Justice Malala is a political commentator, newspaper columnist, and author. His new book on Nelson Mandela's leadership, The Plot To Save South Africa, is out on April 4, 2023.

Explore Related Commentary & Analysis