China, Xi Face Risks With Response to White Paper Protests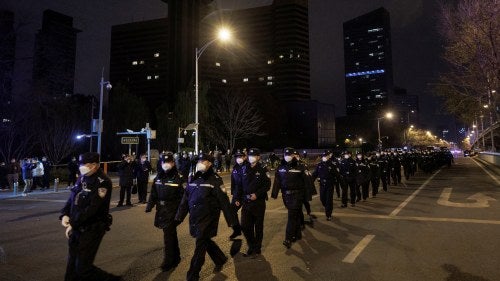 The softening of COVID lockdowns in response to protests is a rare victory for popular pressure in China and could have unexpected consequences, argues Chris Morris.
Whisper it softly, or maybe shout it from the rooftops, but the protests which swept through cities across China at the end of last month appear to have had real impact. In a country where dissent is routinely strangled at birth, that is quite a moment.  
Some of the slogans chanted during the protests were overtly political in nature, publicly criticizing the leadership of President Xi Jinping in hitherto unthinkable ways. But above all the protests represented an outpouring of anger and frustration at the harsh zero-COVID policies which bore Xi's personal imprint, and kept hundreds of millions of people in China under lockdown of one form or another, while the rest of the world opened up.
Now, things are changing. Suddenly people in cities across the country are allowed to travel on public transport or enter parks and shopping malls without a recent negative PCR test. In Beijing, some residents have been informed that if they test positive, they can isolate at home rather than being forced to report to official quarantine facilities.
Last week Xi himself told the visiting president of the European Council, Charles Michel, that the strictest pandemic measures could be relaxed because the Omicron variant of the COVID-19 virus was less virulent than the previously-dominant Delta variant. He also described protesters as 'mainly students' frustrated by three years of COVID restrictions. But the emphasis is on relaxation of measures, not removal.
There had already been initial signs that some of the extraordinarily harsh COVID rules which have dominated life in China since 2020 were beginning to be eased. Perhaps the end of the Communist Party congress in October, which saw Xi Jinping confirmed for an unprecedented third term as party leader, made that a little more likely. But acts of civil disobedience have accelerated the process.
Long-term Impact of the Protests
It is far too soon to know what the long-term impact of the protests might be for the idea of personal freedom or political change in China. The fact that they happened at all was remarkable. But they were relatively small in scale. And the US director of national intelligence Avril Haines, speaking at the Reagan National Defense Forum in California on Saturday, said, "It's not something we see as being a threat to stability at this moment."
But the protests did take place in multiple cities, fueled by indignant posts on Chinese social media, and that may have given the country's most powerful man some pause for thought.
 "Seeing protests, and the response to it, is countering the narrative that he likes to put forward," Haines said, "which is that China is so much more effective at government."
Part of that narrative is based on the fact that China's official COVID statistics put the number of people killed by the virus at just over 5,200, an extraordinarily low number compared to countries in the West. It is improbably low, in fact, and it is hard to assess how much under-reporting there has been. But the public perception is that far fewer people have died under Xi's leadership than in the US and Europe.
On the other hand, one of the underlying causes of the protests was that China's heavy-handed measures to limit the spread of disease had long since passed the point of over-reaction.
An immediate catalyst for dissent was a fire which killed at least 10 people in an apartment building in Urumqi, where lockdown restrictions trapped some people in their homes and appeared to hamper rescue efforts.
As videos from the scene spread online, the sense of helplessness and anger struck a chord with people thousands of miles away who had seen their cities shut down with almost no notice. It was perhaps the last straw after food shortages, rising unemployment, and mental health issues for people forcibly confined to their homes for months at a time.
---
Insight and understanding delivered straight to your inbox
The world is always changing. Enter your email below to stay informed and engaged in the world's most critical issues through our weekly Global Insight newsletter.
---
Will COVID Rise in China as Lockdowns Lift?
So, how to change course in a country which has no history of any public debate of such difficult issues? Part of the problem is that an abrupt policy shift could represent real potential danger. There is justifiable concern that a sudden rise in COVID cases could overwhelm a public health system which has a serious lack of intensive care facilities, leading to hundreds of thousands or even millions of deaths.  
Another reason China isn't ready to deal with a significant wave of infections is that vaccination rates for some groups are so low. According to China's National Health Commission only 66 percent of the most vulnerable sector of the population, those over the age of 80, has been vaccinated, and only 40 percent has been given booster shots. Unlike in western countries, almost no one has any natural antibodies from previous infections because the zero-COVID policy has been followed so rigorously.  
So, if isolation and quarantine measures are to be relaxed somewhat, vaccination programs need to be reinvigorated. And Chinese officials have made clear in the last few days that they will be. Mobile vaccination stations, visit to nursing homes, and door-to-door campaigns are all being planned to reach a greater number of elderly residents.
But the indigenous Chinese vaccines Sinopharm and Sinovac are also less effective than western alternatives, and President Xi Jinping has consistently refused to allow the import of western-manufactured mRNA vaccines which offer higher levels of protection. Western officials don't see this vaccine nationalism changing.
Xi's 'Made in China' policy, designed to create a more self-sufficient national economy, has been extended to include public health policy and vaccine procurement from the beginning of the pandemic. 
In other words, Xi's zero-COVID measures have been part of the explicit emphasis on national security which dominated the Communist Party congress. And the extreme state surveillance that was introduced to deal with the pandemic can be resurrected to deal with other issues.
But if Xi's vision of national security includes exercising total control over the civilian population, whatever forms of brutality that involves, the protests suggest there are some limits to that ambition even in China. 
Political Risks for Xi Jinping
Despite the very real concerns about public health, though, the political risk the protests represent for Xi Jinping may not be as great as some external observers hope or believe. The apparatus of state repression is enormous, while censorship and spam to divert attention from the protests on social media has already been stepped up considerably.  
Xi's political power in China, confirmed at the party congress, remains all-but-unchallenged. And since the pandemic began, he has gone out of his way to the present the zero-COVID policy as a personal triumph and a flagship achievement.
That makes changing course even more difficult, and it has also created excessive zeal for restrictions at local levels. Even though that has become part of the problem, those who have implemented strict measures most enthusiastically have been rewarded. Li Qiang, the man responsible for the extended lockdown in Shanghai this year, was promoted at October's party congress to the second most senior position in the country's political hierarchy.
So, even if the protests have helped prompt a change of heart, Xi is not about to apologize, and nor is the party. Instead, it is busy trying to promote a new narrative which tells people that policy is now evolving thanks to the success of his far-sighted leadership.
That may not work as well as intended, because there is no escape from the broader economic impact of extended lockdowns.  It has been severe: the International Monetary Fund has forecast growth in China of 3.2 percent of GDP for 2022, the lowest level for more than 30 years (apart from 2020 when the world shut down) and far below the official target of 5.5 percent.
The zero-COVID policy, and the impact of the pandemic, is not the only reason for this disappointing economic performance. Demand for the export of Chinese goods has fallen, and the country's working age population is now shrinking. There are longer-term issues at play, but they have been exacerbated by the repressive response to the pandemic.
A Sensitive Moment for China and Xi
So, this is a sensitive moment. The death last week of former President Jiang Zemin, associated with a previous period of greater openness to the outside world and rocket-fueled economic growth, served as an awkward comparison with current travails and frustrations. Security has been tightened, and students sent home early from universities.
But last month's protests were an unexpected snapshot of a society far more complex and dynamic than the image that is sometimes presented to the outside world. It is not that useful to compare them to the 1989 Tiananmen Square protests, the student-led demonstrations which saw up to a million people gather in central Beijing before their movement was crushed by military force.
Nevertheless, something has changed. And if even a small seed has been planted, if people conclude that the largest demonstration of civil disobedience since Xi took power a decade ago has had a positive impact on their daily lives, that could have unforeseen consequences in shaping China's future.
Related Podcast Episode

Writer and Former Correspondent, BBC News


Chris Morris is a writer based in London. He was a BBC correspondent for 30 years, based in Europe, the Middle East, South Asia and the United States. From 2017-2022 he was the BBC's Reality Check correspondent, leading the BBC's on-air fact-checking service.