How the G7 Plans to Counter Economic Coercion by China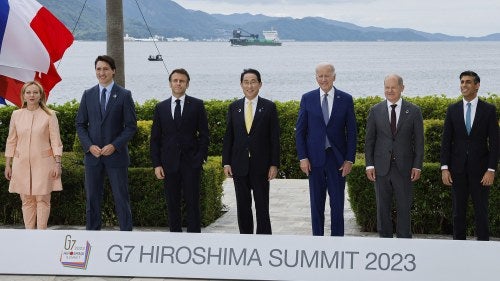 An announcement made following the G7 Hiroshima Summit brings the group one step closer to a proposed "Economic Article 5."
As they met last week in Hiroshima, members of the Group of Seven addressed numerous threats, from the war in Ukraine to tensions in the Taiwan Strait. Leaders also tackled economic security issues, pledging to work together to counter "economic coercion" by authoritarian regimes.  
Here's what you need to know about the tactic and how the G7 plans to respond. 
What Is

Economic Coercion

?

 
In general, it refers to using economic levers to extract political concessions. Instead of relying on military might to force others to acquiesce to demands, countries engaged in economic coercion impose economic costs to influence states in a direction that aligns with their own strategic priorities. The People's Republic of China is frequently accused of pressuring other nations through weaponized economic means. 
Economic coercion differs from sanctions, another foreign policy tool used to target a rival's economy, in that it is usually informal. "Whereas there are many instances of Chinese officials and state media threatening to take punitive economic actions against countries and foreign firms, there are very few cases where the Chinese government has publicly acknowledged implementing coercive acts," expert Bonnie Glaser of the German Marshall Fund explained to Congress. Sanctions, on the other hand, are typically enacted through a legislative process or executive order and made public.  
How It Works

 
A few recent examples illustrate economic coercion. In 2021, Lithuania gave Taiwan the green light to open a Taiwanese representative office in Vilnius—a move Chinese officials saw as an acknowledgement of Taiwan's sovereignty and an affront to their territorial claim over the island. To retaliate, the PRC government blocked Lithuanian exports to China, slapped restrictions on goods being imported to Lithuania, and pressured other countries to cut trade with the Eastern European nation.  
The PRC reacted similarly when Australia opened an inquiry into the origins of the COVID-19 pandemic, placing tariffs on Australian coal, beef, barley, copper, wine, and more. While Sydney has had some success in finding alternate markets for these goods, Australia's robust wine industry—which relied heavily on Chinese buyers—has yet to fully recover. 
The G7's Plan

 
Without naming China specifically, G7 leaders condemned coercive economic actions in a statement following last week's summit and called on all countries to stand against it. The group also unveiled a new platform which aims to respond to economic coercion through information sharing and coordinated action to support affected nations.  
"We will work together to ensure that attempts to weaponize economic dependencies by forcing G7 members and our partners including small economies to comply and conform will fail and face consequences," officials wrote.  
In response, the Chinese Foreign Ministry issued a release referring to the United States as the "real coercer," noting Washington's frequent use of sanctions, and urged the G7 "not to become an accomplice." 
Next Steps: An Economic Article 5?

 
Representing the world's largest advanced economies, the G7 is well-positioned to expand global efforts to counter economic coercion. Last June, Council President Ivo Daalder and the Alliance on Democracies' Anders Fogh Rasmussen pointed to the group as a potential "clearinghouse" for their proposed "Economic Article 5," inspired by the NATO security guarantee in which an attack on one is treated as an attack on all. 
"The democratic world needs a way of dealing with authoritarian actors from a position of strength—economic strength it inherently possesses," the pair argue. "It's time to tell the bullies that if they poke one of us in the eye, we'll all poke back." 
As Daalder noted on Twitter, the G7 plan is "a big step" toward embracing that idea. 
Communications Officer


As the communications officer for the Lester Crown Center, Libby Berry works to connect audiences with foreign policy research and analysis.