Americans on Their Allies, Partners, and Rivals

The Biden administration emphasizes strengthening ties with America's global allies and partners. Which countries do Americans view as their allies—and adversaries?
The Biden administration has placed a heavy emphasis on rebuilding US relationships damaged during the Trump administration. "We will repair our alliances and engage with the world once again," said Biden in a February 2021 speech at the State Department, "not to meet yesterday's challenges, but today's and tomorrow's." And in contrast to the rhetoric of the Trump administration, past Council surveys have found that Americans believe these global alliances benefit the United States.
In addition to formal treaty allies, the United States also enjoys a range of partnerships around the globe. Though these relationships lack the treaty commitments of US allies, they are nevertheless important for US foreign policy and experts, for whom "allies and partners" is a ubiquitous phrase. And as recent research has shown, while US policy experts do place a higher value on treaty alliances than other types of partnerships, that's not an unconditional relationship.
---
Insight and understanding delivered straight to your inbox
The world is always changing. Enter your email below to stay informed and engaged in the world's most critical issues through our weekly Global Insight newsletter.
---
So who exactly do Americans think are allies or partners? And on the other end of the spectrum, who do Americans see as rivals or outright adversaries?
New results from the 2021 Chicago Council Survey find that only France is seen by a majority of Americans (52%) as an ally, a country that shares our interests and values. Other key US allies, such as Germany, Japan, and South Korea, are seen that way by a plurality of Americans. And a range of US diplomatic partners such as Israel, Taiwan, and India are viewed as either partners or allies by many Americans.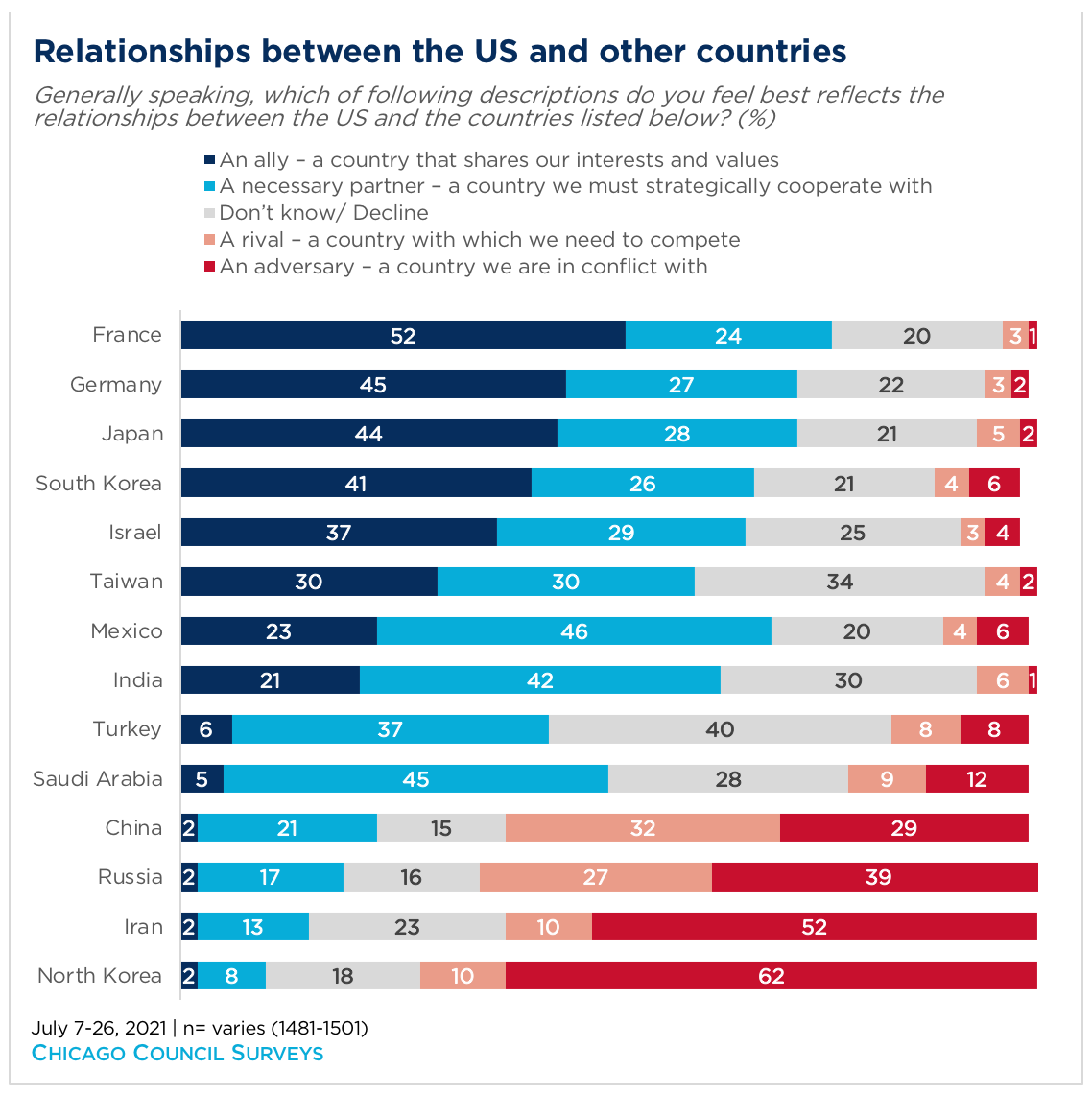 There are also several countries which Americans see as either rivals—countries with which the US needs to compete—or outright adversaries with which the US is in conflict. Topping the list of these hostile nations are North Korea (62% adversary) and Iran (52%), both of which have been the focus of US nonproliferation and regional security concerns in recent decades. Most Americans also see Russia and China as either adversaries or rivals, which have been identified by both the Trump and Biden administrations as challengers to the United States in a range of policy arenas.
Assistant Director, Public Opinion and Foreign Policy


Craig Kafura is the assistant director for public opinion and foreign policy at the Chicago Council on Global Affairs, a Security Fellow with the Truman National Security Project, and a Pacific Forum Young Leader. At the Council, he coordinates work on public opinion and foreign policy and is a regular contributor to the public opinion and foreign policy blog Running Numbers.



Trending Topic: Ukraine
View the latest analysis, events, research, and commentary on Ukraine from the Council.
Related Content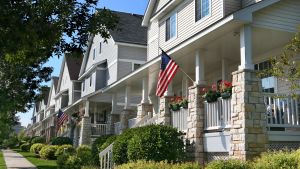 While the Biden administration seems to understand where Americans stand on China and domestic renewal to support global competitiveness, the data disproves their assumptions that Americans are skeptical about trade and weary of US global engagement and leadership.