Super Tomatoes, Corn Wars Part III, and Wheat Woes
March 10, 2023
Check out our roundup of the week's top news and research in food, agriculture, and global development.

Credit: Anne Thurow
Top Story
Ukrainian Agriculture Returning to Solid Ground
A year after Russian troops invaded Ukraine, Ukrainian agriculture is finally seeing some remnants of normalcy in its grain markets. Agriculture ministry officials estimate that farmers planted 4.1 million hectares of winter wheat, up from its estimate in October of 3.7 to 3.8 million hectares. Most of its winter wheat and barley are also in good conditions, and are expected to produce a strong harvest.
Council Insights
Collaboration with China
"We must find ways to reduce the chance that intense rhetoric on both sides of the Pacific leads us into a dangerous or potentially inevitable confrontation," writes Distinguished Fellow Dan Glickman on agriculture relationships with China in an op-ed with Agri-Pulse. "I don't think we can ignore…the need to work together where possible in areas compatible with our national interests and goals at home." Read the full article.

1,000 Days
Shyamkali is one of many mothers who benefitted from the 1,000 Days, a movement focused on providing proper nutrition during the first 1,000 days of a child's life. Nine years after one of her daughters was born, Senior Fellow Roger Thurow revisits Shyamkali and other mothers in India to see the longer-term impacts of the 1,000 Days movement on their lives. Watch the video below to learn more about her story.

Food & Agriculture 
Swine Fever 
The Philippines confirmed an outbreak of African swine fever in the central Cebu province and deployed response teams to detect the extent of the infection. Out of 149 blood samples from Carcar City in Cebu, 58 tested positive for the disease, which is highly contagious among pigs but not harmful to humans. The latest outbreak brings the total number of active African swine fever cases in the Southeast Asian country to 12 out of more than 80 provinces.
Crisis in Pakistan
A deepening cost of living crisis in Pakistan is making it hard to put food on the table. The government has been desperately trying to reach an agreement with the IMF to resume a $6.5 billion loan program, but IMF conditions are getting in the way. Food prices are expected to continue rising unless Pakistan receives immediate financial intervention. 
Wheat Woes
UN officials are worried Russia might not extend the Black Sea Grain Initiative, with days to go before the expiration of the vital deal allowing exports of Russian and Ukrainian wheat and fertilizers out of the Black Sea. Ukraine and Russia signed a UN-backed agreement last year, enabling the export of over 23 million tons of Ukrainian grain from blockaded Black Sea ports. The deal is set to expire on March 18.
Deeper Dive 
What Caused Pakistan's Economic Crisis?
Pakistan's economy has been in free fall for months. Inflation is on the rise, foreign reserves have plummeted, and the rupee's value is falling. Caused by an economy that spends more than it produces and relies on external debt, the crisis has been in the making for years. This year, however, political instability and the summer's catastrophic floods exacerbated the economic struggles, creating what might be Pakistan's greatest economic challenge yet.
Resilience
Marine Breakthrough
After nearly two decades of work, UN delegates finalized the High Seas Treaty, an agreement to ensure the conservation and sustainable use of marine biological diversity in international waters. The deal covers nearly two-thirds of the ocean. Researchers laud it as an essential step for conservation that encourages international research collaboration while preserving marine biodiversity. 
DC Report 
Corn Wars Part III
The Biden administration is challenging Mexico's proposed ban on genetically modified corn from the United States, which threatens the country's agricultural trade and could harm US producers. Mexico plans to phase out genetically modified corn and glyphosate by 2024, and senior US officials have expressed concerns about the restrictions for over a year. The US requested consultations with Mexico under the United States-Mexico-Canada Agreement, stating that Mexico's ban on genetically modified corn does not conform to the agreement's promises based on scientific research.
Big Actors
Protecting Forests
Heads of state gathered in Gabon at the One Forest Summit to adopt the Libreville Plan to stop deforestation as a solution to limit global warming. The One Forest Summit focuses on preserving tropical forests and biodiversity. The Libreville Plan includes a 100-million-euro fund and a mechanism for rewarding countries that effectively protect forests and their biodiversity and carbon stocks through "biodiversity certificates."
Big Ideas
Super Tomatoes
A Cornell University's plant breeder and geneticist developed over a dozen new lines of naturally pest-resistant tomatoes. The tomatoes contain just 2.5 percent of wild tomatoes' DNA, eliminating undesirable flavors and other "negative" traits. Seed companies will have access to the new lines of tomatoes, but crossbreeding with their varieties could take up to five years before reaching the produce aisle.
Ask an Expert
What is the importance of the first 1,000 days on a child's life? What long-term impacts did you notice when you revisited the mothers and children in your book The First 1,000 Days last summer?
"When I returned to Uganda, India, and Guatemala to visit the mothers and children featured in The First 1,000 Days book, it was clear how important good nutrition is in giving children the best possible start in life. The children are all nine years old now, in school, with ambitions of becoming teachers, nurses, doctors, police officers, firefighters, and civil servants. The nutritional practices of the moms – providing diversified diets rich with essential vitamins and minerals – helped their children beat the odds of malnutrition and stunting that are pervasive in their countries. Stunting, which hinders physical growth and cognitive development, is a life sentence of underachievement. Instead, the moms saw their aspirations coming true, a promise from their nutrition lessons: with proper nutrition, your child can achieve great things!" Learn more about the mothers and their stories.
— Senior Fellow Roger Thurow
Senior Fellow, Global Food and Agriculture


Roger Thurow spent three decades at The Wall Street Journal as a foreign correspondent based in Europe and Africa prior to joining the Council in 2010. His coverage spanned the fall of the Berlin Wall, the release of Nelson Mandela, the end of apartheid, and humanitarian crises. He is the author of three books.



Experts discuss impunity and accountability across Africa in the 21st century.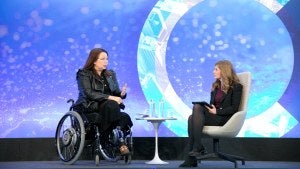 Join Senator Tammy Duckworth at the Chicago Council on Global Affairs for a discussion on security and trade in the Indo-Pacific region.
Did you miss one of our previous livestreams? Don't worry! They are all available on our website to watch at any time.
Other Upcoming Events
Food Loss and Waste in Fruit and Vegetable Supply Chains
Date: March 14
Time: 9:30 – 11:00 a.m. ET
Water & SDGs: Downscaling WATer Relevant SDGs
Date: March 21
Time: 6:00 – 7:30 p.m. CT
How Environmental Policy Impacts Our Quality of Life
Date: March 21
Time: 6:00 – 7:30 p.m. CT
IFAD Innovation Talk on Evaluation through the Lens of Brain Science: Building a Humanized Approach for Better Results
Date: March 22
Time: 2:00 – 3:00 p.m. CET
Science and Innovation for Food Systems Transformation – Follow Up to the 2021 UN Food Systems Summit
Date: April 11
Time: 9:30 – 11:00 a.m. ET
---
Land Acknowledgement Statement
The Center on Global Food and Agriculture recognizes it occupies the ancestral land of the Kiikaapoi, Peoria, Kaskaskia, Bodwéwadmi, and Myaamia people. Indigenous communities around the world disproportionately experience the pressures of climate change, global conflicts, and the COVID-19 pandemic, while simultaneously stewarding 80 percent of the world's biodiversity. These Indigenous tribes and nations are the original owners of this land and continue to be systemically erased by policies and practices that ignore their histories. To learn more about Indigenous foodways and practices, check out our 2022 blog series "Stewardship, Sovereignty, and Solutions."
Communications Officer

Natalie Burdsall joined the Chicago Council on Global Affairs in 2022 as the communications officer for the Center on Global Food and Agriculture. In this role, they promote the work and impact of the Center to expand public engagement in global food and agriculture, and assist in bringing the Council's digital transformation to fruition.

Intern, Center on Global Food and Agriculture

Clayton Elbel joined the Council as a 2023 spring intern with the Center on Global Food and Agriculture.