Reconnecting to Indigenous Food Sovereignty Values and Practices
Zuni Youth Enrichment Project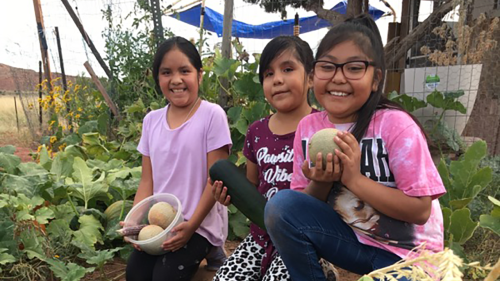 The Zuni Indigenous community looks towards their past to address issues around agriculture, food access, health, and the environment in sustainable ways.
In October of 2022, the Chicago Council on Global Affairs is launching a blog series titled, "Stewardship, Sovereignty, and Solutions" that features the voices of guest authors from Indigenous organizations and communities. Recognizing that Indigenous communities around the world disproportionately experience the pressures of climate change, global conflicts, and the pandemic, while simultaneously stewarding 80 percent of the world's biodiversity, the blog series aims to highlight Indigenous and traditional agricultural practices in the US and globally. In bringing attention to Indigenous agriculture and foodways, we aim to promote a truly inclusive global food system that recognizes and actively counteracts the oppression of Indigenous peoples. 
---
When our world thinks about the contemporary challenges around agriculture, food access, health, and our environment, many experts search for advanced, futuristic solutions. In Zuni, New Mexico, the tribal community is looking to their past to address these issues and reconnect with traditional practices and beliefs that are based in sustainability. 
The Zuni Tribal Community 
Located in the Northwestern part of the state, Zuni is an isolated Native American reservation with a population of over 10,000 tribal members. Despite historical and modern forms of colonization and trauma, the community still follows a culture and speaks a language that traces back to the emergence of their ancestors thousands of years ago. The cultural calendar is rooted in the seasons and life cycles of plants, with various religious ceremonies based on seeds, relationship to the land, and prayers for precipitation. Caring for and sustaining all life forms, in this world and beyond, is essential in Zuni culture. Values of respect, discipline, kindness, balance, and so much more are ingrained in the life ways and beliefs of the Zuni people. Before Spanish colonization, the bulk of a typical Zuni person's day was centered on tending to their garden and caring for their family. 
Zuni Community Resilience through Changes to Lifestyle and Cultural Practices 
Throughout history, specific events as well as subtle influences have shifted the tranquil ways of life for not only the Zuni tribe, but many Indigenous communities, making large ripple effects through the generations. Change in diet and access to food for Zuni are among the largest challenges the community faces. With various health disparities—including diabetes rates that are six times higher than the national average, according to a ZYEP study—the Zuni community has had to stay resilient with the drastic changes in lifestyle. Once sustained by their own heirloom seed-derived harvests, tribal members are now consuming processed, easily accessible foods that are not recognized by the ancestral genetics within their bodies. This shift can be directly linked to the inaccessibility of the Zuni River, which once flowed through the village and was the lifeline for community fields and cultural beliefs. With a neighboring town building dams and the tribe not pursuing the legal route to address the unjust infringement of riparian rights, the water was cut off from the people, causing a monumental decrease in traditional agricultural practices. 
Through these hardships, Zuni remains strong. Many Zuni youth still have access to their grandparents, who are fluent in the Zuni language and participate in cultural activities. However, they are competing with modern ideologies and technologies. The Zuni language is becoming endangered, and the traditional values are being forgotten. Capitalism is directly contradictory to the traditional way of Zuni life. Yet, Zuni youth need to find the balance of both worlds in order to live. How do Zuni youth, or any Indigenous youth, stay connected to their traditions and have a strong sense of identity while pursuing goals in a fast-paced and ever-changing world? 
ZYEP Leans Into Strengths of Zuni Community through Food Sovereignty 
Zuni Youth Enrichment Project (ZYEP) is a Native-led 501(c)(3) organization that promotes the resilience of Zuni youth and provides youth programs that foster youth to grow into strong, healthy adults who are connected to their traditions. ZYEP offers programming focused on physical activity, art, food sovereignty, built environment, connection to land, and youth development, all rooted in Zuni culture. ZYEP believes that the Zuni community possesses the strengths and knowledge that the youth need to be holistically well. ZYEP seeks guidance from various advisory committees from within the community to guide its work and what it offers the youth, ensuring that ZYEP's food sovereignty program is centered on Zuni values and truly connects the youth to their culture. 
ZYEP offers year-round activities that educate and engage youth in Zuni-based nutrition and gardening. The motto ZYEP teaches the youth is, "We grow, we share, we eat, we save," which represents the ongoing cycle of food sovereignty, and activities include seed saving and rainwater conservation. In collaboration with many community partners, ZYEP cares for various gardens within Zuni; notably, all community gardens have been 100% nourished with harvested rainwater. To support home gardening, ZYEP provides garden kits for families to have everything they need to grow their own food. These kits include: heirloom, drought-resistant seeds; rich, locally harvested soil; youth-sized gardening tools; and culturally relevant educational materials.  
ZYEP also ensures that these families have rainwater harvesting systems to sustain their gardens. Each year, ZYEP creates an annual Agriculture Support Team so multiple tribal members who are passionate about growing gardens can assist families in their growing season. When it is time to harvest, ZYEP offers cooking demonstrations and seed-saving workshops as well as additional education around caring for the land and allowing it to rest for the next season. On top of this, ZYEP provides in- and after-school programming to over 1,000 Zuni youth per year, passing on the message of food sovereignty and sustainability to the next generation.  
Keeping Indigenous Youth Connected to Traditions is Key to a Healthy, Sustainable Future 
ZYEP's focus on connecting Zuni youth to their traditions is pivotal to preserving Indigenous foodways and practices, including food sovereignty. Following this culture-centric approach would benefit other organizations and communities; the journey of listening and reconnecting to traditions can bring healing and solutions to environmental challenges. 
ZYEP is a conduit for Zuni's community-based knowledge and strengths to reach Zuni youth and families. The youth project uplifts community voices and initiatives involving food sovereignty, and its advisory committees provide the framework and values for all related programs. At the end of the day, reconnecting to Zuni culture's healthy, sustainable, and deeply rooted traditions is the most effective way to address the modern issues we see today; we just need to slow down and listen.
---
You can learn more about ZYEP and the Zuni community by visiting zyep.org. This blog was written with help from ZYEP staff. 
Executive Director, ZYEP

Tahlia Natachu is the Executive Director of the Zuni Youth Enrichment Program (ZYEP). She is from Zuni Pueblo and her clans are dakkya:kwe (frog) deyan yadokkya:kwe awan cha'le (child of the sun). Natachu feels a deep sense of responsibility to continue the ZYEP tradition of providing high quality activities and caring mentors to youth.