Native Food Sovereignty: Strengthening Connection to Culture

Community and family gardens provide the foundation for Native Food Sovereignty, and allow the Cheyenne River Sioux Tribe to reclaim their local food system.
In October of 2022, the Chicago Council on Global Affairs is launching a blog series titled, "Stewardship, Sovereignty, and Solutions" that features the voices of guest authors from Indigenous organizations and communities. Recognizing that Indigenous communities around the world disproportionately experience the pressures of climate change, global conflicts, and the pandemic, while simultaneously stewarding 80 percent of the world's biodiversity, the blog series aims to highlight Indigenous and traditional agricultural practices in the US and globally. In bringing attention to Indigenous agriculture and foodways, we aim to promote a truly inclusive global food system that recognizes and actively counteracts the oppression of Indigenous peoples. 
---
Since the nonprofit Cheyenne River Youth Project (CRYP) opened its doors to the Cheyenne River Sioux Tribe community in 1988, we have kept the traditional Lakota values of generosity, spirituality, wisdom, respect, courage, honesty, and patience at the heart of our work. We integrate these values into all our youth programs, family services, and community activities. 
One of our core initiatives is Native Food Sovereignty, which allows us to reclaim our local food system. This means improving access to nutritious and traditional foods, raising awareness around how healthy foods can help combat public health issues such as obesity and diabetes, and encouraging food-related economic development here on Cheyenne River. Community and family gardens provide the foundation for all of this. 
Strengthening Culture and Connection Through a Community Garden 
Our 2.5-acre, pesticide-free Winyan Toka Win (Leading Lady) Garden is the beating heart of our five-acre campus in Eagle Butte, South Dakota. Guided by traditional and spiritual principles, we are dedicated not only to growing our own local, nutritious produce, but also to strengthening the connection our children and our community have with Lakota life ways and Unci Makha (Grandmother Earth).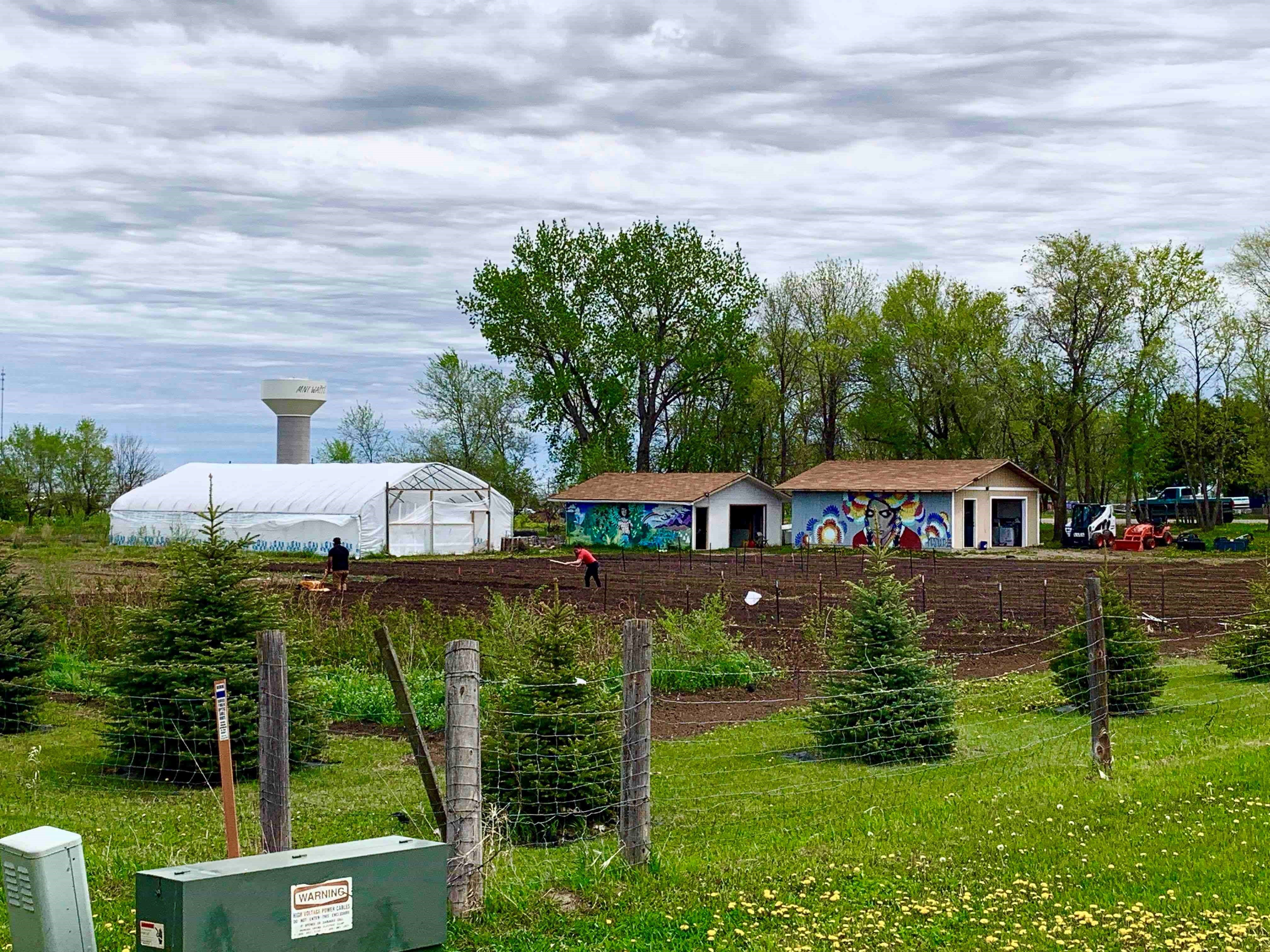 Fostering that sense of connection has been the focus of the Winyan Toka Win Garden since the 1970s. Iyonne Garreau, my mother, developed the original vision for this community garden when our elders expressed their desires for traditional foods and for Lakota children to be reacquainted with the earth. My mother always strived for Native Food Sovereignty and security, as well as for sustainable agriculture. She felt community gardens would begin to solve the many health issues Indian people have. She stressed the importance of fresh produce in a daily diet, the significance of traditional foods for indigenous people, and the powerful relationships that a naturally grown garden can foster between generations, as well as between our people and the earth. 
When the garden became too much for the Elderly Nutrition Center to manage, our CRYP staff and volunteers took on the responsibility for planting, maintaining, and harvesting the garden. Once we learned to manage those annual operations, we were able to connect with the partners we needed to help us build out a unique combination of spiritual, human, and land-based resources.  
These resources became the foundation for our most beloved youth programs, community workshops and classes, and social enterprises. They also allow us to feed our people nourishing food that grew in our own prairie earth. This is a powerful thing for us, because we lost our richest soils more than half a century ago. 
Bringing Lakota Resilience to Community Gardening 
When the U.S. Army Corps of Engineers and Bureau of Reclamation dammed the Missouri River in the 1960s to create Lake Oahe, the Cheyenne River and Standing Rock tribes lost more than 200,000 acres of prime bottomland to the rising waters. The Cheyenne River Sioux Tribe's headquarters was relocated from the Old Agency (now beneath the lake near the US Highway 212 bridge) to the dry, windswept prairie at Eagle Butte.  
Gardening and farming are not easy here on the high prairie. The soil is not rich or easy to cultivate, like the river bottoms. We must work hard to water, nourish, and care for the land. We must coax the plants to grow and thrive. It has been a learning process, but over time, we have gained valuable expertise.  
In recent years, our garden has yielded up to 10,000 pounds of produce per growing season. In 2020, CRYP experienced one of the best harvests in our history. Last year, unfortunately, more than 90 percent of South Dakota experienced some level of drought, which contributed to the loss of the corn crop. It was a sad loss, but it reminded us once again that Lakota people are resilient. We nurtured the other crops to the best of our ability, and we were still able to harvest nearly 5,000 pounds of produce in 2021. At the moment, our staff, interns, and volunteers are busy with the 2022 harvest, and we are eager to see what the final numbers will be. 
Native Food Sovereignty Programs Benefit Community Members of All Ages 
Thanks to our garden, we are able to incorporate produce into daily meals and snacks, provide it to our community through the Leading Lady Farm Stand and our annual Harvest Festival and "Thanks for Kids" dinners, and generate revenue through our social enterprises.  
We want to make sure our community has access to naturally grown and traditional foods to not only support their physical health, but also to address the connection to culture that is essential for our mental, emotional, and spiritual health. As Lakota people, we want to do more than simply live — we want to thrive. 
The Winyan Toka Win Garden also serves as a living classroom, offering hands-on learning opportunities to young children and teens. For our younger participants at The Main, a CRYP Garden Club allows them to learn how to plant seeds, weed and water the growing plants, and eventually help harvest the fruits and vegetables.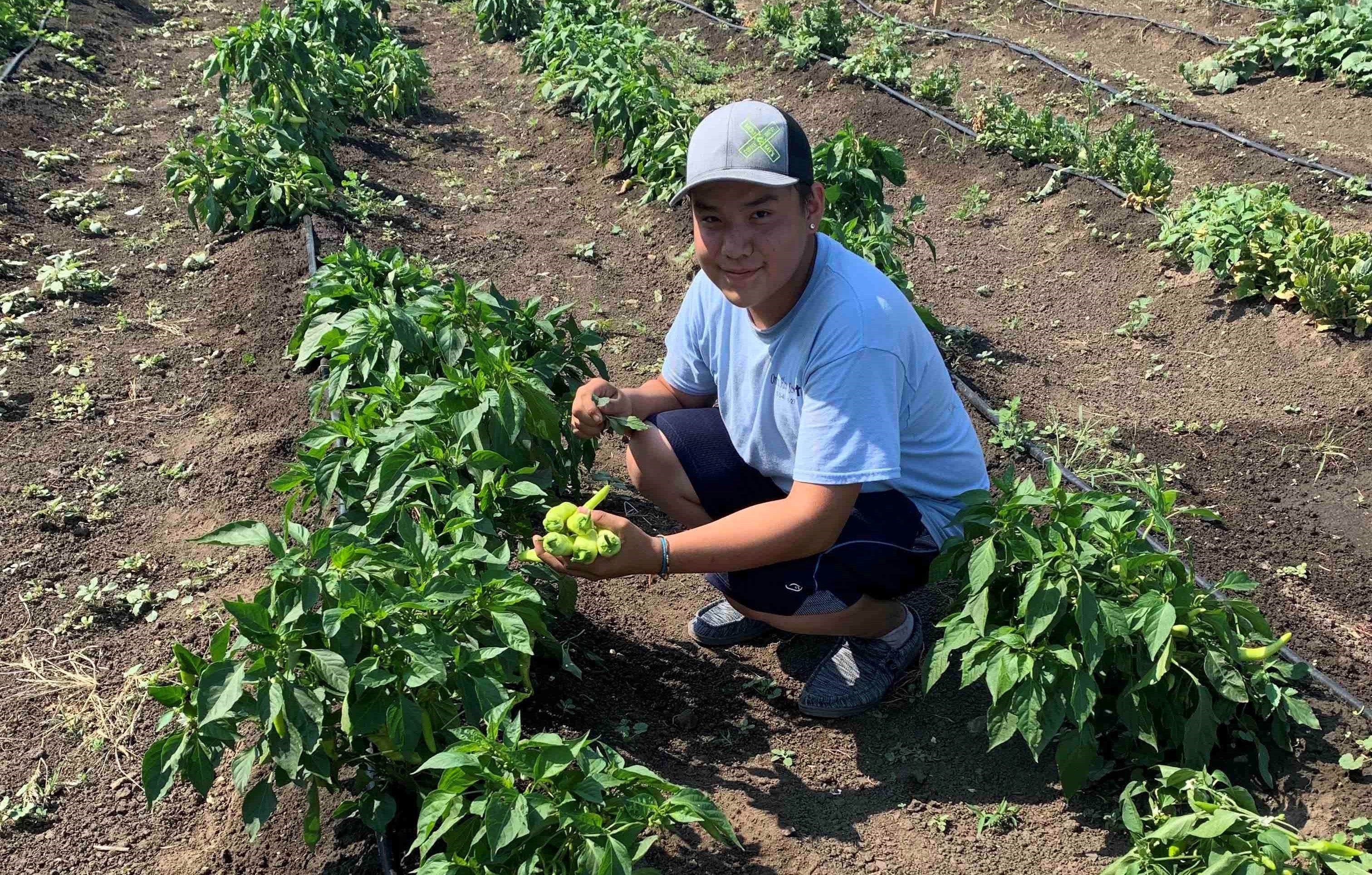 That learning process becomes more in-depth as the children grow into our programming at Čhokáta Wičhóni. There, teens apply to become a CRYP Teen Intern in one of six tracks: Art, Native Wellness, Social Enterprise, Lakota Culture, Indigenous Foods & Cooking, and Native Food Sovereignty. The Native Food Sovereignty interns expand their gardening knowledge and are more active participants in the planting, nurturing, and harvesting processes. They also have significant responsibilities in our commercial kitchen, where processing and preservation take place. Furthermore, CRYP offers Native Food Sovereignty and Sustainable Agriculture workshops and classes throughout the year that are open to members of our Cheyenne River community.  
Native Food Sovereignty is Vital to Decolonization 
Our Native Food Sovereignty initiative brings multiple generations together to learn about sustainable agriculture, connect to our Lakota culture, and spend time outdoors with our hands in the earth, caring for growing things. All of this is vital to our well-being, particularly in the wake of the COVID pandemic.  
It is also a vital component of decolonization. When we grow our own food, we are returning to our traditional life ways and actively rejecting the Western diet, which incorporates cheaply produced, highly processed items with too much wheat, corn (especially corn syrup), saturated fats, and refined sugars. In addition, as we return to those traditional life ways, we are becoming less dependent on outside systems. Instead, we are pursuing a course of self-determination for a more sustainable and secure future. We owe that to our ancestors, who sacrificed so much so our people would endure, and we owe that to our children, who are the Lakota Nation's future leaders and culture bearers.  
Through our Native Food Sovereignty programming, we hope to set a powerful example for our community and other Native nations. We can reclaim our food systems, we can take charge of our own wellness, and we can revitalize our communities. Most importantly, we can do it together. 
---
The Cheyenne River Youth Project, founded in 1988, is a grassroots, not-for-profit organization dedicated to providing the youth of the Cheyenne River reservation with access to a vibrant and secure future through a wide variety of culturally sensitive and enduring programs, projects, and facilities that ensure strong, self-sufficient families and communities. To learn more about the Cheyenne River Youth Project, call (605) 964-8200, or visit www.lakotayouth.org. 
Executive Director, Cheyenne River Youth Project

An enrolled member of the Cheyenne River Sioux Tribe, Julie Garreau (Lakota name Wičhaȟpi Epatȟaŋ Wiŋ) is executive director of the nonprofit Cheyenne River Youth Project in Eagle Butte, South Dakota. She is also currently a 2022 Vital Village Fellow.