But those feeling an economic pinch are more likely to say that Moscow should enter peace negotiations.
According to the US State Department, the unprecedented Western sanctions against Russia have slowed down the Russian weapons industry, limited the flow of advanced technology into the country, and financially impacted oligarchs through restrictions on the import and export of luxury goods. For the US public, sanctions are also the policy response of choice to pressure Moscow. But sanctions may not be turning the tide of public opinion in Russia itself. A November 24–30 Chicago Council–Levada Center poll reveals that most Russians are unconcerned about sanctions and say they have not created serious economic problems for their households.
Key Findings
Only about two in 10 Russians say the Western sanctions have caused serious problems for their household (18%). An additional 27 percent report that sanctions have created some problems but not serious ones. But a narrow majority of Russians say that sanctions have not created problems for them or their families (53%).
Six in 10 Russians are somewhat (30%) or very unconcerned (30%) about Western political and economic sanctions on Russia, while only four in 10 are somewhat (20%) or very (19%) concerned.
Russians who have faced problems as a result of sanctions are more likely than those who have not to say that the government should enter peace negotiations.
But very few Russians volunteer that sanctions relief should be a top priority for future peace negotiations.
Most Russians Not Seriously Impacted by Sanctions
While Western sanctions against Russia are first and foremost targeted toward President Vladimir Putin and his inner circle; Russian government officials; executives in the financial, energy, and technology sectors; and the defense industrial base, Western policymakers also hoped they would squeeze Russia's economy and increase public disaffection toward their government. Russia's overall economy has contracted over the last year, but according to a large majority of Russians, sanctions have created no problems (53%) or only minor problems (27%) for their families. Only a fifth of Russians say they have faced quite serious (13%) or very serious (5%) problems because of the sanctions levied against the country.
Similarly, the majority of the Russian public remains quite (30%) or totally (30%) unconcerned about the current sanctions, with only two in 10 each saying they are very or quite concerned. Levada polling further shows that among those who have experienced problems as a result of the sanctions, the main issues have been price increases (32%), the disappearance of certain goods or brands from store shelves (26%), and difficulties traveling (11%).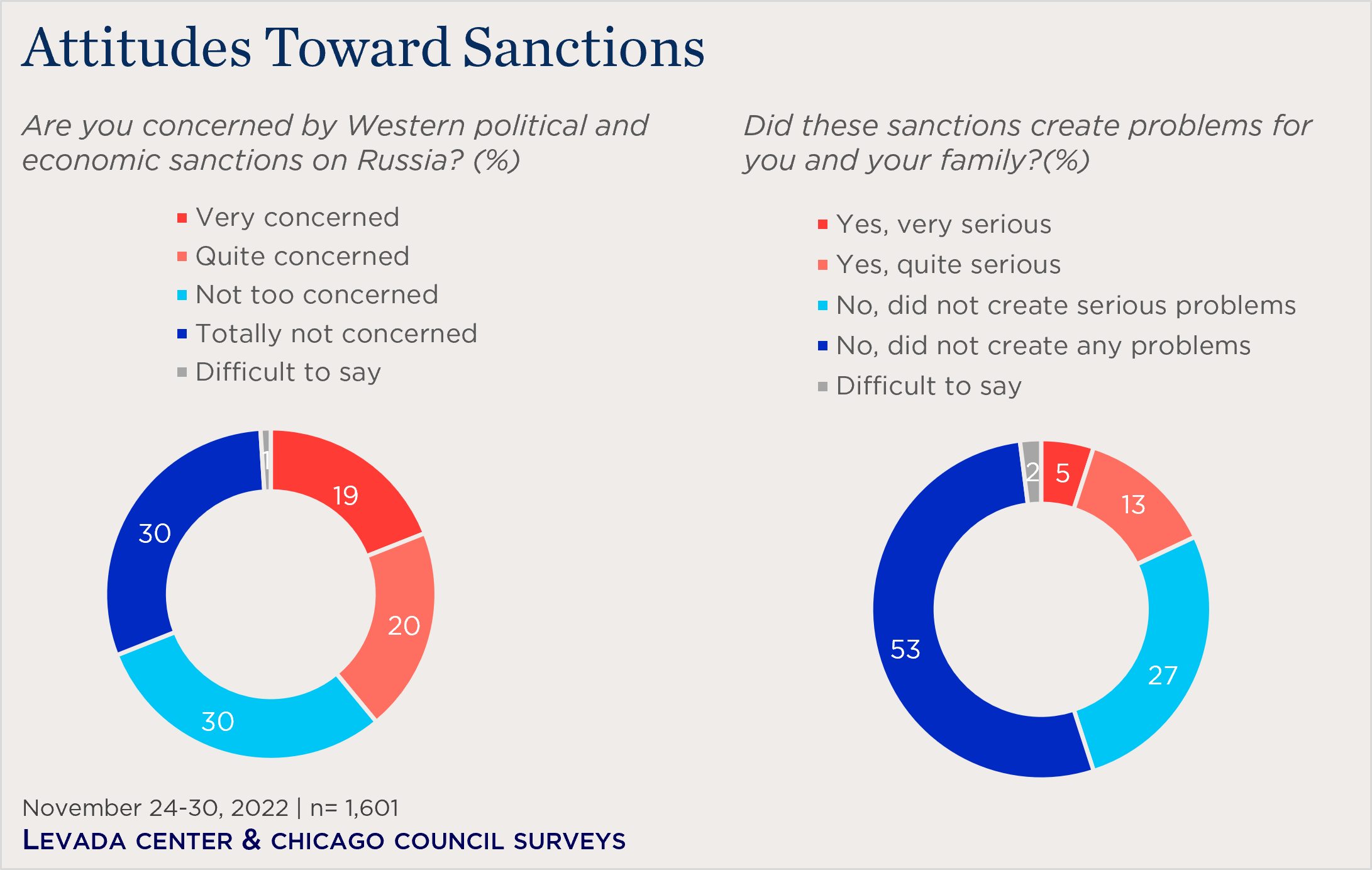 This relatively low level of concern is consistent with how Russians have reacted to sanctions throughout this year as well as during past periods of heightened tension between Russia and the West. Concern about sanctions spiked in March 2022, with 46 percent of the public saying they were very (19%) or quite (27%) concerned about the sanctions at that time (see figure). This elevated concern was likely due to a spike in prices in Russia just after sanctions were imposed, but prices have since declined along with the public's stated level of concern.
In 2014 when the United States and its partners imposed sanctions on Russia in response to the Kremlin's annexation of Crimea, the Russian public was similarly undaunted by Western sanctions. Only once, in December 2014, has the public been more concerned (51%) than not (46%) about the impacts of these policies.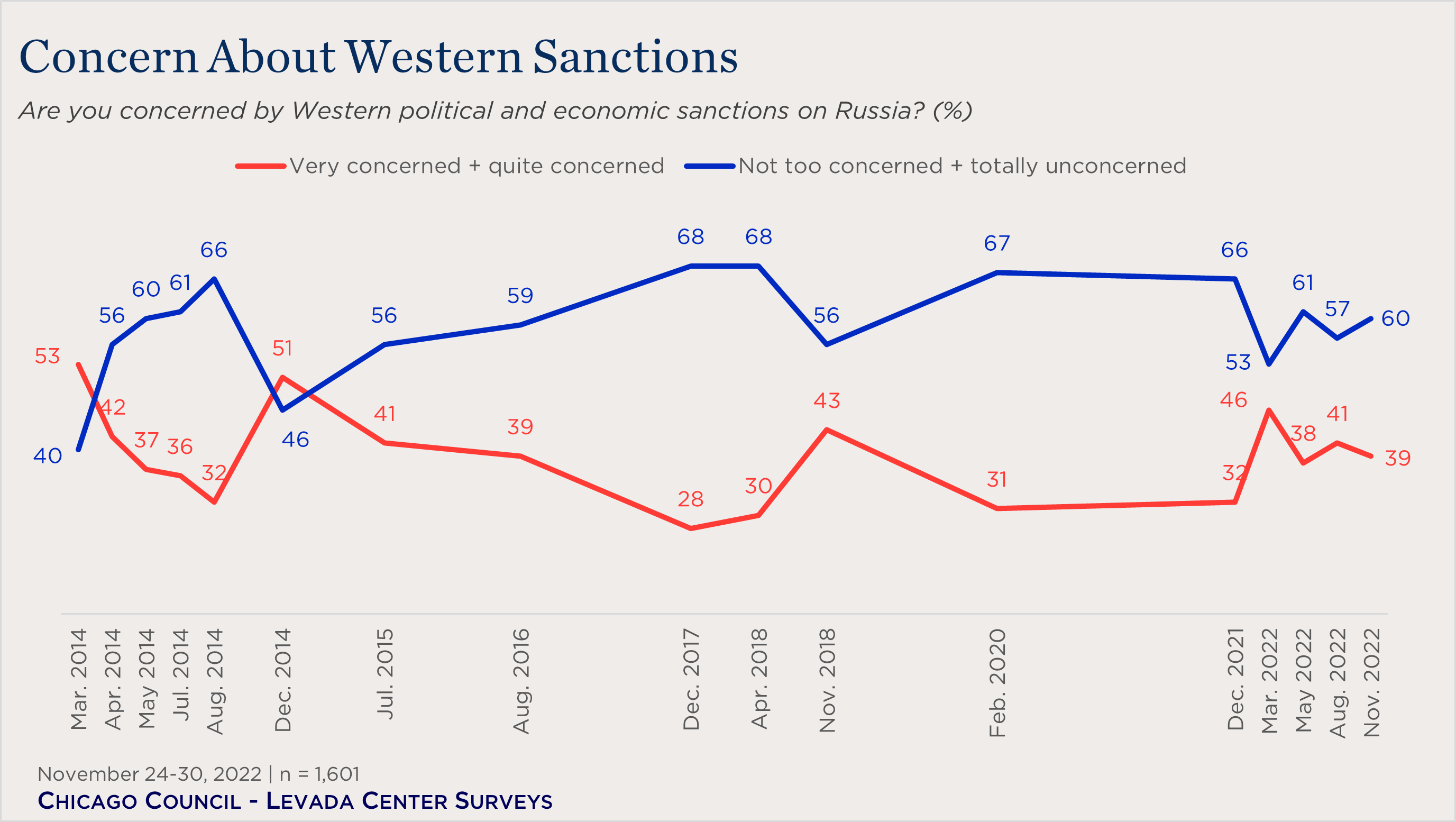 When it comes to sanctions creating problems for everyday Russians, no more than a third of Russians (apart from 34% in January 2015) has ever expressed that sanctions were creating very or quite serious problems for their families. And despite the unparalleled nature of the West's 2022 sanctions, fewer Russians have faced sanctions-related problems this year than did during the 2014–15 period.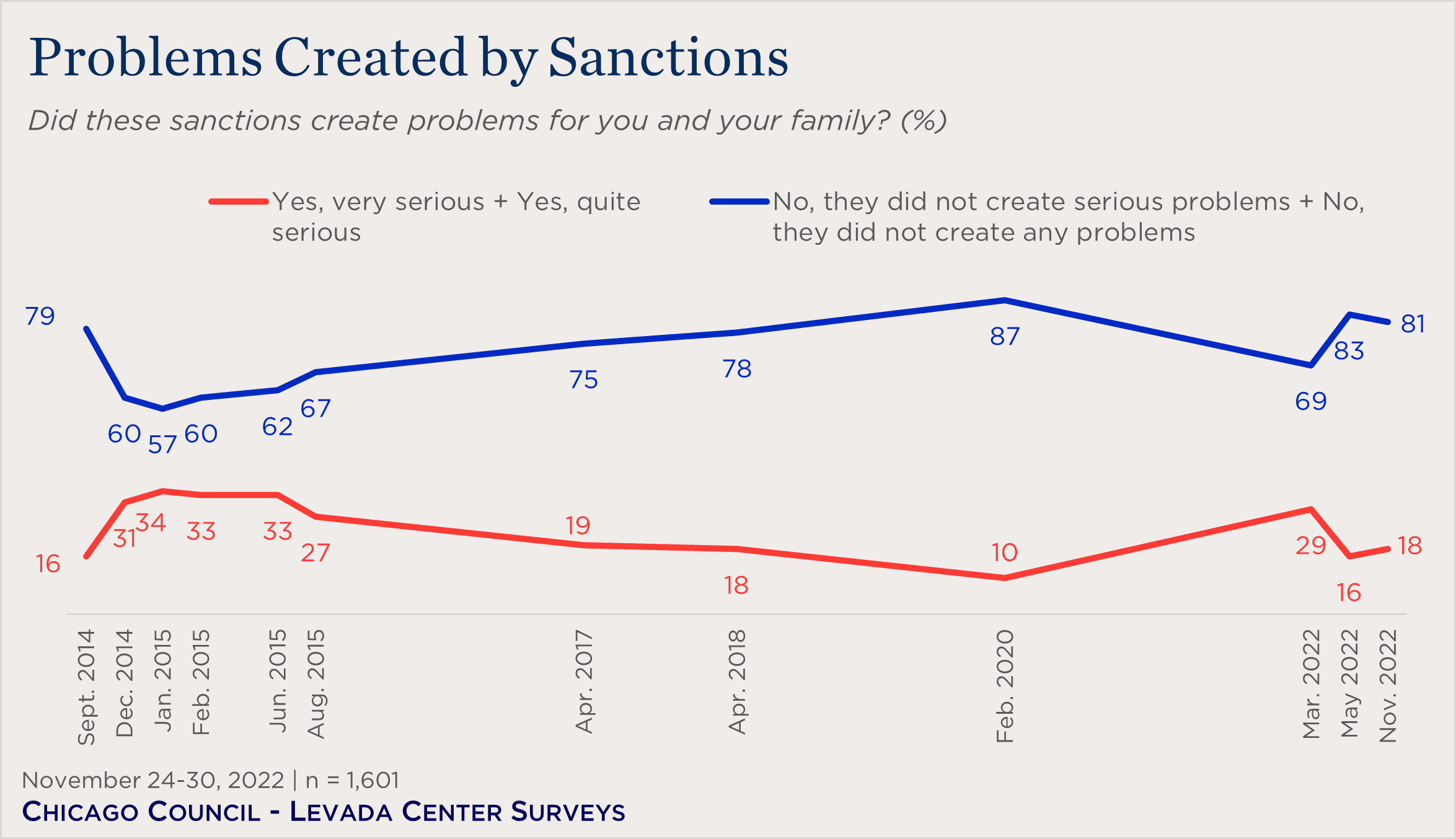 But Who Is Being Impacted?
While the majority of the population remains unconcerned about sanctions, some Russians are feeling more of a pinch than others. One group that has been impacted is poorer Russians because they do not have the flexibility in their budgets to respond to price increases. Russians with tighter financial circumstances are more likely to report having faced serious problems as a result of the sanctions. A quarter of Russians who do not have enough money for food, or just barely enough, have faced very or quite serious problems (26%) because of the sanctions. That compares to 16 percent of those who can afford food and clothes, but not much more, and 14 percent of wealthier Russians who could afford to buy something like a new large appliance, car, or apartment. Also, Levada Center analyses show that poorer Russians are typically more critical of government policies and how state institutions perform. Russians with low incomes may tend to think that the state deals badly with economic issues in general.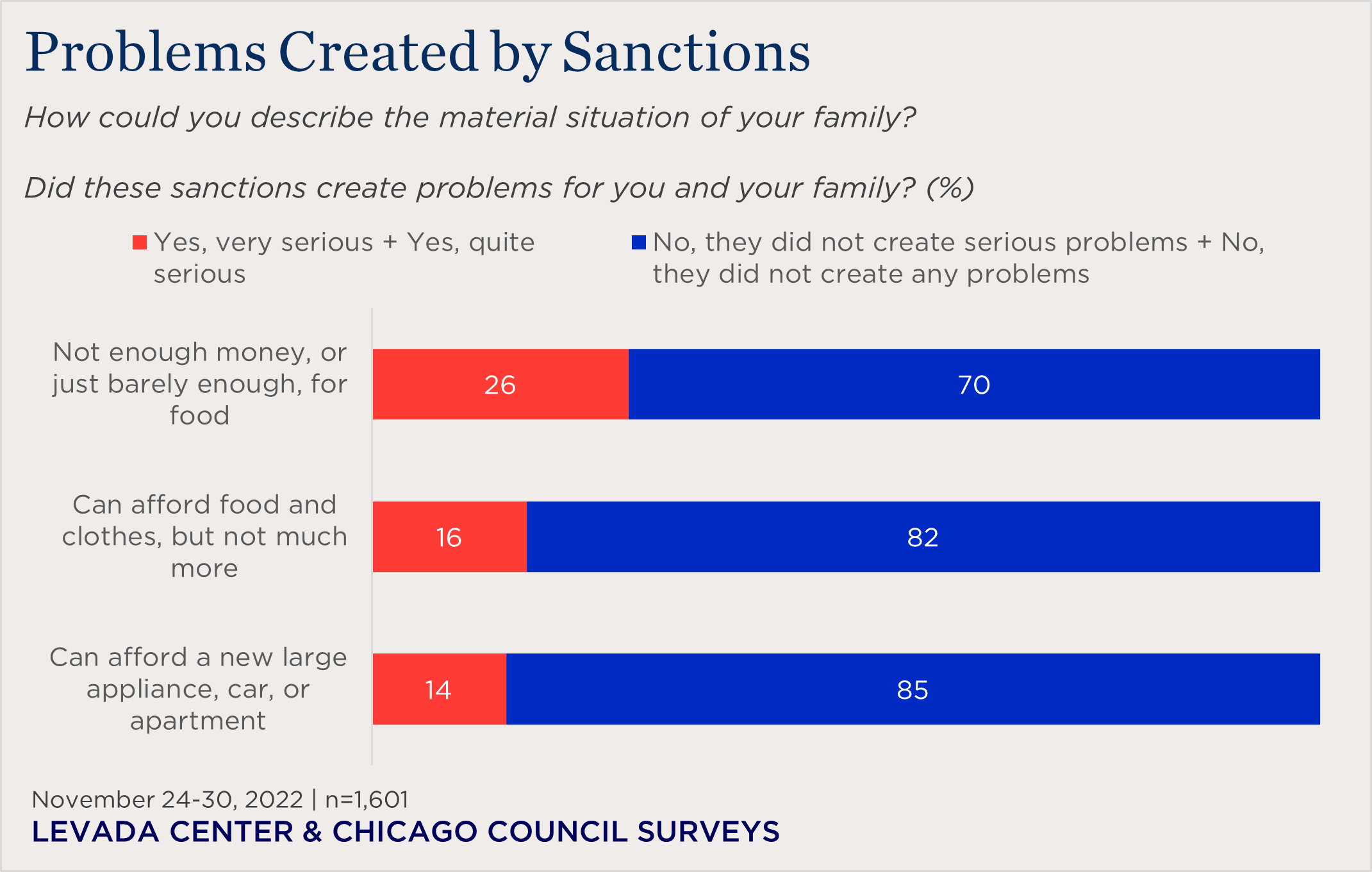 Sanctions also impact the Russian public by limiting availability of Western goods and travel opportunities. This tends to affect well-off Russians and those living in Moscow and other big cities who have more geographic and financial access to such amenities, and are therefore more likely to suffer as these things are restricted within Russia. And it may help explain why even though the wealthiest Russians are much less likely to say they have faced serious problems as a result of sanctions, they show a similar level of concern about sanctions compared to other groups. About four in 10 Russians in all groups—those who can afford only food (40%), food and clothes (41%), and large consumer goods (35%)—are very or quite concerned about sanctions.
There is also some evidence that people who are already more sympathetic to the West and critical of the Russian government and military operation are more likely to face problems because of the sanctions. This is evidenced by the fact that those who view the United States favorably, do not support the military operation, or think Russia is on the wrong track as a country are more likely to report facing problems as a result of sanctions than those who view the United States unfavorably or those who approve of Russia's current trajectory. 1 Therefore, concern about the sanctions could be a part of a critical political position toward the government. It is unlikely that a person can assess the sanctions' effects independently from the general attitudes to the conflict in Ukraine and to the Russian government.
Negotiations
One potential goal of sanctions is to motivate the public in the target country to pressure their government to change course. While Western countries have not explicitly stated this as a goal of the current sanctions, there is a correlation among Russians between having faced problems because of the sanctions and wanting the Russian government to enter peace negotiations. Two-thirds of those who have faced quite or very serious problems because of sanctions want the government to enter negotiations (65%), compared to half of those who have not faced serious problems (50%).
On a separate open-ended question, respondents were asked what issues they think should be priorities for negotiations if and when Ukraine and Russia enter peace talks. Overall, fewer than 1 percent of respondents volunteered sanctions relief or having sanctions lifted. Issues including a cease-fire, settling issues of territorial claims, and limits on Western influence in Ukraine were more likely to be seen as a priority. Prior polling and focus groups conducted by the Levada Center have found that rather than viewing the sanctions as a complete setback, a considerable portion of the Russian public sees the sanctions as an opportunity to strengthen industries within Russia in the absence of international competition.
Conclusion
Sanctions have been a central component of US–Russia policy in response to the crisis in Ukraine. However, while a sizable minority of the Russian public is concerned about these sanctions to some degree, few are facing material hardships in their day–to-day lives as a result of the policies. This could mean that the sanctions are working as officially intended: to target businesses, banks, and oligarchs rather than Russian citizens at large. The sanctions do not appear to have brought about economic pressures on the public that might trigger political backlash.
1A quarter of those who view the United States favorably have faced very or somewhat serious problems as a result of sanctions compared to 15 percent of those who have an unfavorable opinion of the United States. Supporters of the military operation were less likely to report facing problems (15%) than opponents of the operation (26%). Similarly, 29 percent of those who think Russia is on the wrong track report very or somewhat serious problems compared to 12 percent of those who think Russia is on the right track.
Former Research Assistant, Public Opinion and Foreign Policy


Emily Sullivan joined the Chicago Council on Global Affairs in 2021 and was a research assistant on the Public Opinion team.


Senior Fellow, Public Opinion and Foreign Policy

Dina Smeltz, a polling expert, has more than 25 years of experience designing and fielding international social and political surveys. Prior to joining the Council to lead its annual survey of American attitudes on US foreign policy, she served in the Bureau of Intelligence and Research at the US State Department's Office of Research from 1992 to 2008.

Director of the Levada Analytical Center


Deputy Director of the Levada Analytical Center


Sociologist, Levada Analytical Center


Stepan Goncharov is a senior research fellow at the Levada Center. Goncharov's field of expertise and research interests include public opinion on international relations, use of media, and modern social processes in Russia. He is a regular contributor for ridl.io (Riddle), an online-journal on Russian affairs. Gonhcarov holds a Specialist degree in Political Science from Lomonosov Moscow State University (MSU) and has broad experience in qualitative studies.


This survey was part of the Levada Center's monthly omnibus survey. The full methodology can be found here. 
Interviews for this wave of the Levada Center's monthly omnibus survey were conducted from November 24 to 30, 2022, among a representative sample of all Russian urban and rural residents. The sample comprised 1,601 people age 18 or older in 137 municipalities of 50 regions of the Russian Federation. The survey was conducted as a personal interview in respondents' homes. The answer distribution is presented as percentages of the total number of participants along with data from previous surveys. 
The statistical error of these studies for a sample of 1,600 people (with a probability of 0.95) does not exceed: 
3.4% for indicators around 50%

 

2.9% for indicators around 25%/75%

 

2.0% for indicators around 10%/90%

 

1.5% for indicators around 5%/95%

 
This work is made possible by the generous support of the Carnegie Corporation of New York.