A solid majority (69%) say that it would never be justified for Moscow to use a tactical nuclear weapon in its current military operation against Kyiv.
Last week, Russian President Vladimir Putin made another veiled threat to use a nuclear weapon in Russia's conflict against Ukraine. While these comments have largely been viewed as additional saber-rattling, Western leaders are concerned that Moscow's military setbacks in Ukraine could trigger a dangerous nuclear escalation. Despite the Russian public's tacit or outright support for their country's military action in Ukraine, most Russians believe that it is never justified to use tactical nuclear weapons in the conflict with Kyiv.
Key Findings
Three-quarters of the Russian public strongly (42%) or somewhat (32%)

support

their country's special military operation in Ukraine.

As in March, eight in 10 (82%) say that the possibility of a nuclear weapons exchange between the United States and Russia is a critical threat, well ahead of threats from a global economic downturn (45% critical) and the NATO alliance (44%).

A solid majority (69%) say that it would never be justified for Russia to use a tactical nuclear weapon in its current military operation in Ukraine.

A quarter (23%) say it would only be justified if the other side uses nuclear weapons first.

Just 3 percent say it would be justified.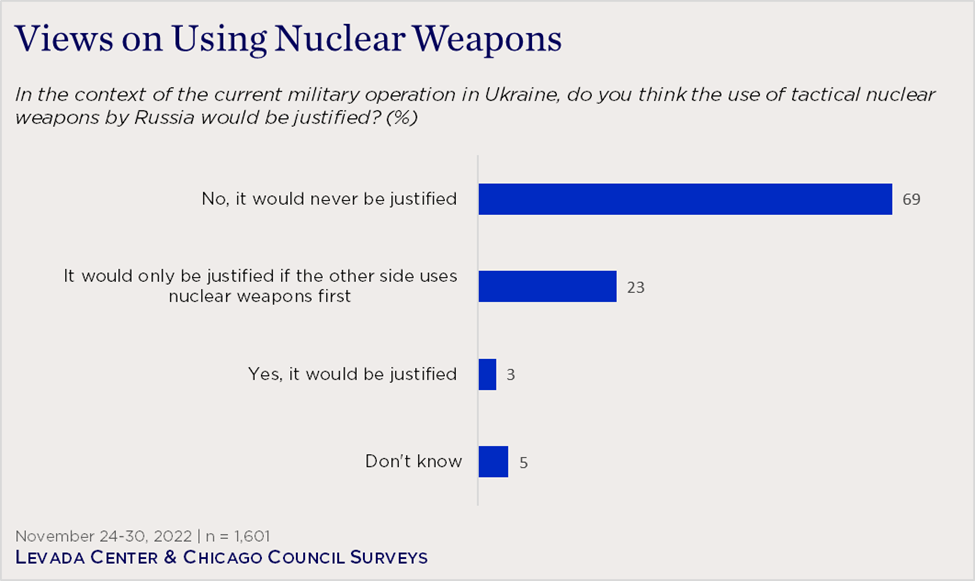 Senior Fellow, Public Opinion and Foreign Policy

Dina Smeltz, a polling expert, has more than 25 years of experience designing and fielding international social and political surveys. Prior to joining the Council to lead its annual survey of American attitudes on US foreign policy, she served in the Bureau of Intelligence and Research at the US State Department's Office of Research from 1992 to 2008.

This survey was part of Levada's monthly omnibus survey.  Read the full methodology.
For this particular wave of the Levada Center's monthly omnibus survey, the interviews were conducted between November 24–30, 2022 among a representative sample of all Russian urban and rural residents. The sample was comprised of 1601 people aged 18 or older in 137 municipalities of 50 regions of the Russian Federation. The survey was conducted as a personal interview in respondents' homes. The answer distribution is presented as percentages of the total number of participants along with data from previous surveys.
The statistical error of these studies for a sample of 1600 people (with a probability of 0.95) does not exceed:
3.4% for indicators around 50%
2.9% for indicators around 25%/75%
2.0% for indicators around 10%/90%
1.5% for indicators around 5%/95%
This work is made possible by the generous support of the Carnegie Corporation of New York.