Impossible Chicken, Fish Out of Water, and Political Earthquakes
March 24, 2023
Check out our roundup of the week's top news and research in food, agriculture, and global development.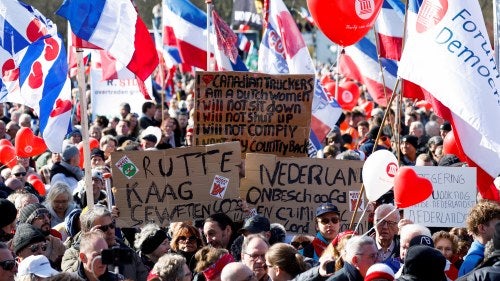 Credit: REUTERS/Piroschka van de Wouw
Top Story 
Shrinking Global Potable Water Supplies 
Agriculture uses 70 percent of all water globally, placing a heavy burden on shrinking potable water supplies. According to the new UN World Water Development Report released Tuesday, just before World Water Day and the UN 2023 Water Conference, 26 percent of the world's population does not have access to safe drinking water. With water demand only increasing, the report emphasizes the need to prevent the global water crisis from spiraling out of control, and points towards reclaimed water in agriculture as an increasingly viable option. 
Council Insights 
Beating the Odds
"They beat the odds, mainly due to the heroic efforts of their mothers, who had embraced the importance of good nutrition in giving their children the best possible start to life. Immune systems were strengthened, bodies had a solid foundation for growth, brains developed the paths to learning – all of which helped carry the children through the pandemic," writes Senior Fellow Roger Thurow in a new epilogue on his book The First 1000 Days. Read the epilogue and watch the accompanying videos to learn more about the mothers and children, and where they are today. 

Food & Agriculture  
Grain Standoff
Fish Out of Water
Political Earthquakes
Deeper Dive  
Why Are Water Levels at Critical Lows?
Resilience 
Climate Funding
Sweden is providing $19 million in funding to support climate finance in Mozambique, one of the most climate-vulnerable nations in the world. The grant, released over five years, will support the Local Climate Adaptive Living Facility project implemented with technical support from the UN Capital Development Fund. The project will address the vulnerability of the coastal region of Mozambique to tropical cyclones and droughts, while building infrastructure for drinking water and agricultural land.  
DC Report  
School Lunch Expansion
The USDA proposed allowing more schools in low-income communities to offer free breakfast and lunch to students without requiring their parents to apply for the benefits. The current eligibility threshold for the program requires that 40 percent of students at a school be on food stamps or participating in another safety-net program tied to household income. The agency wants to lower it to 25 percent to allow more schools to participate and to provide a higher reimbursement rate for free and reduced-price meals. 
Big Actors  
Walmart Win
The Walmart Foundation has announced a five-year plan to support one million smallholder farmers in India to improve livelihoods and boost farm incomes. Grants totaling over $4 million will be extended to non-profit organizations working on expanding access to market linkages, training farmers on sustainable farming methods and technology, and focusing on empowering women farmers. Walmart hopes to build on previous work with women farmers that supported higher cropping intensity and the cultivation of more high-value crops.     
Big Ideas 
Impossible Chicken
The USDA approved cultivated chicken made by Good Meat Inc. as safe to eat, making it the second company in the growing industry to have cleared a key regulatory hurdle. Cultivated meat is grown from animal cells in a nutrient-rich environment and then harvested, often combined with other ingredients to form different products. Good Meat Inc. must still obtain clearance from the USDA before selling its cultivated meat to American consumers. 
Ask an Expert 
Cindy McCain was officially appointed the next Executive Director of the World Food Programme (WFP). As a previous executive director of the WFP yourself, what do you think the transition will look like for McCain? 
"It's exciting WFP will have such a wise and dedicated humanitarian as its new leader. Ms. McCain will have multiple challenges — and all the support she needs — to set the direction to raise funds and manage the large organization. She is succeeding [David Beasley], the most prolific fundraiser the organization has ever had, so she can build on that success. In addition, she has to give primary priority to leading and managing the large, far-flung organization. WFP staff are creative and dedicated; I am sure that they will look forward to a strong new leader." 
— Distinguished Fellow Catherine Bertini
Distinguished Fellow, Global Food and Agriculture


Catherine Bertini served as executive director of the UN World Food Program, the world's largest international humanitarian agency, from 1992 to 2002 prior to joining the Council. She was named the World Food Prize laureate in 2003 for her groundbreaking leadership there.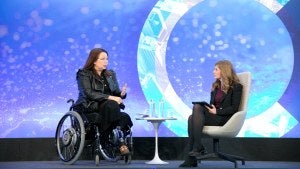 Join Senator Tammy Duckworth at the Chicago Council on Global Affairs for a discussion on security and trade in the Indo-Pacific region.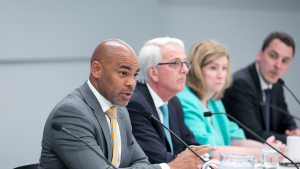 Senior leaders from corporate partner companies are invited to discuss how sustainable global business practices can lead to corporate growth.
Did you miss one of our previous livestreams? Don't worry! They are all available on our website to watch at any time.
Other Upcoming Events
Student Climate Conference 
Date: March 23 - 25
Investing in Youth for a Sustainable Future in Agriculture and Food Systems: A Dialogue on the Way Forward 
Date: March 28
Time: 10:00 – 11:30 a.m. CEST
Every Bite Counts: End Factory Farming 
Date: March 29
Time: 6:30 – 9:00 p.m. CT
Science and Innovation for Food Systems Transformation – Follow Up to the 2021 UN Food Systems Summit 
Date: April 11
Time: 9:30 – 11:00 a.m. ET
2023 Hunger and Health Illinois Conference – Chicago 
Date: May 1
Time: 10:00 a.m. – 3:30 p.m. CT
---
Land Acknowledgement Statement
The Center on Global Food and Agriculture recognizes it occupies the ancestral land of the Kiikaapoi, Peoria, Kaskaskia, Bodwéwadmi, and Myaamia people. Indigenous communities around the world disproportionately experience the pressures of climate change, global conflicts, and the COVID-19 pandemic, while simultaneously stewarding 80 percent of the world's biodiversity. These Indigenous tribes and nations are the original owners of this land and continue to be systemically erased by policies and practices that ignore their histories. To learn more about Indigenous foodways and practices, check out our 2022 blog series "Stewardship, Sovereignty, and Solutions."
Communications Officer

Natalie Burdsall joined the Chicago Council on Global Affairs in 2022 as the communications officer for the Center on Global Food and Agriculture. In this role, they promote the work and impact of the Center to expand public engagement in global food and agriculture, and assist in bringing the Council's digital transformation to fruition.

Intern, Center on Global Food and Agriculture

Clayton Elbel joined the Council as a 2023 spring intern with the Center on Global Food and Agriculture.