Beating the Odds: The Mothers and Children of the 1,000 Days Movement

Ten years after The First 1,000 Days book began, Roger Thurow revisits the featured mothers and children to see how they are faring.
Through the long months of the COVID-19 pandemic, I anxiously wondered how the moms and children we had come to know in Uganda, India, and Guatemala were faring. The news from those countries was dire: non-stop burial ceremonies, strict quarantines and village isolations, spreading hunger as the health crisis quickly evolved into a nutrition crisis when food production and supply chains were interrupted all over the world. 
As the narrative of The First 1,000 Days book ended in 2015, the children were turning two. When I returned in the second half of 2022, they were nine years old. All the children and their parents had remarkably survived the pandemic, as well as threats of food shortages and the prevailing high rates of malnutrition in their countries. None were severely stunted. They were in school. They were doing reasonably well, given the global impacts of COVID. 
They beat the odds, mainly due to the heroic efforts of their mothers, who had embraced the importance of good nutrition in giving their children the best possible start to life. Immune systems were strengthened, bodies had a solid foundation for growth, brains developed the paths to learning – all of which helped carry the children through the pandemic. 
In Uganda, moms Esther, Brenda, and Harriet continued to grow their highly nutritious biofortified crops: orange sweet potatoes rich in Vitamin A and high-iron beans. They had integrated those foods into their diets and had further diversified their farming. In India, Shyamkali, Seema, Sanju, Sushma, and Mohana prevailed against poverty and social pressures and inequities to implement the nutrition and health care practices they learned from the Community Empowerment Lab. In Guatemala, Dianet, Maria Estella, and Yolanda held fast to the cooking and micronutrient lessons from their Primeros Pasos nutrition rehabilitation classes and kept good nutrition and hygiene at the center of their families' well-being.  
Falling Behind on Global Goals
Beyond these families, malnutrition continues to haunt the world. As the children turned nine and the midway point of the Sustainable Development Goals (SDGs) neared, we learned that the world is far behind pace on achieving many of the 17 objectives adopted by the United Nations in 2015 as a universal call to action to end poverty and protect the planet by 2030. Achieving SDG #2 – reaching Zero Hunger – seemed to be getting ever more distant. According to a UN progress report on the goals, in 2020 there were between 720 million and 811 million people worldwide suffering from hunger, roughly 161 million more than in 2019. Also in 2020, an estimated 2.4 billion people, or above 30 per cent of the world's population, were moderately or severely food-insecure, lacking regular access to adequate food. That figure increased by nearly 320 million people in just one year. Other reports calculated that only about 30 percent of children aged 6-23 months were benefitting from minimum dietary diversity, and that almost 3.1 billion people worldwide couldn't afford a healthy diet, which was 112 million more than in 2019. All this before the full nutritional impacts of COVID-19 and the war in Ukraine were felt. 
The persistence of childhood malnutrition is particularly vexing. According to the United Nations Children's Fund (UNICEF), nearly half of all deaths under five years of age are attributable to undernutrition, which puts children at a greater risk of dying from common infections. In the third decade of the 21st Century, the death toll from undernutrition still exceeds three million children annually. Of those who survive, nearly one-quarter of children under five (about 150 million children) suffer from developmental stunting (when they are too short for age and experience compromised cognitive development) as a result of malnutrition, especially when it occurs in the first 1,000 days. Another 6.7 percent, or 45 million children, suffer from wasting (too little weight for their age). Those were 2020 numbers, pre-COVID; they surely worsened during the pandemic. 
Globally, progress has been made on reducing childhood stunting, with the World Health Organization reporting nearly two-thirds of countries seeing at least some improvement over the past two decades. But this is also where global inequalities are particularly pronounced. Africa was the only region where stunting was still on the rise. And more than half of all children affected by wasting lived in Southern Asia. Even with the global progress on stunting, the decline has been too slow and too little; achieving the SDG target requires that the current rate of yearly decline – a bit more than 2 percent – doubles in the coming years. 
In a new report, "Undernourished and Overlooked: A Global Nutrition Crisis in Adolescent Girls and Women," UNICEF says that no region in the world is on track to meet the 2030 global targets to reduce anemia in adolescent girls and women by half and to reduce low birthweight in newborns by 30 percent. Instead, it notes, acute malnutrition has risen by 25 percent since 2020 in countries hardest hit by the current food and nutrition crisis. Again, global inequality is glaring. UNICEF reports that in South Asia and sub-Saharan Africa, 68 percent of adolescent girls and women are underweight and 60 percent of adolescent girls and women have anemia. 
To reverse these trends, a chorus of local and international organizations are calling for an urgent and steep increase in investments in nutrition. The SDG2 Advocacy Hub rallied the Hungry for Action coalition (spanning a range of humanitarian, nutrition, agriculture, finance and climate groups) to push for both immediate solutions to the acute hunger and malnutrition from the current crises and also longer-term approaches that can build resilience to combat chronic malnutrition over time and secure the future. There has been a particular focus on increasing investments for ongoing programs like fortifying staple foods with essential vitamins and minerals as well as for innovations such as pre-natal multi-micronutrient supplements and nutrient-dense paste that can be added to foods children regularly eat or consume as a snack. As the current nutrition crisis has worsened, the U.S. government, particularly through its Feed the Future program, pledged $11 billion over the next three years to combat global malnutrition. 
The People Behind the Numbers
These are the numbers. But behind each data point is a person. Here is how some of the moms and children and programs featured in The First 1,000 Days book are faring: 
Uganda
Esther cherished the words of her midwife when she was pregnant: "Your child can achieve great things." She kept that thought in her heart as she planted new nutrient-rich crops while watching her son Rodgers grow. At Rodger's ninth birthday party, Esther once again viewed the nutrition posters she studied during her pregnancy, which now hang on a wall of her house. She pointed to drawings of a child studying at a school desk (depicting the benefits of Vitamin A) and another child playing soccer (illustrating the importance of Iron), and said proudly, "This is just like my son Rodgers." 
The HarvestPlus biofortification program, which had brought the Vitamin A-rich orange sweet potatoes and high iron beans to Esther and her neighbors, had also been growing. In the two decades since its first release of nutrient-enriched biofortified seeds, HarvestPlus has now released hundreds of varieties of 13 staple crops in more than 60 countries, benefiting over 70 million smallholder farming households in 2022. 

India
The moms of Uttar Pradesh praised the nutrition lessons they received from the Community Empowerment Lab for helping their children get off to a better start in life. Lessons such as beginning breastfeeding immediately after birth – it had been the custom to discard the nutrient-rich first breast milk – and forsaking the tradition that has women and girls eating last, and in many cases least, during family meals. 
Many of the practices introduced by the Community Empowerment Lab regarding the health of mothers and the care of newborns and infants have now been adopted as routine throughout the country and have been instrumental in improving India's maternal and infant survival rates. Since 2000, according to various reports noted by the Bill & Melinda Gates Foundation, maternal deaths per 100,000 live births have dropped to 130 from 316; births attended by a skilled health professional increased to 89 percent from 43 percent; and deaths of children under five from diarrheal diseases have decreased almost 80 percent.  
But one deeply ingrained inequality continued to compromise nutritional gains. Shyamkali held fast to her fervent wish that her six daughters would be able to defy the generational cycle of malnutrition and stunting, but she struggled to overcome the pervasive gender discrimination against girls and women. All her children were conceived with the hopes that each could be a boy. As each girl was born, their father, Rajender, was determined to keep trying for a boy. After a sixth daughter was born, Shyamkali insisted that it be their last child, for the family was falling deeper into poverty, and she herself was growing ever weaker. Eventually, her husband, feeling cursed and ridiculed by the community for having only daughters, left the family. Shyamkali was alone with her girls. 
When I returned late last year, Shyamkali was sweeping the grounds of a local school, earning the equivalent of just over one dollar a day. Her two oldest daughters at home were working in the rice and wheat fields of other families, bringing additional income and food into the house. 
"All of my girls are as healthy as can be," Shyamkali said. "God wanted me to have girls. I won't abandon them." 

Guatemala
In the western highlands, where child malnutrition rates have been upwards of 70 percent, the Primeros Pasos clinic celebrated its 20th anniversary. Its nutrition rehabilitation program had become a centerpiece of its work. At a Christmas graduation ceremony, several dozen moms with their children gathered for another in a series of cooking lessons – pasta with fresh tomatoes – that had transformed their diets. 
Moms Dianet, Maria Estella and Yolanda each credited the nutrition classes for the healthy development of their children, and for beating the odds of the Palajunoj Valley. They proudly talked about achievements of their children in school. 
Yolanda, expecting her third child, said she was still using the recipes from the nutrition rehabilitation lessons. "I learned to focus on eating mixtures of vegetables, grains, meats. Like mixing spinach with spaghetti. And my children did better," she says. "I know better now. I have a game plan for this pregnancy. I know I need to eat well, for myself and my baby."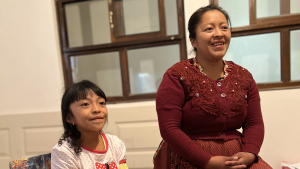 Looking to the Future
While watching their children grow, the moms all know the future is fraught with many challenges. They worry about their children catching up on the schooling that was interrupted by the pandemic. As smallholder farmers, their families struggle with the relentless changes in climate and increasing threats to the environment that make their harvests and livelihoods more unpredictable. Still, through it all, they hold tight to the universal aspiration they share with Esther: your child can achieve great things. 
Senior Fellow, Global Food and Agriculture


Roger Thurow spent three decades at The Wall Street Journal as a foreign correspondent based in Europe and Africa prior to joining the Council in 2010. His coverage spanned the fall of the Berlin Wall, the release of Nelson Mandela, the end of apartheid, and humanitarian crises. He is the author of three books.