The Legacy of America's Longest War
Following the end of US military operations in Afghanistan, an expert panel assessed the war's impact on US foreign and defense policy over 20 years.
About This Event
"What ifs" haunt America's twenty-year military involvement in Afghanistan. What if Usama bin Laden had been captured sooner? What if the Iraq war had not drawn attention and resources? The return of Afghanistan to Taliban control presents an opportunity to examine the legacy of America's longest war. How might this conflict's miscalculations, setbacks, and successes influence US foreign policy and military strategy in a new era of geostrategic competition? The Council, in partnership with the Truman Center for National Policy, convenes a panel of experts to consider the war in Afghanistan's influence on America's power and priorities.
Related Event
Following the public program, sponsor-level members and above are invited to "Continue the Conversation" with Council experts on the current and future realities in Afghanistan.
Author and journalist

The author of six books, Elliot Ackerman's writing appears in Esquire, The New Yorker, and The New York Times – where he is a contributing opinion writer. He is a former White House Fellow and Marine and served five tours of duty in Iraq and Afghanistan where he received the Silver Star, the Bronze Star for Valor, and the Purple Heart.

Visiting Professor and Senior Fellow, SAIS

Presently a visiting professor of strategic studies and senior fellow of the Merrill Center at the Johns Hopkins University School of Advanced International Studies (SAIS), Bensahel is also a contributing editor and columnist for War on the Rocks and an adjunct research staff member at the Institute for Defense Analyses.

Former US Ambassador to NATO

A career army officer, Lute retired from active duty as a lieutenant general after 35 years of service. In addition to serving as US Ambassador to NATO, Lute was also Assistant to the President and Deputy National Security Advisor to coordinate the wars in Iraq and Afghanistan and ultimately spent a total of six years in the White House.

Senior Fellow, US Foreign Policy


Elizabeth Shackelford, a former career diplomat who served the US Mission to Somalia and the US Embassy in South Sudan, focuses on building awareness and understanding of a "restraint" approach to foreign policy, which seeks to limit the use of force to core US security interests and favors diplomatic engagement.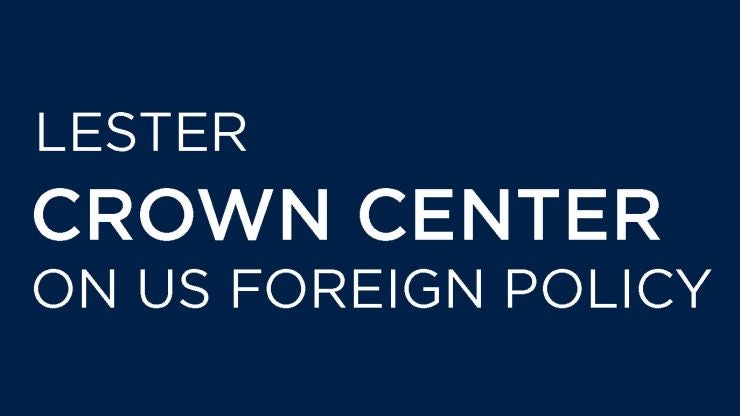 Crown Center Content
This content is produced by the Lester Crown Center, which aims to shape debates and inform decisions on important US foreign policy and national security issues.