Was a Responsible Exit Possible in Afghanistan?
The Council's Elizabeth Shackelford and Virginia Tech's Amanda Demmer explain how lessons from US military evacuations in South Sudan and Vietnam resonate with the current chaos in Afghanistan.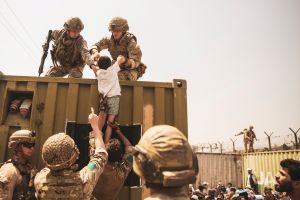 About the Episode 
The US military may have exited the conflict in Afghanistan, but thousands of those who helped during the war remain. What does the United States owe those we leave behind, and is there a better way to prevent chaos and loss of life after war? Virginia Tech's Amanda Demmer and the Council's Elizabeth Shackelford join Deep Dish to explore the lessons from past military evacuations in Vietnam and South Sudan and what they tell us about the coming days in Afghanistan.  
Assistant Professor of History, Virginia Tech


Amanda C. Demmer's research and teaching interests center on the boundaries between war and peace in American history. Her first book, After Saigon's Fall: Refugees and US-Vietnamese Relations, 1975-2000, offers a new account of the postwar normalization of US-Vietnamese relations.


Senior Fellow, US Foreign Policy


Elizabeth Shackelford, a former career diplomat who served the US Mission to Somalia and the US Embassy in South Sudan, focuses on building awareness and understanding of a "restraint" approach to foreign policy, which seeks to limit the use of force to core US security interests and favors diplomatic engagement.


Vice President, Studies


Brian Hanson is the Vice President of Studies at the Chicago Council on Global Affairs. He oversees the Council's research operations and hosts the Council's weekly podcast, Deep Dish on Global Affairs.