Counterinsurgency's Failures, from Afghanistan to Vietnam
Winning hearts and minds doesn't defeat insurgent groups, author Jacqueline Hazelton argues. So why does the United States still rely on counterinsurgency?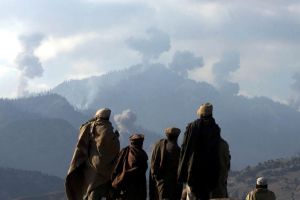 About the Episode
After weeks of finger-pointing and accusations about the catastrophic US retreat from Afghanistan, we're taking a step back to ask some big-picture questions. What if the problem isn't the exit, but the strategy that started the intervention in the first place: counterinsurgency? US Naval War College author Jacqueline Hazelton joins Deep Dish to explain what went wrong and why we're doomed to repeat our mistakes if we don't shift strategies. 
Key Moments
Defining counterinsurgency doctrine (COIN) - 2:24
Elite politics vs. "Winning Hearts and Minds" - 7:19
Why its so hard for outside powers to influence local choices - 13:42
Civilians as tools  - 15:48
Breaking insurgents' will to fight - 18:53
Use of force - 22:40
The Afghanistan case - 25:33
Policy lessons for the United States - 31:32
Reading List 
Jacqueline argues against the "Hearts-and-Minds Myth" for Foreign Affairs
Max Boot explains why "America Still Needs Counterinsurgency" in Foreign Affairs
How to think about counterinsurgency after Afghanistan from Defense One
Associate Professor, Department of Strategy and Policy, US Naval War College


Dr. Jacqueline Hazelton is an Associate Professor at the US Naval War College and the author of "Bullets Not Ballots: Success in Counterinsurgency Warfare."


Vice President, Studies


Brian Hanson is the Vice President of Studies at the Chicago Council on Global Affairs. He oversees the Council's research operations and hosts the Council's weekly podcast, Deep Dish on Global Affairs.