Ten Years Later, What Went Wrong in South Sudan
A decade ago this week, South Sudan declared independence. But the hope and optimism of statehood quickly evaporated—just like international attention and support.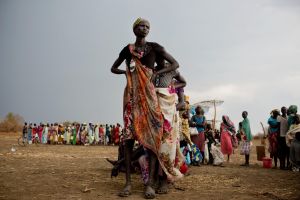 The first US Ambassador to South Sudan, Susan D. Page, joins the Council's Elizabeth Shackelford on Deep Dish to discuss their shared history in the country, what went wrong with statehood, and the lessons the international community must learn for the future.  
Professor of Practice in International Diplomacy, Gerald R. Ford School of Public Policy's Weiser Diplomacy Center


Ambassador Susan D. Page is a professor of practice in international diplomacy at the Gerald R. Ford School of Public Policy's Weiser Diplomacy Center, and a professor from practice at the University of Michigan Law School. Her senior level roles have included first US Ambassador to newly independent South Sudan, US Chargé d'Affaires to the African Union, Deputy Assistant Secretary of State for African Affairs, key adviser to the peace process that resolved Africa's longest-running civil war through international mediation, head of rule of law programs for the UN, and a foreign service regional legal advisor and political officer in East, Central, and Southern Africa.


Senior Fellow, US Foreign Policy


Elizabeth Shackelford, a former career diplomat who served the US Mission to Somalia and the US Embassy in South Sudan, focuses on building awareness and understanding of a "restraint" approach to foreign policy, which seeks to limit the use of force to core US security interests and favors diplomatic engagement.