From War to Want in Afghanistan
Experts Laurel Miller and Andrew Watkins join Deep Dish to unpack Afghanistan's economic collapse.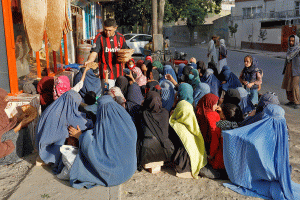 About the Episode
While a 20-year war has ended, the Afghan people continue to suffer, now under a collapsed economy. International Crisis Group's Laurel Miller and US Institute of Peace's Andrew Watkins join Deep Dish guest host Elizabeth Shackelford to discuss how the international community's isolation of the Taliban has helped precipitate suffering in Afghanistan, and what can and should be done to help.  
Like the show? Leave us a rating and review wherever you get your podcasts.  
Program Director, Asia, International Crisis Group


Laurel Miller is director of International Crisis Group's Asia Program. Prior to joining Crisis Group, Laurel was a senior foreign policy expert at the RAND Corporation, and was the deputy and then acting special representative for Afghanistan and Pakistan at the US Department of State.


Senior Expert, Afghanistan, US Institute of Peace


Andrew Watkins is a senior expert on Afghanistan for the US Institute of Peace. He joined USIP after serving as the senior analyst on Afghanistan for the International Crisis Group, where he researched and published in-depth reports and analytical commentary on the country's conflict and efforts to initiate a peaceful settlement. Prior to that role, Watkins worked in Afghanistan as a political affairs officer for the UN Assistance Mission there, advised humanitarians on conflict and access, and served as a liaison with Afghan security forces.


Senior Fellow, US Foreign Policy


Elizabeth Shackelford, a former career US diplomat who served at the US Mission to Somalia and the US Embassy in South Sudan, joined the Council in 2021. Her work focuses on building awareness and understanding of a "restraint" approach to foreign policy, which seeks to limit the use of military force to the defense of core US national security interests and favors robust diplomatic engagement.