Is Turkey Coming to a Crossroads?

Turks may be considering realigning eastward amid negative views on Western alliances.
Turkey is a longstanding ally of the United States and Europe. Yet over the past two decades, Turkey's relations with the West have declined as Turkish leaders have disagreed with Western powers on security and human rights issues. Most recently, Turkey has charted a different path than its NATO allies on Ukraine, threatening to block Finland and Sweden from joining NATO, refusing to impose sanctions against Russia, and maintaining relations with both Russia and Ukraine. While the Turkish government eventually relented and allowed the new countries to start the NATO accession process, Ankara has drawn a distinction between itself and the rest of NATO on the conflict between Russia and Ukraine.
This ambivalence reflects a broader split among the Turkish public. A recent poll from Metropoll's "Turkey Pulse" finds that Turks are deeply divided on the direction their country's foreign policy should take going forward. While a plurality (39%) of the Turkish public favors prioritizing relations with the United States and the European Union, a significant third (30%) support a foreign policy prioritizing Russia and China instead, and another third (31%) are undecided.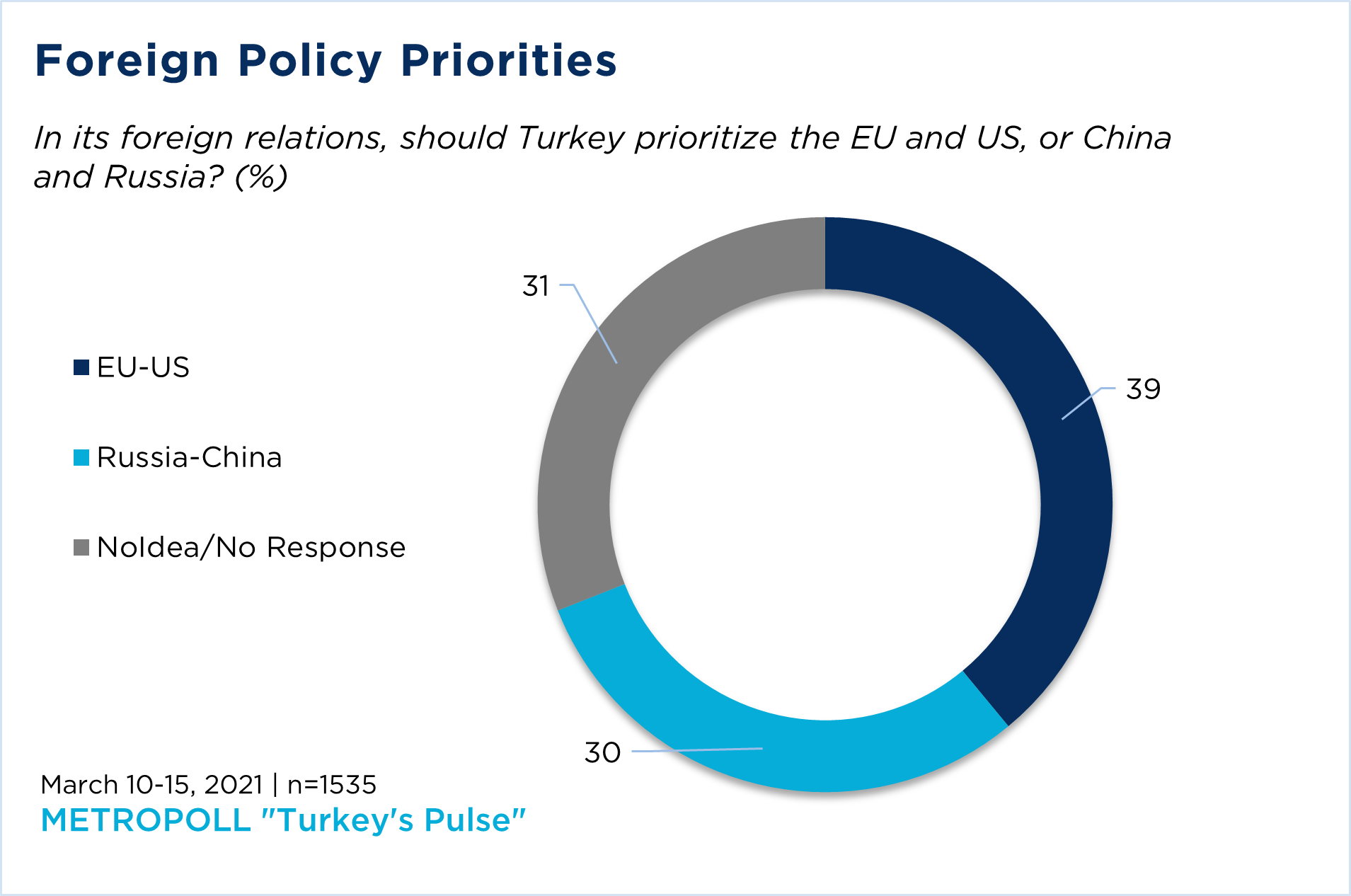 The combination of widespread negative perceptions about Turkey's Western alliances and the nearly two-thirds of Turks either undecided or supportive of shifting focus to Russia and China could prove significant if Turkish-Western relations continue to disappoint.
Turks Want to Keep NATO Membership but Blame NATO and US for Ukraine
Turkey joined NATO in 1952 and its position close to Russia and the Middle East has made it a key player on NATO's southern flank. However, the country has become something of a lone dissenter within NATO, especially since the rise of Turkish President Recep Tayyip Erdogan. The Turkish public has also historically been a minority voice when it comes to NATO, consistently displaying the least favorable opinions of the alliance out of the publics of any member state. In 2019, only 21 percent of Turks had a favorable view of NATO, while 55 percent expressed unfavorable views.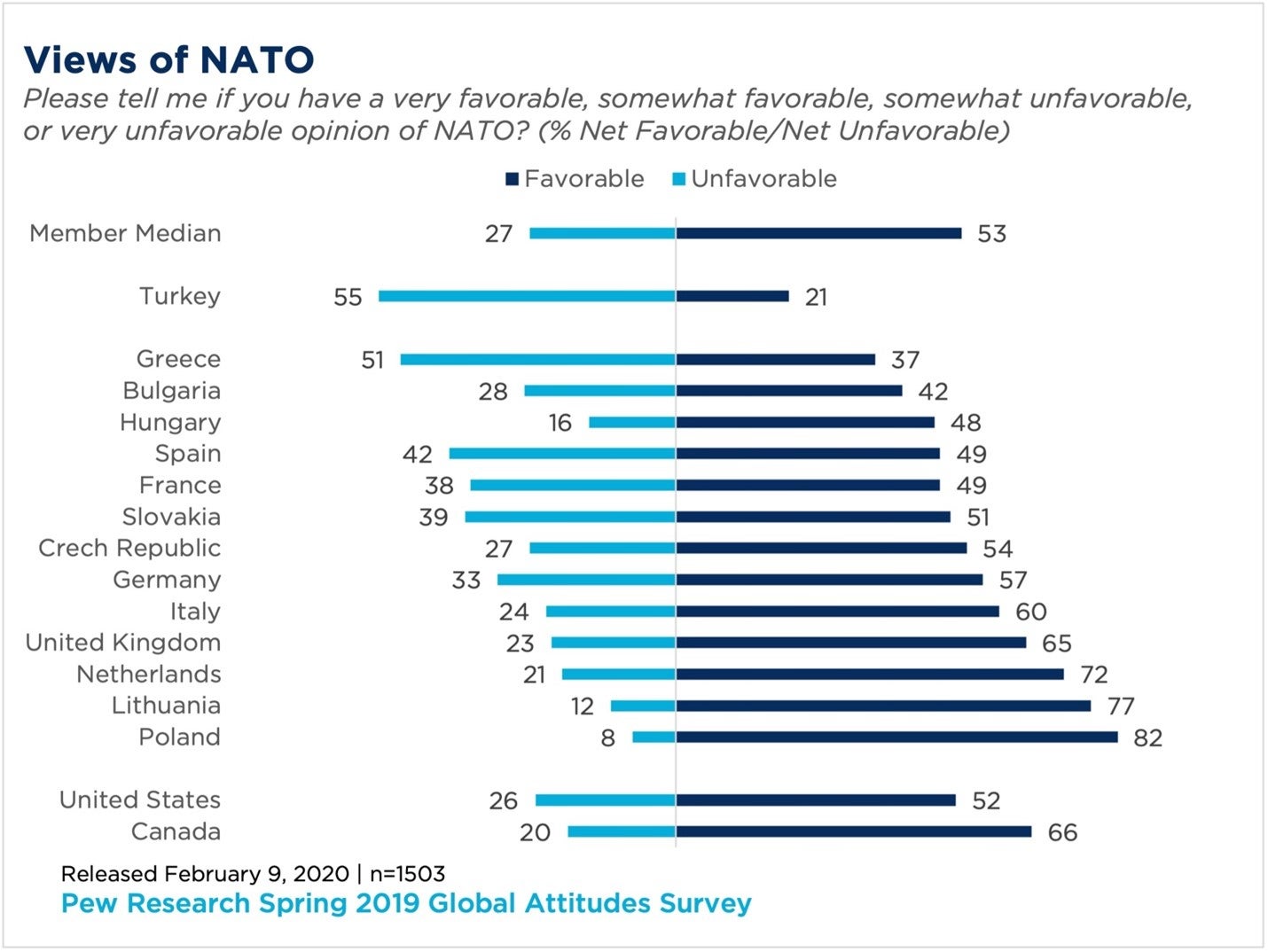 Russia's invasion of Ukraine has posed the biggest challenge to NATO since the end of the Cold War and has led to an increase in solidarity among European states. This, however, does not seem to include Turkey. While a majority (60%) of Turks remain supportive of staying in NATO, many blame NATO itself for the current conflict. Half (48%) of the Turkish public view NATO, and particularly the United States, as responsible for the situation in Ukraine, while 34 percent blame Russia. Another poll from Aksoy Research shows that 78 percent believe Turkey should be "impartial" in the war, and only 19 percent believe Turkey should "be on the side of NATO." Turkey, which has close trade relations with both Moscow and Kyiv, has tried to position itself as an intermediary throughout the war, drawing a distinction between itself and the rest of NATO.
Turks View the United States as Their Biggest External Threat
The situation in Ukraine is not the only bone the Turkish public has to pick with the United States. Survey data suggests that Turks may place a significant portion of blame on the US for their current security concerns. When asked what country presents the largest threat to Turkey, 52 percent identify the United States, a perception that could be pushing the Turkish public towards a less America-aligned foreign policy.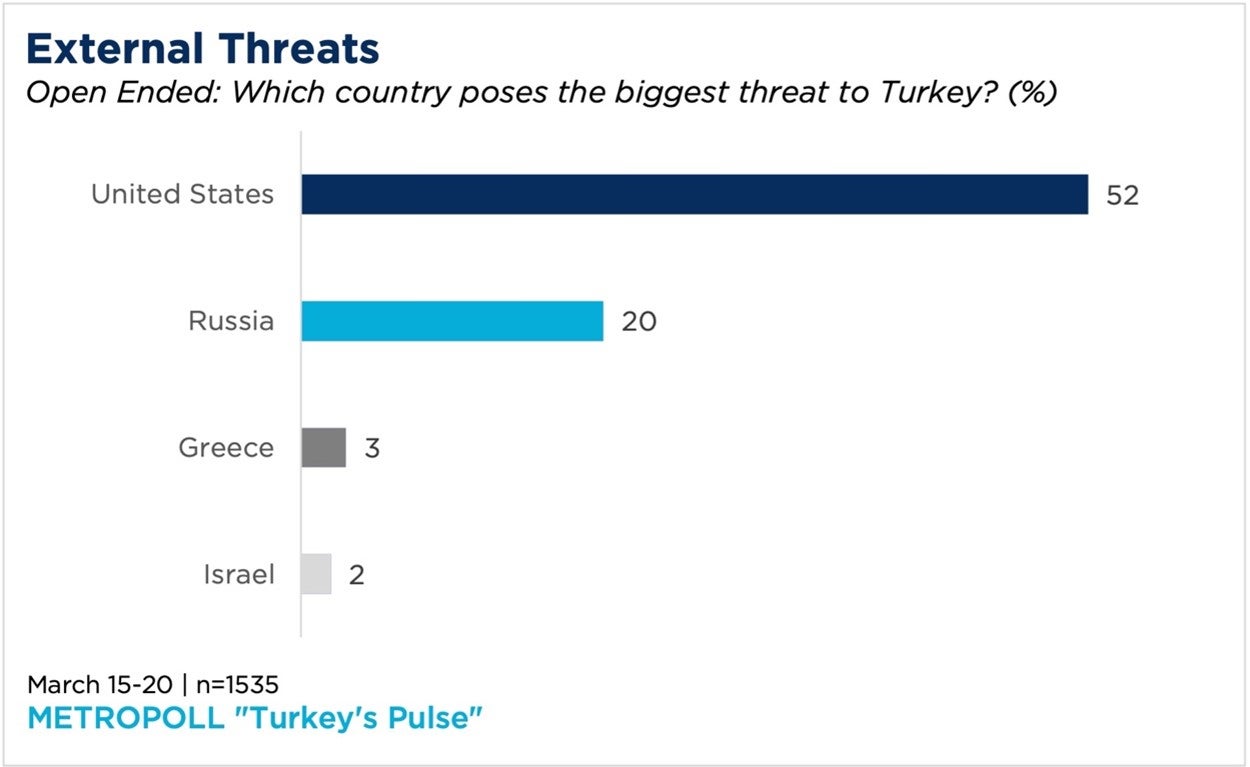 Why would Turks view their American NATO ally as a threat? In Turkey, the United States is often viewed as a disruptive force or unsympathetic to Turkish security concerns. American support for Kurdish militias in their fight against ISIS and the Assad regime in Syria is an ongoing source of tension between the two countries, as Ankara actively combats any measures it views as encouraging Kurdish separatism. Washington has also implemented sanctions and a de facto arms ban over Turkish incursions into Syria and purchase of Russian S-400 surface-to-air missile systems, with lawmakers continuing to block arms sales as recently as last week. These actions, as well as positions the US has taken on numerous past and present Turkish human rights violations, have been leveraged by Erdogan to rally  in support of his domestic policies.
Turks Pessimistic about EU Prospects and Skeptical about the Process
Turkey's disagreements with NATO have often taken center stage, but NATO is not the only Western-oriented organization with which Turkey has a complicated relationship. A longstanding source of tension between Turkey and the rest of Europe has been Turkey's attempts to join the European Union. Membership negotiations began in 2005, but talks have stalled since 2016 due to EU concerns about human rights and the rule of law in Turkey. Metropoll showed that Turkish support for EU membership spiked in 2005 (77%) but has trended downward ever since, reaching an all-time low of 36 percent in 2018. Currently, 49 percent of the Turkish public favors EU membership and four in ten (40%) oppose it.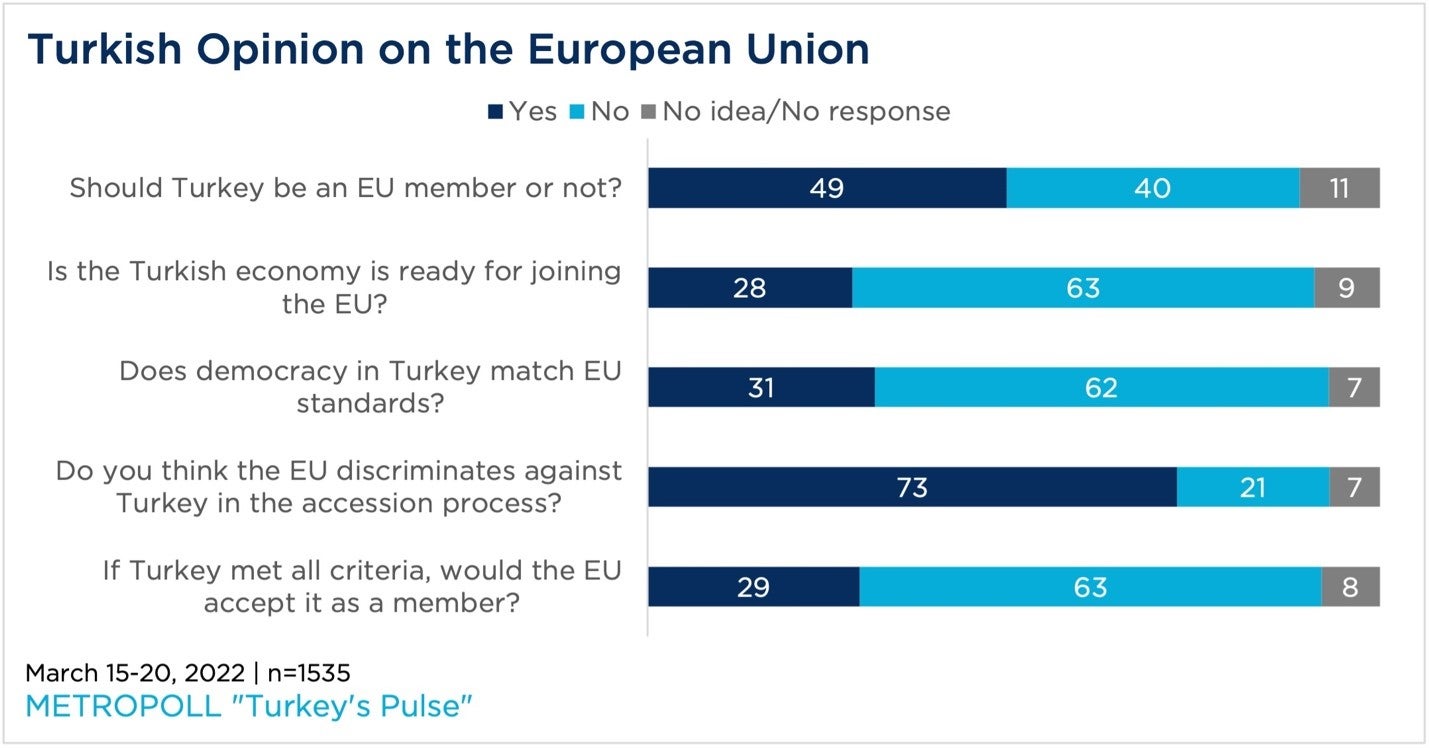 The drawn-out process may have compounded skepticism about the EU. Three-quarters of Turks (73%) believe the EU is discriminating against Turkey in the EU accession process, and 63 percent believe the EU would not accept Turkey even if it met all of the EU's criteria. As countries like Ukraine and Moldova take rapid steps toward EU membership, Turkey's standstill could be a source of continued frustration within the Turkish public.
External Conditions Could Change Minds Ahead of Elections
With general elections scheduled for June 2023, the Turkish public will have its biggest opportunity since 2018 to set the course for their domestic and foreign policies. The election comes at an unsettled time for Turkish foreign policy. Turkey's ongoing financial crisis has made it more dependent on Chinese imports and Russian gas. The Russia-Ukraine war has increased concerns about Russia among the Turkish public, but the recent spat with NATO and a looming conflict with the US over a possible Turkish offensive in Syria could limit how much Turkish views of NATO and the West improve.
Keen observers of Turkish politics will know that negative Turkish views of the United States, NATO, and the EU are, to an extent, nothing new. What is new is the emergence of Russia and China as a viable foreign policy alternative within the Turkish public consciousness. With significant numbers of Turks unsatisfied with the state of their Western foreign alliances and general elections coming up next year, whether more Turks will favor a reorientation eastward is something to watch.
Public Opinion Intern

Benjamin (Ben) Morgan joined the Council in June 2022 as an intern with the public opinion team.