Takeaways from Pelosi's Trip to Taiwan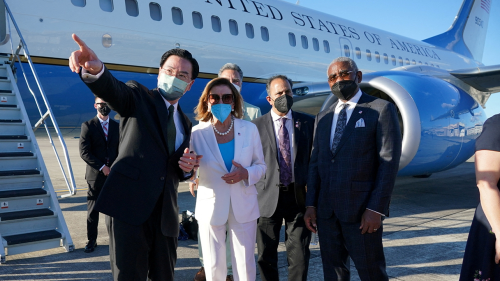 US House Speaker Nancy Pelosi's visit aroused Beijing's ire—but more important may be the long-term trends in Taiwanese attitudes. 
Speaker of the House Nancy Pelosi's trip this week to Taiwan was front-page news around the world. Though her visit to Taipei is not unprecedented—Speaker Newt Gingrich traveled to Taiwan in 1997—it comes at a very different time for relations between the United States, Taiwan, and the People's Republic of China (PRC). And unlike Gingrich's trip, Pelosi's visit was not preceded by a stop in Beijing.  
The Biden administration was clearly less than thrilled about Pelosi's travel plans. President Joe Biden, and his foreign policy team, have been at pains to balance the dueling ideas of China as a strategic competitor and the pacing threat for the US military while also seeking to establish guardrails and channels of communication between Beijing and Washington. Indeed, Pelosi's visit came just days after Biden and Chinese President Xi Jinping spoke for two hours. It also came just after China's public holiday celebrating the People's Liberation Army (PLA), and ahead of the Chinese Communist Party's 20th Party Congress this fall, at which Xi is expected to claim a third term in power.  
PRC Pushback

 
China's rhetoric around Pelosi's visit has been heated, and the official policy response reflects a clearly targeted set of actions aimed at punishing Taiwan and flexing the PRC's growing military might.  
The night prior to Pelosi's arrival, Beijing announced import bans on more than 100 Taiwanese food exporters. This type of economic punishment has become more common in the past decade, as countries around the world (such as Australia, Japan, South Korea, and Lithuania) have all been economically targeted by the PRC in response to various bilateral disputes.  
The PLA also announced it would conduct live-fire military exercises in the waters around Taiwan from Aug. 4–7. These exercises mark a calculated show of force: some areas of these drills overlap with Taiwan's territorial waters, and more of them do now than in the 1995/1996 Taiwan Straits Crisis. Missiles fired by the PLA have landed in Taiwanese (and Japanese!) territorial waters—and in an escalation of actions from the 1995/1996 crisis, four Chinese missiles flew over Taiwan directly.  
The trip to Taipei by such a high-ranking member of the US government is symbolically important, and perhaps personally important for Pelosi. But possibly more concerning to policymakers in Beijing, substantive support for Taiwan has also grown, particularly from Congress. Potentially hoping to punish the United States, the PRC has announced a cancellation of US-China military-to-military dialogues and the suspension of a range of other US-China talks, including on climate change and transnational crime. But while the United States is clearly one audience for Beijing's response, it is hardly the only—or the most critical. The most important audience for this economic and military pressure are the political leaders and the public of Taiwan itself.  
The Taiwanese Take

 
When it comes to Taiwan, Beijing has a real public diplomacy problem: most Taiwanese are fine with the way things are. In polls conducted by the Election Study Center at National Chengchi University, most Taiwanese say they want to maintain the status quo—either for a while (28%) or indefinitely (29%)—rather than seek unification (1%) or independence (25%) right now.  
Moreover, the last two decades have seen a growing Taiwanese identity replace earlier views of a joint Taiwanese-Chinese identity. In 1996, 24 percent of people in Taiwan identified primarily as Taiwanese, with nearly half (49%) seeing themselves as both Taiwanese and Chinese, and 18 percent identifying primarily as Chinese. Today, 64 percent say they are Taiwanese, and only 30 percent identify as both Taiwanese and Chinese (and a mere 2% identify solely as Chinese).  
Given these changing views of identity, and the effective end of the "one country-two systems" model in Hong Kong, it's hard to envision the "peaceful unification" Beijing claims to seek anytime soon. And forceful responses of the kind seen from the PRC this week are likely to alienate the Taiwanese public even more. As Brookings Senior Fellow Ryan Haas put it, Beijing's approach is one of "coercion without violence," constrained by unsatisfying alternatives. 
A New Straits Crisis?

 
Whether this represents a "Fourth Taiwan Straits Crisis" as some have argued will take some time to understand. One concerning factor is the extension of Beijing's signaling to include neighboring Japan. The launch of missiles over Taiwan and into Japan's exclusive economic zone is a novel escalation from the PRC. Beijing also canceled a planned meeting between Foreign Minister Wang Yi and Japanese Foreign Minister Hayashi Yoshimasa over Japan's criticism of the Chinese response in the G7.  
Another element to keep in mind is the American public reaction. A lot has happened in the past year that could have affected public views on the US role in any response to a conflict around Taiwan, including the ongoing war in Ukraine. The 2022 Chicago Council Survey has just come out of the field, so we'll have updated numbers on Americans and Taiwan soon. Stay tuned! 
Assistant Director, Public Opinion and Foreign Policy


Craig Kafura is the assistant director for public opinion and foreign policy at the Chicago Council on Global Affairs, a Security Fellow with the Truman National Security Project, and a Pacific Forum Young Leader. At the Council, he coordinates work on public opinion and foreign policy and is a regular contributor to the public opinion and foreign policy blog Running Numbers.