Most Americans Say Israel's Military Response Is Justified but Sympathize with Both Sides

Overall, Americans say the status quo between Israelis and Palestinians is unacceptable.
Before Hamas launched its brutal and unprecedented attack on Israel, American public opinion toward the Israeli-Palestinian conflict had been shifting in the favor of dialogue and change, and more Americans sympathized with the Palestinian people than ever before. However, in the aftermath of the attack, American sympathies quickly shifted toward the Israelis, who experienced one of the deadliest days for the Jewish people since the Holocaust.  
As a humanitarian crisis now unfolds in Gaza and the number of Palestinian civilian deaths increase due to Israel's retaliatory military action, the attitudes of the US public may shift again. At the core, Americans say that the status quo of the political situation is unacceptable, and the recent spiral of violence will likely reinforce this belief.  
Recent Polls Show American Sympathies Leaning toward Israel  
A CNN/SSRS survey of the American population, conducted on October 12-13—almost a week after Hamas' initial attack—finds half of Americans believe the Israeli government's military response to the violence is fully justified (50%) and another 20 percent find it partially justified. Of the rest, 21 percent are unsure, and 8 percent say it is not at all justified.  
At the same time, the CNN poll shows Americans express at least some sympathy for both Palestinians and Israelis. Nearly all Americans are sympathetic toward the Israeli people (96%, with 71% saying they have a lot of sympathy) and nearly nine in 10 also sympathize with the Palestinian people (87%, with 41% saying a lot of sympathy). 
In recent years, surveys have shown increasing divides between Republicans and Democrats and between younger and older Americans on the conflict between Israel and the Palestinians, and the CNN poll reflects those divergences. Two-thirds of Republicans (68%) compared to four in 10 Democrats say Israel's military response to the Hamas attack is fully justified.  Meanwhile, Democrats are significantly more likely to express a lot of sympathy for the Palestinian people than other partisans.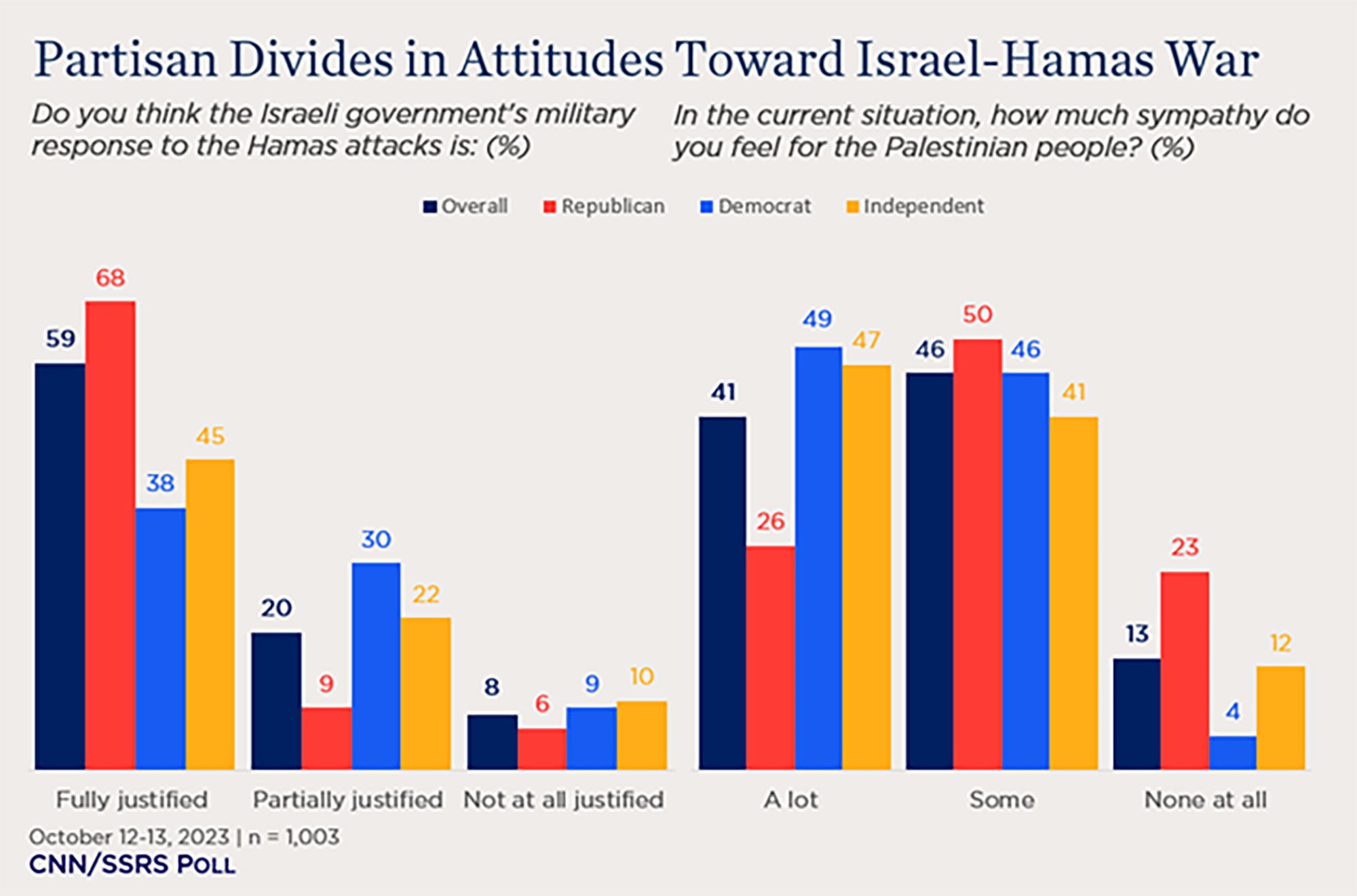 Over the last several days, Americans across the nation have rallied, either in support of the Israeli government or in protest of its siege on Gaza. College campuses and major US cities have been inundated with protesters, many of them Millennials and Gen Z expressing their sympathies for the respective sides. As an example of contrasting opinions by age, eight in 10 among those age 65 or older say the military action is completely justified versus just over a quarter among those 34 or younger (81% vs. 27%). Majorities across all age groups believe Israel to be at least partially justified in its response, however. CNN's analysis also shows that younger Americans are also the most likely to express greater sympathy for the Palestinian people.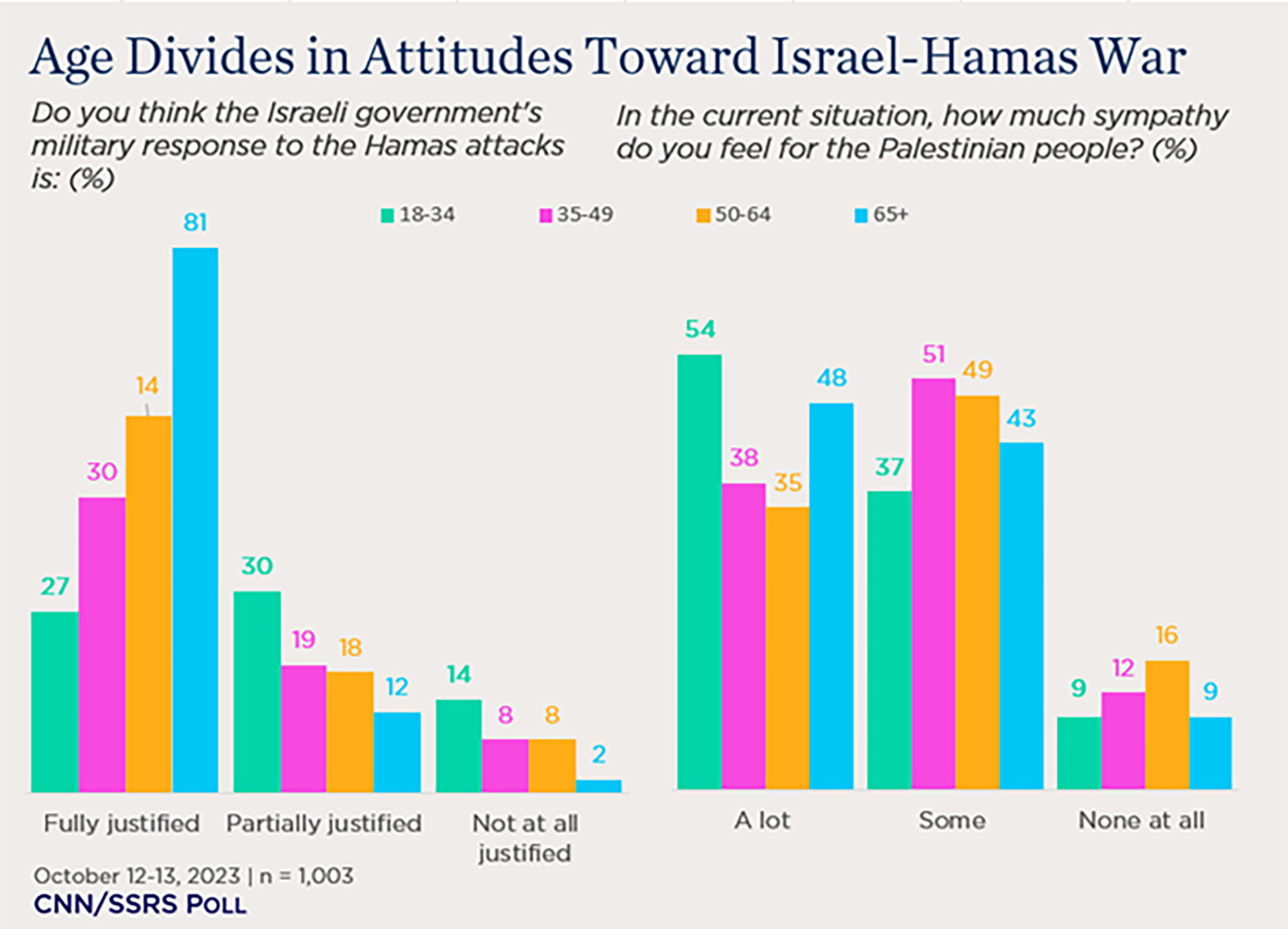 While the CNN survey revealed that Americans are sympathetic to both Palestinians and Israelis individually, other surveys forced Americans to choose one side in the conflict. Surveys conducted on October 10 by the Economist and YouGov found an 11-percentage point increase overall in Americans who sympathize with Israel rather than the Palestinians since the Hamas attack on October 7; among Republicans, there was 16-percentage point increase. An October 10-12 Morning Consult survey also found 41 percent of Americans sympathized with Israelis compared to only 9 percent who sided with the Palestinians when considering the Israeli-Palestinian conflict. And another poll conducted on October 11 by NPR and PBS News finds that nearly two in three Americans (65%) say the United States government should publicly support Israel in the war (23% say Washington should say or do nothing; only 8% say it should publicly criticize Israel). 
Prior to Attack, Americans were Ready for Change  
In the weeks preceding Hamas' attacks, the 2023 Chicago Council Survey, conducted September 7-18, found that majorities of Republicans (53%), Democrats (63%) and Independents (63%) said that the continuation of the status quo political situation between Israel and the Palestinians was unacceptable. In addition, two in three Americans (64%) thought the United States should not take either side in the Israeli-Palestinian conflict, and six in 10 (57%) thought US leaders should be ready to meet and talk with Hamas. 
Additionally, a March 2023 Gallup survey found growing support for Palestinians among Americans, and particularly among Democrats. When forced to choose a side, the sympathies of the overall American public tipped toward Israelis (54%) more than Palestinians (31%). But for the first time since 2001, more Democrats placed their sympathies with Palestinians (49% vs. 38% with Israelis). Republicans on the other hand, were more partial toward Israelis (78% vs. 11% with Palestinians).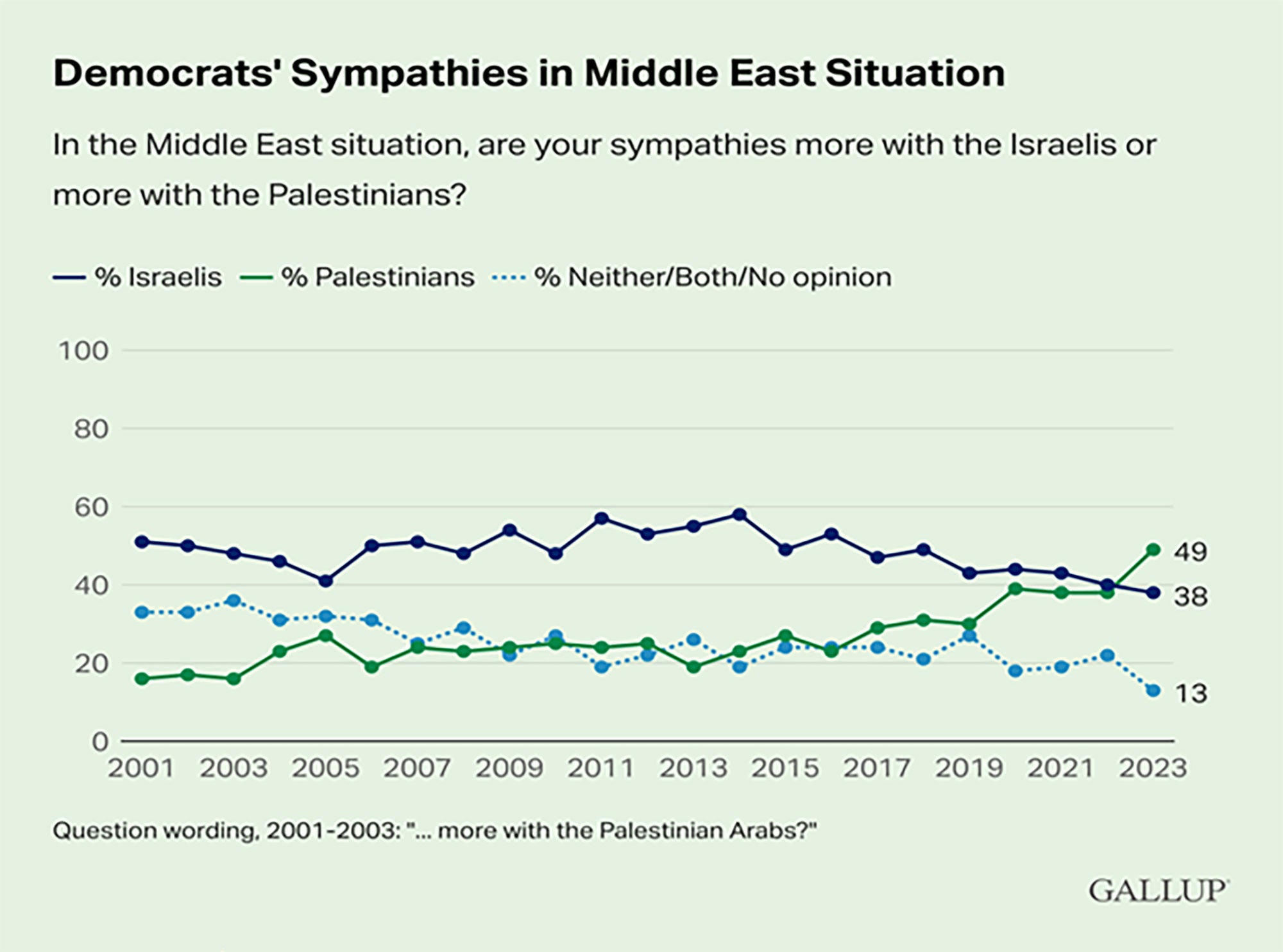 Conclusion  
Polls reveal that Americans feel sympathetic to both sides in the conflict and that events on the ground can swiftly influence views of the situation. Hamas' brutal attack against Israeli civilians raised sympathy for Israel, but now media attention is turning toward the humanitarian impacts of Israel's retaliatory military action in Gaza. It is possible that as the Palestinian death toll rises, international protests mount, and the conflict spills into the wider region, the sentiments and sympathies of the American public may shift in a different direction.  
Senior Fellow, Public Opinion and Foreign Policy

Dina Smeltz, a polling expert, has more than 25 years of experience designing and fielding international social and political surveys. Prior to joining the Council to lead its annual survey of American attitudes on US foreign policy, she served in the Bureau of Intelligence and Research at the US State Department's Office of Research from 1992 to 2008.

Research Assistant, Public Opinion and US Foreign Policy

Lama El Baz joined the Chicago Council on Global Affairs in 2023 as a research assistant for the public opinion and US foreign policy team within the Lester Crown Center. She is passionate about public opinion research, data analytics, and the regional affairs of the Middle East and North Africa.