Free Trade with Exceptions: Public Opinion and Industrial Policy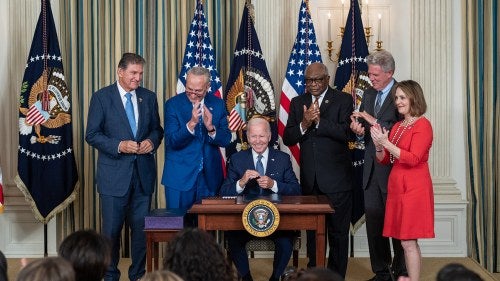 Citizens and policymakers alike embrace industrial policy as great power competition intensifies.
This month, the Inflation Reduction Act (IRA) comes into effect. One of the largest US industrial policy bills ever enacted, the act will provide hundreds of billions of dollars in subsidies for electric vehicles, renewable energy, and other strategic sectors. It has also triggered a wave of concern among European Union states and other US allies, who consider it to be discriminatory toward their industries. French President Emmanuel Macron pushed for changes to the bill in his December state visit to Washington, and European lawmakers have proposed a wide range of responses—from retaliatory tariffs, to a commensurate subsidy package, to a challenge at the World Trade Organization.
Deep European concern over US protectionism would have once been peculiar. But as the IRA demonstrates, industrial policy (the use of subsidies, tariffs, and other economic interventions to advance national strategic goals) has become a fixture of US economic policy under the Trump and Biden administrations. Public opinion data from the Chicago Council Survey and Morning Consult/POLITICO show broad US support for industrial policy, even as Americans continue to support free trade in the abstract. Americans are particularly supportive of protectionism when measures aim to constrain great power rivals, suggesting that support for industrial policy may increase if great power competition intensifies.
The Biden Administration's Industrial Policy Agenda
The Biden Administration has pursued an extensive industrial policy agenda, including industrial subsidies and protectionist trade measures, aiming to improve American competitiveness, deepen supply chain resilience, and revitalize domestic manufacturing. The 2022 National Security Strategy, for instance, states that "strategic public investment is the backbone of a strong industrial and innovation base in the 21st century global economy." To that end, the administration has championed the CHIPS and Science Act, Inflation Reduction Act (IRA), and Infrastructure Investment and Jobs Act (IIJA), collectively sending hundreds of billions of dollars to strategically important industries. Biden has also continued many of his predecessor's trade policies. While he criticized former President Donald Trump's trade wars on the campaign trail, his administration has largely retained tariffs on China and stayed out of the Comprehensive and Progressive Agreement for Trans-Pacific Partnership (CPTPP).
Recent polling shows that these policies are individually popular. A March 2022 POLITICO and Morning Consult online poll showed that 58 percent of registered voters supported the IIJA, compared to 27 percent who opposed it (the remaining 17% had no opinion). Government assistance for semiconductor production—which was codified in the CHIPS Act—is also supported by more than six in 10 voters (65%), including majorities of Democrats, Republicans, and Independents.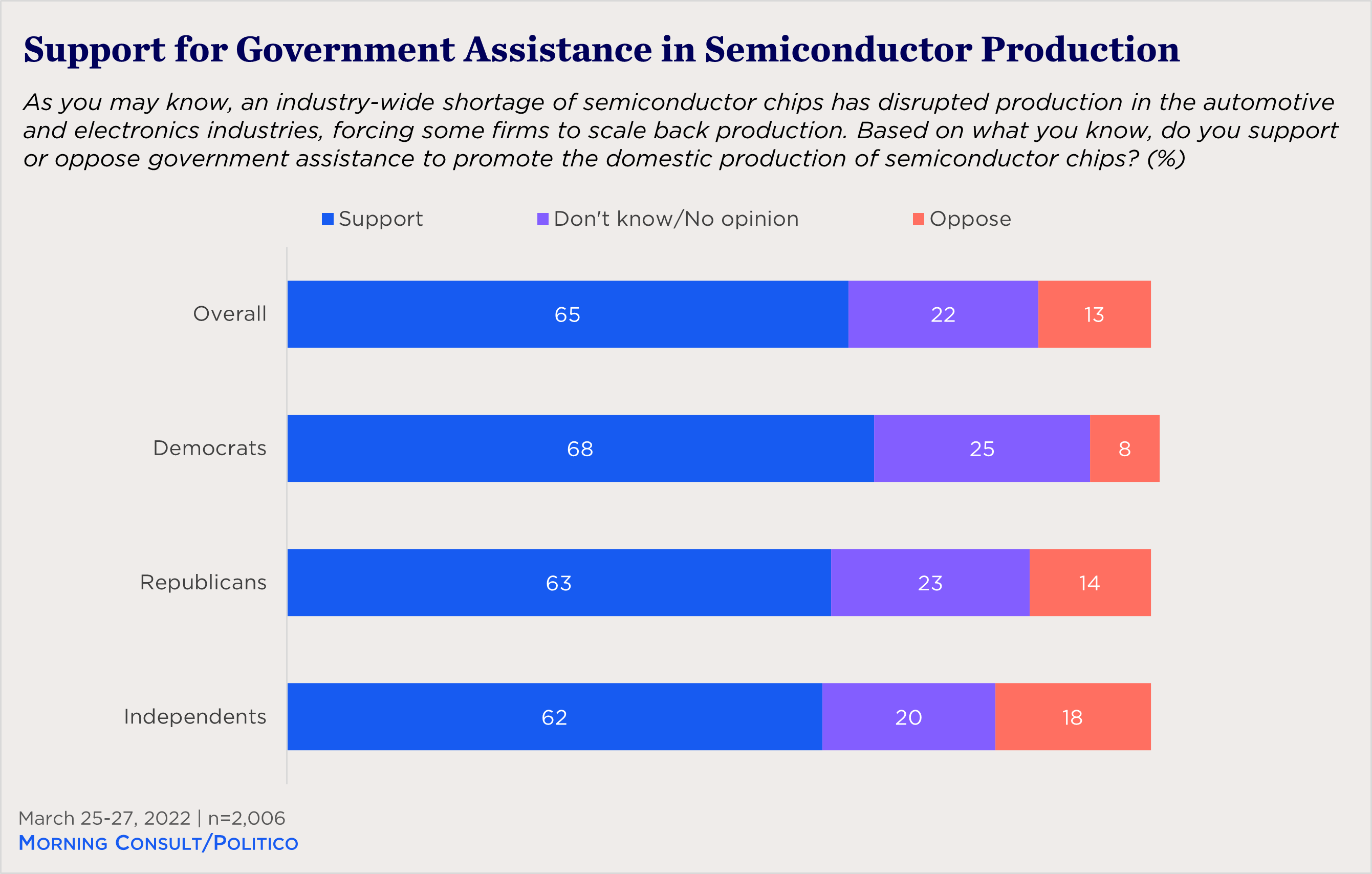 Similarly, tariffs on Chinese imports command bipartisan support, even as pressure has grown to reduce consumer prices. A May 2022 Morning Consult poll found that Americans are almost twice as likely to support keeping the tariffs as they are to support reducing them, including pluralities of both Democrats and Republicans.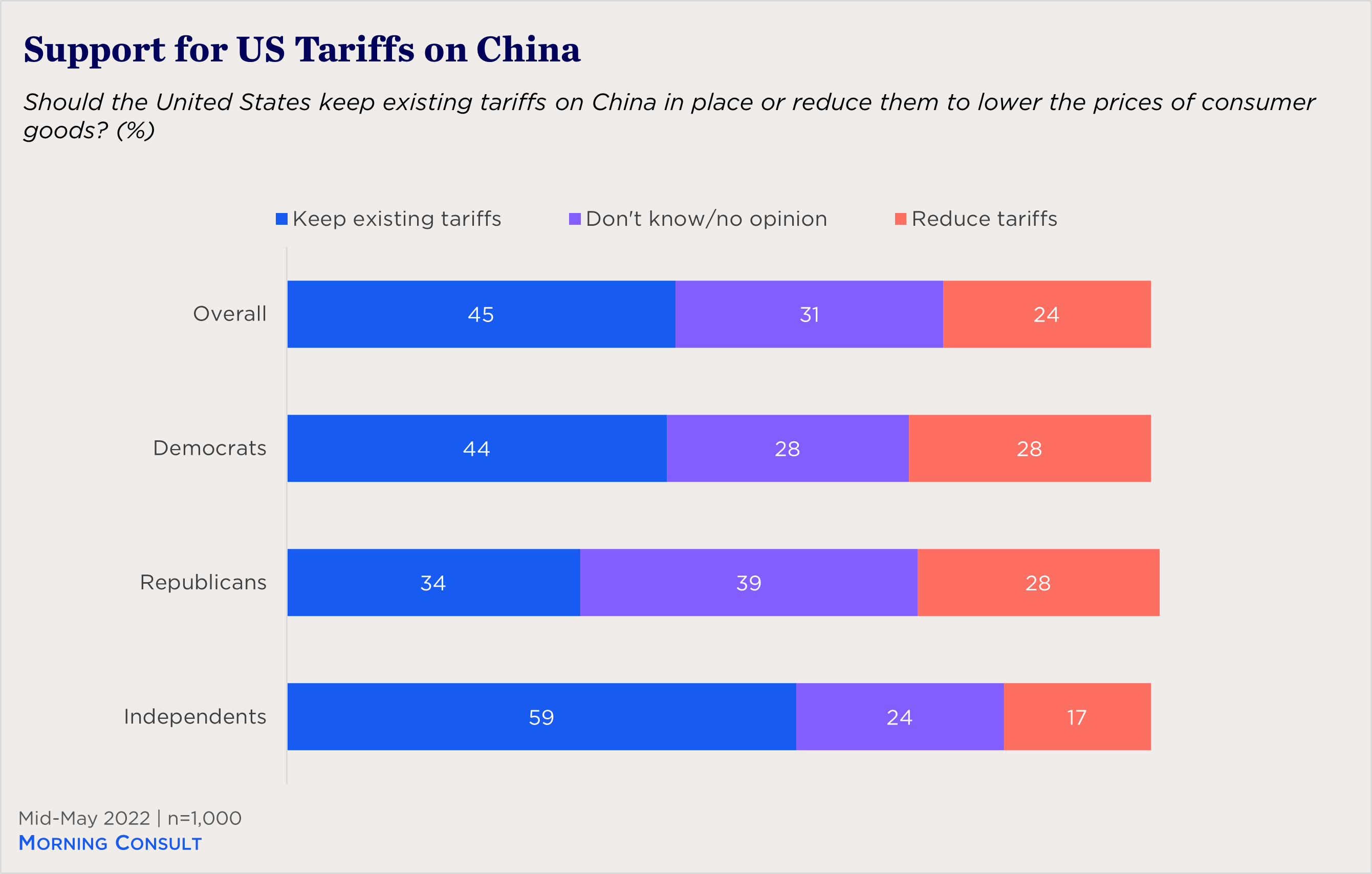 Americans Support Wide Range of Industrial Policy Measures
The American public's support for these individual policies reflects their broader enthusiasm for a wide range of industrial policy measures. In 2021, majorities believed that the government should fund research of emerging technologies to advantage US companies over foreign competitors (79%), subsidize domestic businesses in industries that receive foreign subsidies (72%), and impose tariffs and limit imports on their foreign competitors (57%).
In fact, support for these mechanisms is an area of bipartisan agreement, although Republicans generally express more support for trade restrictions, while Democrats are more supportive of subsidies. Sixty percent of Democrats believe that the government should identify companies that are likely to succeed in strategically important industries and offer subsidies, as opposed to 48 percent of Republicans.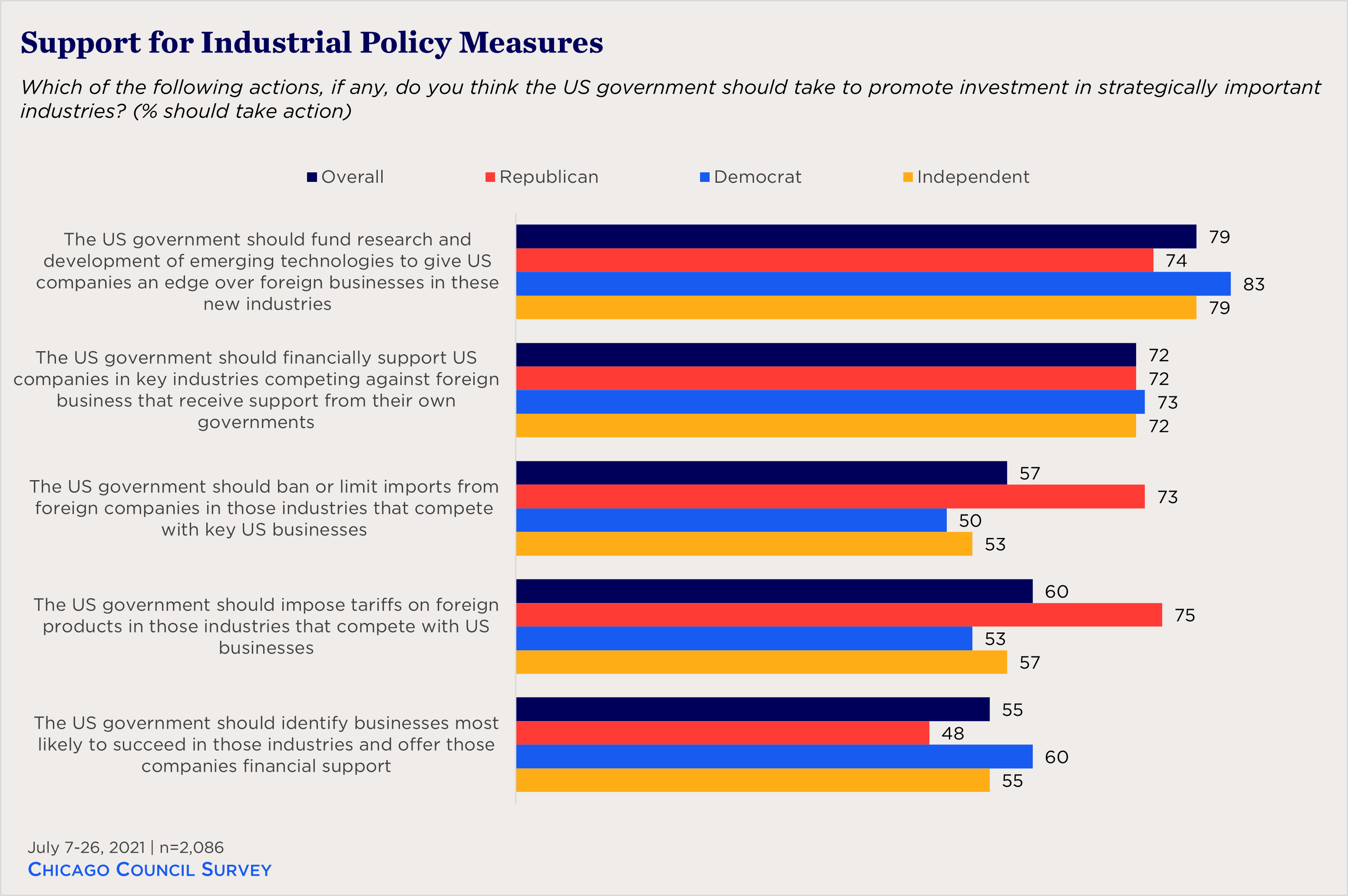 More broadly, Americans express confidence that protectionist policies can help achieve the country's foreign policy aims. According to the 2022 Chicago Council Survey, more than six in 10 Americans believe that placing tariffs against other countries' goods are an effective approach to achieving the foreign policy goals of the United States (63%). This includes majorities of Republicans (76%), Democrats (61%), and Independents (57%).
Americans Endorse Economic Statecraft against China, Russia
Americans are particularly willing to pursue protectionist policies when it comes to combatting the ambitions of rival great powers. Last year's Chicago Council Survey showed that majorities of Americans support prohibiting US companies from selling sensitive high-tech products to China, increasing tariffs on Chinese products, and "significantly" reducing trade between the United States and China, even if it means increasing costs for American consumers.
Recent polling from the United States Studies Centre (conducted online by YouGov) offers insight into how much Americans are willing to pay to reduce trade with China. Over eight in 10 Americans say they would favor a phone made outside of China over one that is made in China even if it costs $100 more (81%). While this may not necessarily reflect consumer behavior once financial constraints are considered, the findings suggest that Americans place great value on reducing supply chain dependence on China.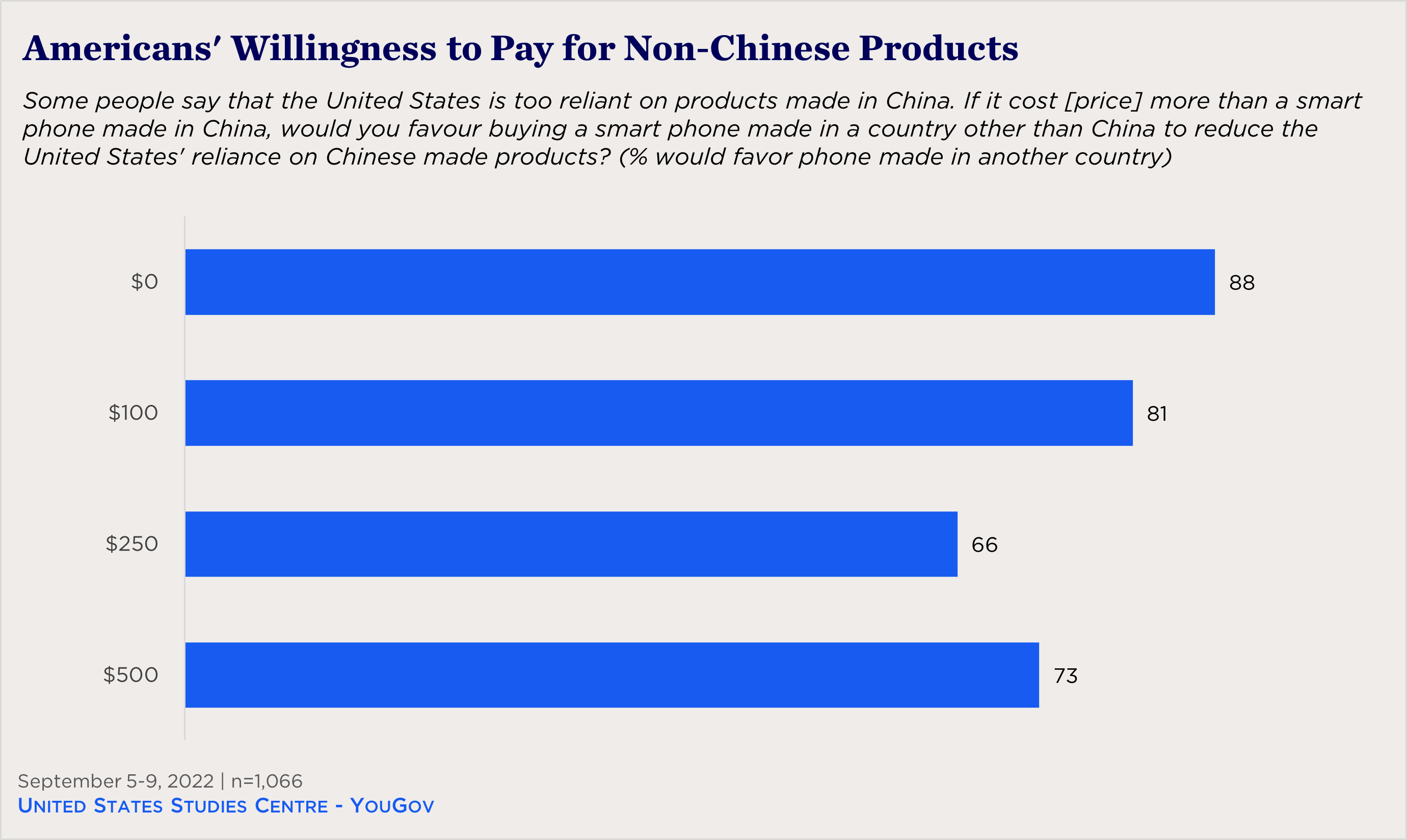 The public is also supportive of trade restrictions on Russia in response to its invasion of Ukraine. In the 2022 Chicago Council Survey, 82 percent of Americans also favored preventing US companies from selling sensitive high-tech products to Russia. Robust support of economic statecraft against both China and Russia may explain why efforts like the CHIPS and Science Act are popular, considering that they counter China's technological ambitions.
Free Trade, Protectionism, or Both?
These protectionist impulses are notable because while the public endorses industrial policy solutions to protect jobs and nascent industries, it also supports free trade—at least in the abstract.
Chicago Council Survey data show that international trade has enjoyed consistent bipartisan support from a majority of Americans across the last 20 years. In 2021, three in four Americans thought that international trade was good for the US economy (75%). The public has also expressed support for free trade agreements: majorities across all parties supported US membership in the US-Mexico-Canada Free Trade Agreement and the Comprehensive and Progressive Agreement for Trans-Pacific Partnership.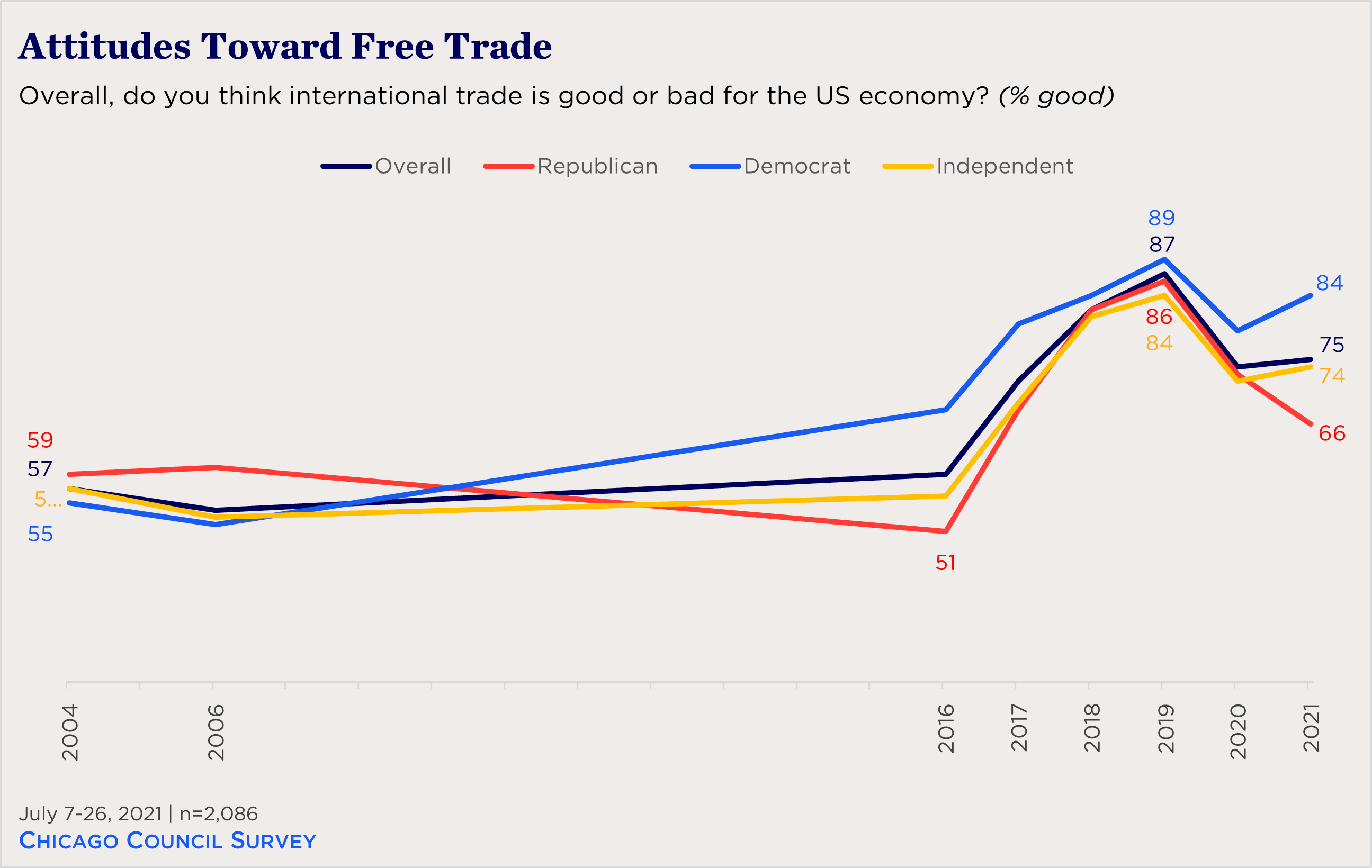 US Alliances and the Future of Industrial Policy
These findings suggest that Americans do not hold dogmatic views towards free trade or industrial policy: they both endorse free trade in principle and believe that many industrial policy measures will advance national strategic goals. The public's particularly strong support for economic statecraft against China and Russia suggest that great power competition is reducing support for economic openness. If tensions with Beijing and Moscow worsen, the public may become even more supportive of industrial policy and other protectionist measures.
That is a sobering thought for Europeans opposed to the Inflation Reduction Act. But Americans' support for industrial policy measures does not mean that they seek confrontation with allies. Broadly, the public wants to collaborate with allies on national economic priorities. According to the United States Studies Centre poll, for example, more than six in 10 Americans favor collaboration with Australia (72%) and Japan (61%) on the development of technologies like artificial intelligence, quantum computers, and semiconductor manufacturing.
As the Biden administration continues industrial policy's "comeback," balancing both of these objectives—reorienting economic policy without rupturing important partnerships—will be the fundamental challenge. For the IRA, the White House has sought a negotiated approach with European partners: Biden promised "tweaks" to address partners' concerns following Macron's visit, and US-EU negotiations continue over its implementation. Whether he and his counterparts succeed will be an early test of collaboration in this new era of American economic policy.
Public Opinion Intern


Phillip Meng joined the Council in September 2022 as an intern on the public opinion team.