Democrats and Republicans Miles Apart on Threat of Climate Change

The 54-percentage-point gap between Democrat and Republican views on climate change is the largest in the 2020 Chicago Council Survey.
Key Findings 
Three-quarters of Democrats (75%) consider climate change a critical threat while less than one quarter (21%) of Republicans agree. This 54-percentage-point difference is the largest partisan gap among all potential threats included in the 2020 Chicago Council Survey.
Just 15 percent of Democrats see the US government as effective in its handling of climate change compared to 47 percent of Republicans.
Despite downplaying the threat posed by climate change, Republicans do not reject action to address it. A 2019 Chicago Council Survey found that a plurality (46%) of Republicans considered climate change a problem that should be addressed gradually with low costs, and 20 percent said it should be addressed immediately with potentially significant costs.
The same 2019 survey found that, in contrast, three in four Democrats believed that the country should take immediate steps regardless of cost (76%, up from 62% in 2016).
In the 2020 survey, Democrats (92%) and Republicans (76%) largely agree that engaging in international cooperation is the only way to solve global issues such as climate change and pandemics.
Seven in ten (72%) support working with China to limit climate change. However, support among Republicans (58%) is lower than that among Democrats (86%).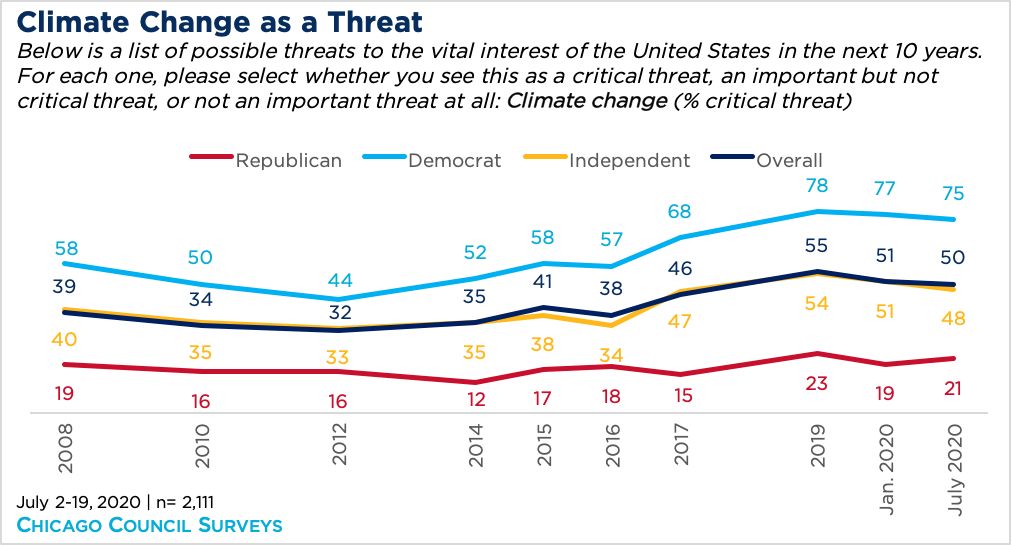 Methodology
This analysis is based on data from the 2020 Chicago Council Survey of the American public on foreign policy, a project of the Lester Crown Center on US Foreign Policy. The 2020 Chicago Council Survey was conducted July 2-19, 2020 by IPSOS using their large-scale nationwide online research panel, KnowledgePanel, among a weighted national sample of 2,111 adults, 18 years of age or older, living in all 50 US states and the District of Columbia. The margin of sampling error for the full sample is ±2.3 percentage points, including a design effect of 1.2056. The margin of error is higher for partisan subgroups or for partial-sample items.
Partisan identification is based on respondents' answer to a standard partisan self-identification question: "Generally speaking, do you think of yourself as a Republican, a Democrat, an Independent, or what?"
The 2020 Chicago Council Survey is made possible by the generous support of the Crown family and the Korea Foundation.
Intern, Public Opinion
Charlie Rahr is an intern at the Council, working with the public opinion team.