Composting and food waste: What Chicago can learn from other global cities

Chicago recently launched a citywide composting initiative to divert food waste from landfills and help reduce greenhouse gas emissions — something other global cities have been tackling for years.
Food waste in landfills accounts for an estimated 8% to 10% of global greenhouse gas emissions. According to the Environmental Protection Agency (EPA), landfills in the U.S. are the "third-largest source of methane emissions" — and food waste makes up about 24% of that. Chicago recently launched a citywide composting initiative to help manage its food waste and meet its climate goals. 
"Diverting food scraps for composting is one of the easiest and most impactful ways for individuals and cities to address the climate crisis," Mayor Brandon Johnson said in a statement. 
Costs and benefits of composting 
The Illinois Environmental Council estimates that food waste makes up 20% of Chicago's waste stream, and local experts hope composting will help lower that percentage.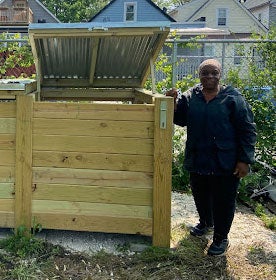 "I can fill [my three composting bins] up in about six months," said Cordia Pugh, founder of Hermitage Street Community Garden in Englewood, in an interview with one of the authors of this story. "Can you imagine how much stuff we can corral, save and utilize right here rather than sending it out to the landfill?"  
Hermitage is one of six community gardens that participated in a composting pilot program under former Chicago Mayor Lori Lightfoot. The program was modeled after similar efforts in other cities including Minneapolis, New York, and Washington, D.C. 
Composting helps reduce greenhouse gas emissions by keeping food scraps out of oxygen-starved landfills, where it would otherwise decompose and release methane. According to the EPA, "methane is more than 28 times as potent as carbon dioxide at trapping heat in the atmosphere" — a significant contributor to global warming. 
Decreasing the amount of organic waste in Chicago's landfills may also save taxpayers money in the long run. The average municipal solid waste landfill tipping fee in the U.S. in 2021 was $54.03 per ton, resulting in billions of dollars spent on waste management. If successfully implemented, Chicago's new program could result in significant cost savings for the city. 
South Korea leads the world in composting 
Chicago and other U.S. cities have increasingly recognized the importance of diverting food waste from landfills, but some have been slower to adopt robust composting programs compared to many European and Asian countries. South Korea, for example, leads the world in composting programs on a national level, and many global cities look to its model for inspiration.  
In 1996, only 2.6% of food waste was recycled in South Korea; it was about 95% in 2019.  
The South Korean government successfully reduced food waste by examining the obstacles to implementation and establishing the infrastructure to support and manage food waste effectively. 
Since 1995, producers have been required to pay the disposal cost for the food waste they generate.  
Food scraps have been banned from landfills since 2005. 
Universal curbside composting has been required since 2013.  
Although individuals and businesses pay a fee to discard their food waste, the program has been successful due to its ease of use. Most food waste is "turned into animal feed, fertilizer and fuel for heating homes." 
"As long as the public's sense of civic duty can accommodate it, I think it's good to charge a fee for food waste," said Hong Su-yeol, the head of Resource Recycling Consulting, in an interview with The Guardian. "But if you make it so costly that people feel the blow, they're going to throw it away illegally." 
Similarly, New Zealand turns food scraps into renewable energy. Food waste is collected curbside and taken to a processing facility, where it's converted into liquid fertilizer and biogas (a type of renewable energy that can be captured from decomposing organic matter). Local farmers use the fertilizer to grow more food by returning nutrients to the soil. There are plans to integrate biogas into New Zealand's national energy grid next year.  
Reducing food waste globally 
Diverting food scraps from landfills is an important aspect of reducing food waste and methane emissions. But it's only part of the solution. Some countries are trying to prevent food from being wasted in the first place. 
Tackling food waste offers a critical opportunity to improve the environment, minimize climate change, and reduce global food insecurity. But for large-scale food waste prevention and diversion programs to work, governments must take an active approach. 
"It makes economic sense to properly manage waste," Silpa Kaza, a senior urban development specialist at the World Bank, said in a statement. "Uncollected waste and poorly disposed waste have significant health and environmental impacts. The cost of addressing these impacts is many times higher than the cost of developing and operating simple, adequate waste management systems. Solutions exist and we can help countries get there."
Newsletter Editor

Nicole L. Cvetnic is an Emmy-nominated, Webby-recognized journalist who joined the Chicago Council on Global Affairs in 2023 as newsletter editor. She is responsible for delivering news and analysis to the next generation of changemakers through various newsletter initiatives.

Former Intern, Blue Marble Studios

Fiona Roach joined the Chicago Council on Global Affairs as a 2023 summer intern with Blue Marble Studios, and is a student at Northwestern University studying journalism and international studies. She's originally from Chicago, specifically Ravenswood and Forest Park neighborhoods. Previously, she worked for The Daily Northwestern and Growing Community Media as a reporter and an editor.