Most Americans No Longer View COVID-19 as a Critical Threat

President Biden declared that "the pandemic is over." Council polling shows that when it comes to security and foreign policy, most Americans agree.
More than two years into the COVID-19 outbreak, Americans' focus on the pandemic is diminishing. Survey results show that concern about the pandemic has declined sharply and the public wants the United States to play a supporting, rather than leading, role in global vaccine aid.
Key Findings
Only a third of Americans (32%) consider the COVID-19 pandemic to be a critical threat to the country, down from two-thirds in 2020 (67%).
COVID-19 is still a politicized issue: while half of Democrats see the pandemic as a critical threat (50%), only 14 percent of Republicans and 28 percent of Independents agree.
Around half of Americans would prefer that the country play a supporting role in delivering vaccines to countries in need (51%).
The United States has surpassed 1 million known deaths from COVID-19, underscoring the pandemic's extraordinary toll.
Yet across the partisan spectrum, concern about COVID-19 among the American public has hit an all-time low in Chicago Council Surveys. The proportion of Americans who view the COVID-19 pandemic as a critical threat has fallen from two-thirds in the summers of 2020 (67%) and 2021 (65%) to less than a third today (32%).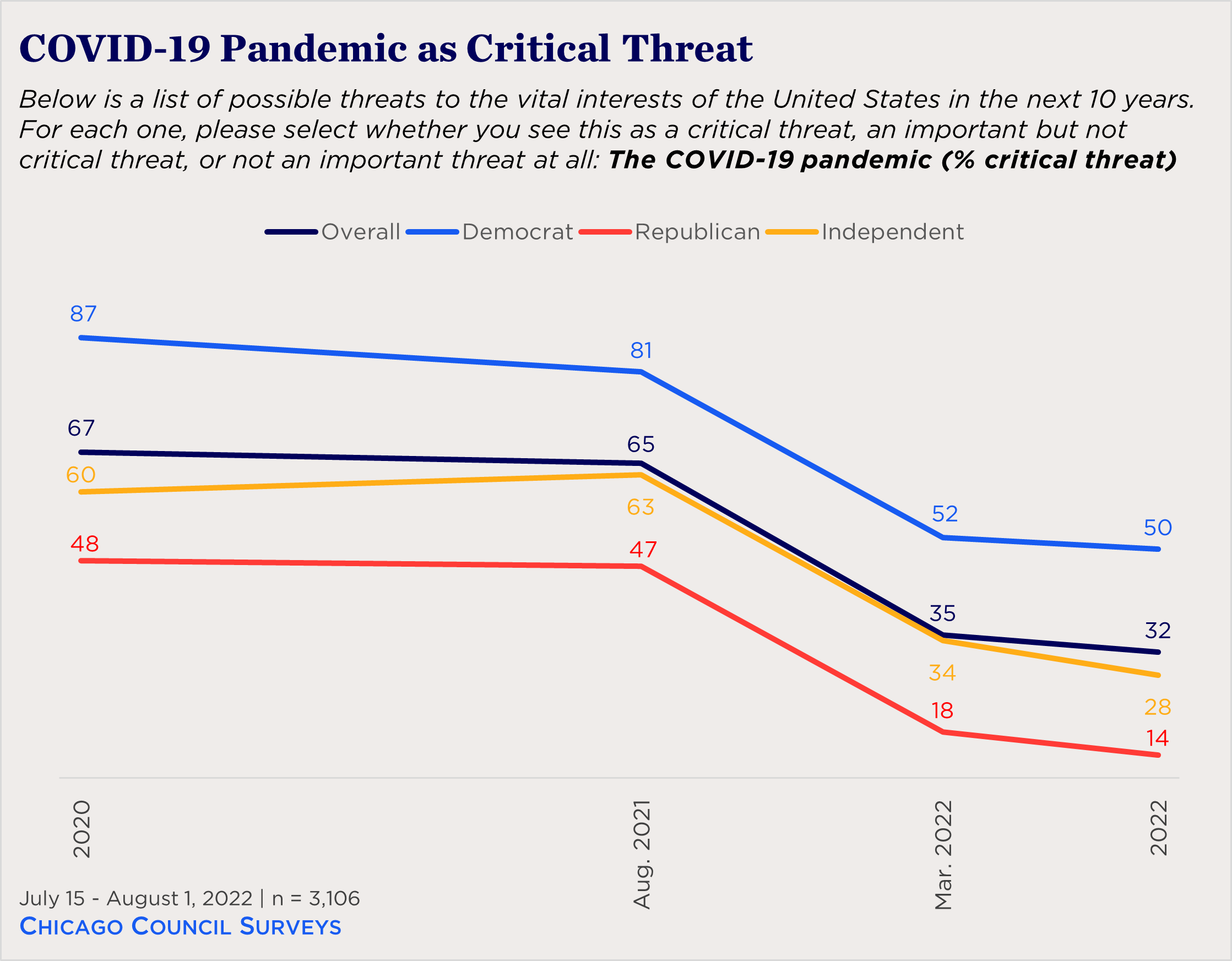 While Americans' overall sense of threat from COVID-19 is down, the pandemic remains a politically divisive issue. Democrats (50%) are much more likely than Republicans (14%) to view the pandemic as a critical threat. This 36-point partisan gap has remained fairly consistent since the Council first asked this question in the summer of 2020.
Meanwhile, Americans continue to support an international role in vaccine distribution. They prefer that the United States play a supporting (51%) rather than leading (34%) role, reflecting a desire to share costs and contribution obligations. The United States has made substantial progress in vaccine donations, having delivered more than 600 million doses out of 1.1 billion pledged through bilateral agreements and Gavi. These efforts have contributed significantly to increasing global vaccinations; while less than 40 percent of the world's population had received at least one dose of a COVID-19 vaccine in August 2021, more than two-thirds have today.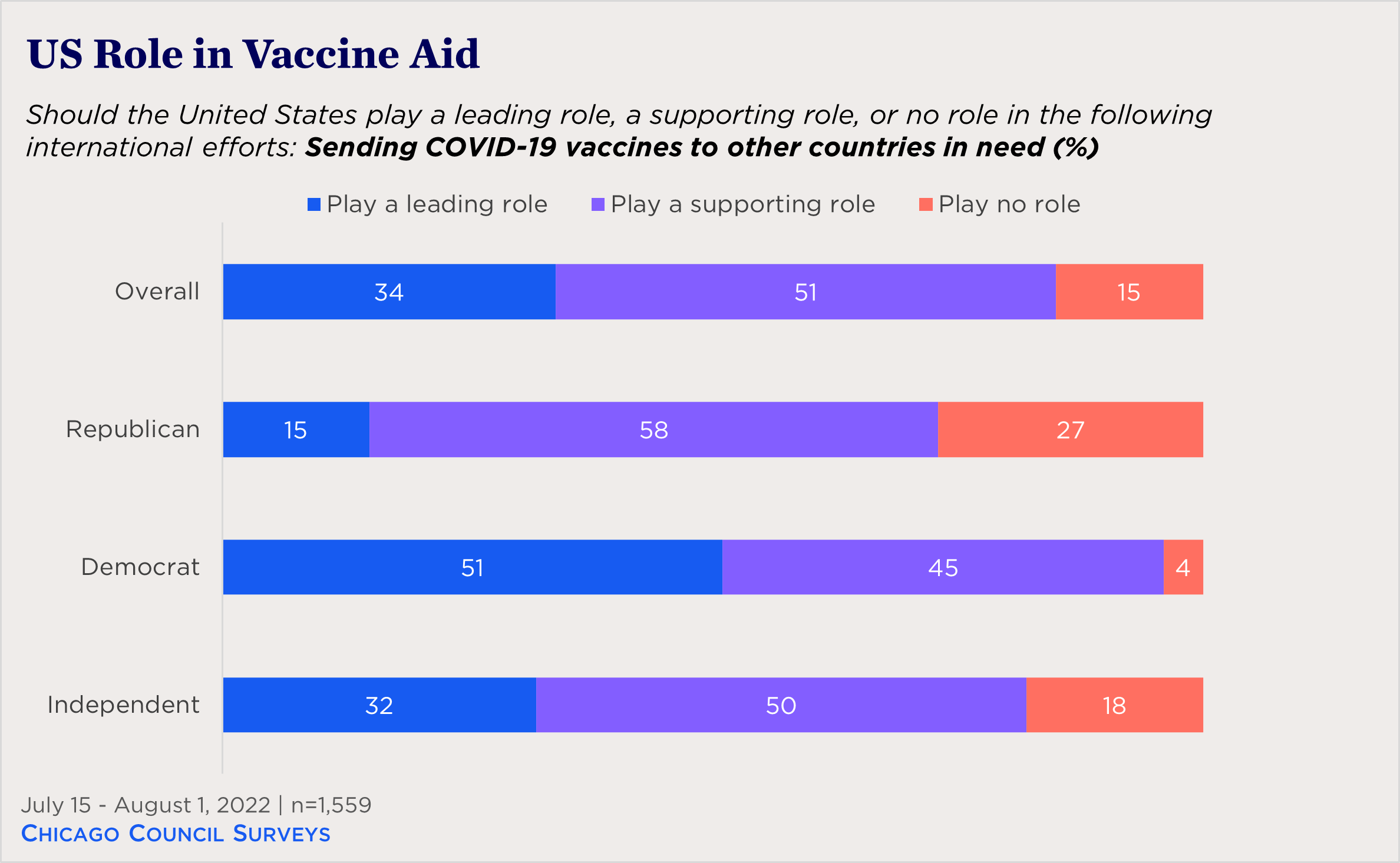 As economic activity approaches pre-pandemic trends, and Americans adjust to life with COVID-19, the pandemic has increasingly receded into the background. The 2022 Chicago Council Survey shows that Americans are also applying this approach to security and foreign policy, deprioritizing the pandemic as the country embraces a "new normal."
Public Opinion Intern


Phillip Meng joined the Council in September 2022 as an intern on the public opinion team.


Methodology
This analysis is based on data from the 2022 Chicago Council Survey of the American public on foreign policy, a project of the Lester Crown Center on US Foreign Policy. The 2022 Chicago Council Survey was conducted July 15–August 1, 2022, by Ipsos using its large-scale nationwide online research panel, KnowledgePanel, in both English and Spanish among a weighted national sample of 3,106 adults 18 or older living in all 50 US states and the District of Columbia. The margin of sampling error for the full sample is +/- 1.8 percentage points. The margin of error is higher for partisan subgroups or for partial-sample items.
Partisan identification is based on how respondents answered a standard partisan self-identification question: "Generally speaking, do you think of yourself as a Republican, a Democrat, an Independent, or what?"
The 2022 Chicago Council Survey is made possible by the generous support of the Crown family and the Korea Foundation.
Lester Crown and the Crown Family