Americans See Energy Supply Disruption as Biggest Threat to US Security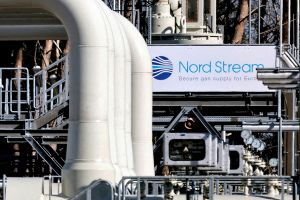 The public also remains concerned about the potential for a global economic downtown, Council polling shows.
Key Findings
A majority of Americans (62%) view a disruption in the energy supply as a critical threat to the United States, more than any other issue asked about on the 2022 Chicago Council Survey.
More than half are concerned about a global economic downturn, with 55 percent labeling the prospect a critical threat to US interests.
As Russia's war in Ukraine continues to impact global markets, more Americans identify a potential disruption in the energy supply as a critical threat (62%) than any other issue mentioned in the 2022 Chicago Council Survey, similar to Russia's territorial ambitions (60%) and slightly above international terrorism (58%).
While the public's concern is bipartisan, with majorities of Republicans (67%), Democrats (59%), and Independents (62%) viewing energy disruptions as a critical threat, party views have fluctuated over time. Republicans are now less concerned than they were in March 2022 (72%), while Democrats express greater concern today than they did last spring (51%).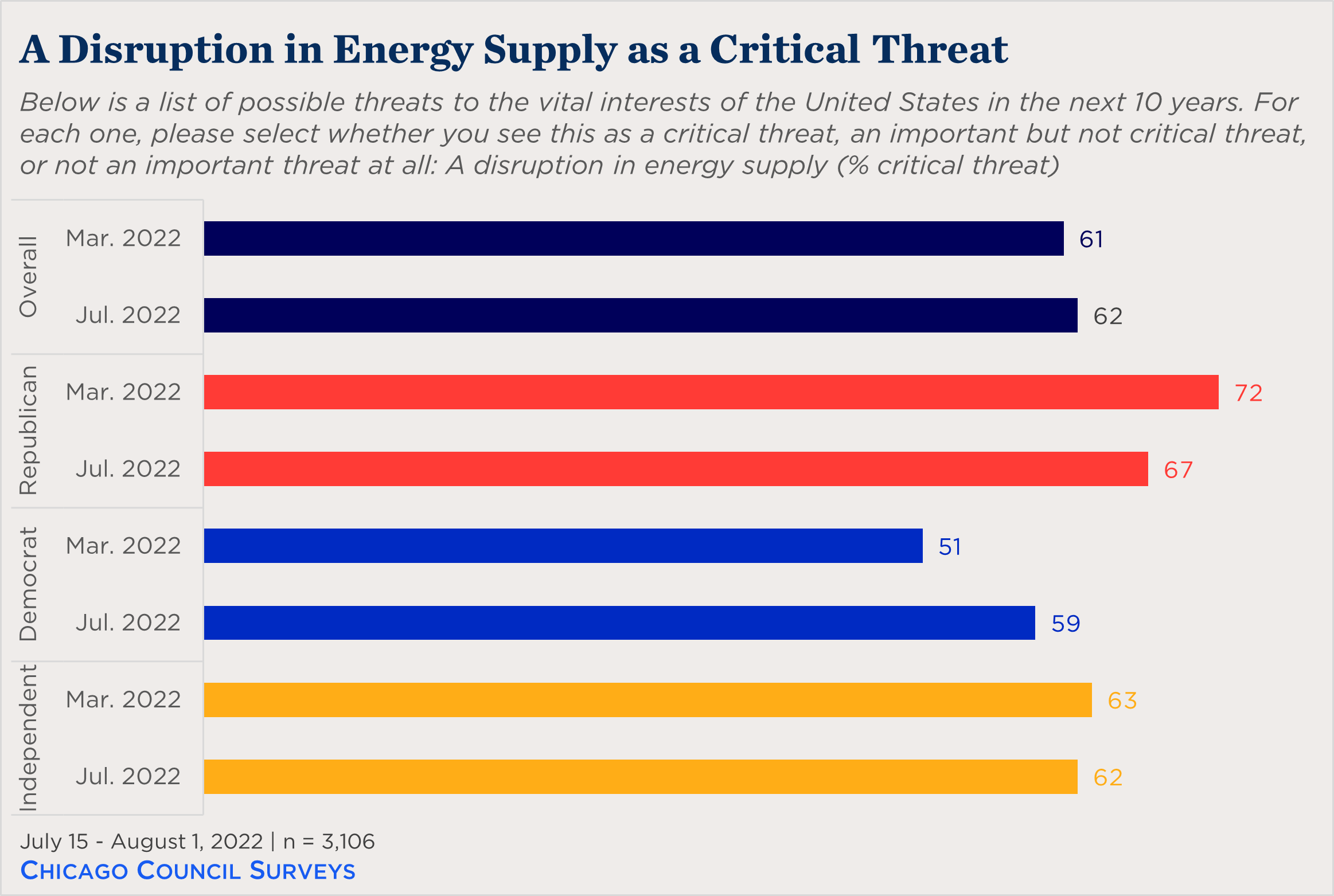 More than half of Americans (55%) also view a global economic downturn as a critical threat. While inflation and gas and food prices have risen in the past year, there has not been much of an increase since 2020 when the same proportion expressed concern about the issue (55%) in the first year of the COVID-19 pandemic.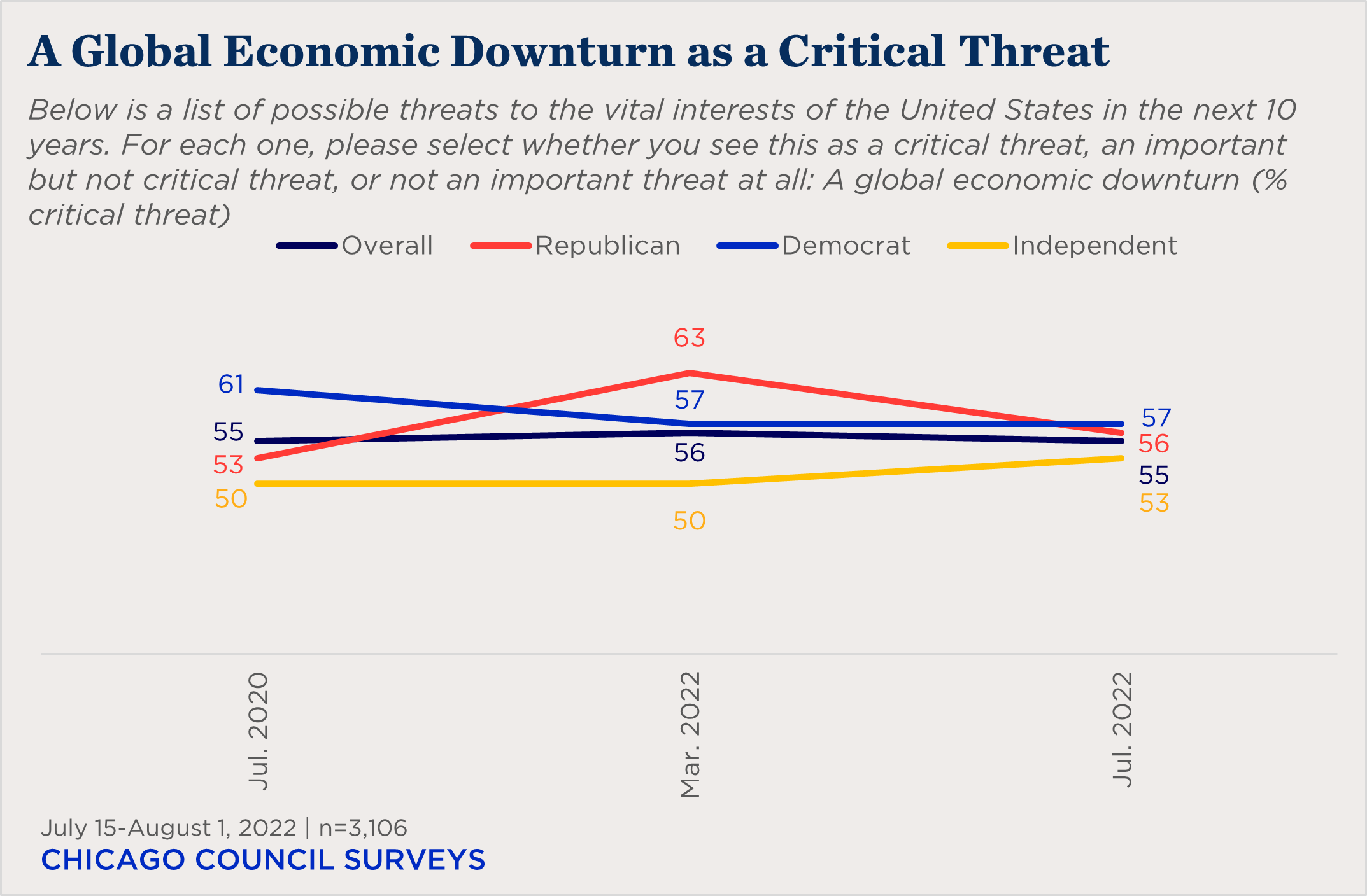 Communications Officer


As the communications officer for the Lester Crown Center, Libby Berry works to connect audiences with foreign policy research and analysis.


Senior Fellow, Public Opinion and Foreign Policy

Dina Smeltz, a polling expert, has more than 25 years of experience designing and fielding international social and political surveys. Prior to joining the Council to lead its annual survey of American attitudes on US foreign policy, she served in the Bureau of Intelligence and Research at the US State Department's Office of Research from 1992 to 2008.

Methodology
This analysis is based on data from the 2022 Chicago Council Survey of the American public on foreign policy, a project of the Lester Crown Center on US Foreign Policy. The 2022 Chicago Council Survey was conducted July 15–August 1, 2022, by Ipsos using its large-scale nationwide online research panel, KnowledgePanel, in both English and Spanish among a weighted national sample of 3,106 adults 18 or older living in all 50 US states and the District of Columbia. The margin of sampling error for the full sample is +/- 1.8 percentage points. The margin of error is higher for partisan subgroups or for partial-sample items.
Partisan identification is based on how respondents answered a standard partisan self-identification question: "Generally speaking, do you think of yourself as a Republican, a Democrat, an Independent, or what?"
The 2022 Chicago Council Survey is made possible by the generous support of the Crown family and the Korea Foundation.
Lester Crown and the Crown Family