Cities are now more connected than ever before on a global scale. Yet local governments are not just spectators of this networked age: they are actively forging links across borders, taking part in setting the international agenda, and shifting the landscape of urban politics from local to increasingly global.
Executive Summary 
There are hundreds of formalized city networks around the world addressing a broad range of issues, and the potential of cities' external engagements is as vast as it is untapped. City diplomacy is and must become a strategic activity for cities worldwide if they are to remain relevant in the new global order. 
To get a more systematic look at the capacity of local governments around the world, select global cities were reviewed to explore their strategies, structure, expertise, and participation in networks. The following findings will inform future efforts to build capacity for more effective global engagement: 
The majority of cities have an international strategy and a dedicated international office.
The city budget for global engagement is often minimal.
Only a few cities reported that their staff has undergone dedicated training for city diplomacy.
A majority of cities participate in international networks.
A majority of cities reported that city diplomacy has had a positive impact on their cities.
Building on these initial findings, cities seeking to expand their international influence need to consider the following:
Define a clear international strategy and coordinated approach.
Better deploy resources toward managing international relationships and strategy.
Prioritize engagements to avoid both over-commitment and opportunistic, short-term ventures.
Measure the impact and value of city diplomacy.
Integrate local demands with international agendas.
As cities increasingly become influential actors on the global stage, they need to invest in resources, expertise, and capacity to manage their relationships and responsibilities to conduct city diplomacy effectively.  
Founding Director, Carnegie California


Ian Klaus is a leading scholar on the nexus of urbanization, geopolitics, and global challenges, with extensive experience as a practitioner of subnational diplomacy. Klaus co-led and served as the series editor for the Summary for Urban Policymakers, a landmark report that distilled over 8,000 pages of IPCC science into 80 pages of accessible, policy-relevant material for urban policymakers.


Visiting Researcher, UCL City Leadership Lab
Nonresident Senior Fellow, Global Cities


Michele Acuto is director of the Melbourne Centre for Cities and professor of global urban politics at the University of Melbourne, where he also serves as associate dean (research) in the Faculty of Architecture, Building and Planning. He is a recognized voice on the intersection between international affairs and urban governance, with extensive work on questions of urban health, waste management, nighttime economy, and city networks.


Senior Program Director - Migration, The Walder Foundation


Juliana Kerr is the senior program director of migration at the Walder Foundation, and the former director of Global Cities at the Chicago Council on Global Affairs.


Former Research Associate, Global Cities, Chicago Council on Global Affairs
Sam Tabory is a former research associate for global cities at the Council. He earned a BA in Spanish and Latin American studies from Tulane University, and holds an MS in community and regional planning and an MA in Latin American studies from the University of Texas at Austin.
Nonresident Senior Fellow, Global Cities

Noah J. Toly is currently the Provost at Calvin University. Previously, he was a professor of urban studies and politics and international relations at Wheaton College. In 2011, Toly was named an Emerging Leader by the Council, and from 2012-2013, he was appointed as a senior fellow at the University of Chicago's Martin Marty Center for the Advanced Study of Religion.

Related Event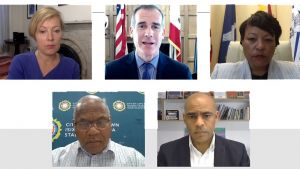 Dr. Anthony Fauci and leading city experts explored how to build fairer, healthier cities now and after the COVID-19 pandemic.