Pursuing Equity
Dr. Anthony Fauci and leading city experts explored how to build fairer, healthier cities now and after the COVID-19 pandemic.
About This Event
In the past, we have discussed inclusive urban economic frameworks, creating better cities for all, and confronting systemic racism and inequity. This event will continue to explore the relationship between inequality and urban space, equity in crisis response, and global approaches to pursuing equity.
Event Schedule
| Time | Agenda |
| --- | --- |
| 4:00 - 4:10pm CST | Welcome Remarks |
| 4:10 - 4:20pm | Keynote: Health Equity in the United States |
| 4:20 - 5:00pm | Building Back Better Toward an Equitable City |
| 5:00 - 5:05pm | Spotlight City: London |
| 5:05 - 5:25pm | Cities Driving the Transport Agenda |
| 5:25 - 5:35pm | Keynote: The Case for a Global Response |
Chair of COVID-19 Health Equity Task Force at the US Department of Health and Human Services


Marcella Nunez-Smith, MD, MHS is the associate dean of health equity research at Yale School of Medicine; associate professor of medicine, public health, and management; and director of the Equity Research and Innovation Center (ERIC) in the Office for Health Equity Research. She was previously a co-chair of the Biden-Harris Transition COVID-19 Advisory Board and community committee chair of the ReOpen Connecticut Advisory Group.


US National Editor, Financial Times


Edward Luce is the Financial Times' chief US commentator and columnist based in Washington, D.C. Prior to that role, he was the Financial Times' Washington bureau chief and South Asia bureau chief based in New Delhi.


Director, National Institute of Allergy and Infectious Diseases; Chief Medical Adviser to President Joe Biden


Anthony S. Fauci, MD is director of the National Institute of Allergy and Infectious Diseases (NIAID) at the US National Institutes of Health, where he oversees an extensive research portfolio focused on infectious and immune-mediated diseases. Dr. Fauci has made many seminal contributions in basic and clinical research and is one of the world's most-cited biomedical scientists.


CEO, Chicago Council on Global Affairs


Ivo H. Daalder served as the US ambassador to NATO from 2009 to 2013. He joined the Council as president in 2013 and took on the new role of CEO in 2023. Previously, he was a senior fellow in foreign policy studies at the Brookings Institution and served as director for European affairs on President Bill Clinton's National Security Council. He is the author or editor of 10 books.


Speakers: Building Back Better Toward an Equitable City
Mayor, New Orleans


LaToya Cantrell made history on May 7, 2018 when she became New Orleans' first woman mayor in the three-century history of the city. Since becoming Mayor, she has focused on public safety, infrastructure, and housing. She has presided over record-low homicide and other violent-crime rates while seeking innovative strategies to address the rising number of system-involved youth.


Mayor, Los Angeles


Eric Garcetti is the 42nd Mayor of Los Angeles. Born and raised in the San Fernando Valley, the son of public servants and the grandson and great-grandson of immigrants from Mexico and Eastern Europe, Mayor Garcetti's life has been shaped by a deep commitment to the core values of justice, dignity, and equality for all people.


Executive Mayor, Cape Town


Dan Plato is a South African politician and current executive mayor of Cape Town. He was elected in November 2018 and has previously held the position from May 2009 until June 2011. Born in Cape Town, Plato was a community organizer and played a crucial role in mobilizing residents against the Apartheid government.


Mayor, Bristol


Marvin Rees is the elected mayor of Bristol, UK. He was elected in May 2016, becoming the first European city mayor of Black African-Caribbean descent, and has prioritized housing, transportation, and early health and education intervention. After beginning his career in the voluntary sector, Rees worked in Washington, DC on the response of faith-based organizations to President Clinton's Welfare Reform Bill.


Chair of the Editorial Board and Editor-at-Large, US, Financial Times


Gillian Tett is chair of the editorial board and editor-at-large, US of the Financial Times. She writes weekly columns covering a range of economic, financial, political, and social issues. In 2014 she was named Columnist of the Year in the British Press Awards. In addition, Tett's past roles include US managing editor, assistant editor, and capital markets editor.


Mayor, London


Sadiq Khan was elected Mayor of London in May 2016, winning the largest personal mandate in the history of British politics by securing the support of 1.3 million Londoners. Prior to becoming mayor, Sadiq was the member of Parliament for Tooting in South London for 11 years. During this time, he attended Cabinet and served as shadow secretary of state for justice and shadow minister for London.


Speakers: Cities Driving the Transport Agenda
United States Secretary of Transportation


Pete Buttigieg took office in January, 2021, as the 19th US Secretary of Transportation. Prior to joining the Biden-Harris administration, Secretary Buttigieg served two terms as mayor of his hometown of South Bend, Indiana. A graduate of Harvard University and a Rhodes Scholar at Oxford, Buttigieg served for seven years as an officer in the US Navy Reserve.


CEO, Los Angeles County Metropolitan Transportation Authority


Phillip A. Washington is the CEO of LA Metro, where he leads an agency that runs the United States' third-busiest transit system. He was instrumental in the 2016 successful effort to pass Measure M, a half-cent sales tax in LA County, that will help build 40 major highway and transit projects over the next 40 years.


Principal, Bloomberg Associates


Janette Sadik-Khan served as commissioner of the New York City Department of Transportation (NYC DOT) from 2007 to 2013, where she implemented an ambitious program to improve safety, mobility, and sustainability on the city's roads, bridges, and ferries. At Bloomberg Associates, she works with mayors to reimagine and redesign their cities with innovative projects that can be developed quickly and inexpensively.


Related Event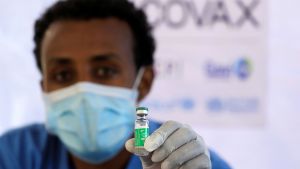 Gavi CEO Dr. Seth Berkley, UNICEF Executive Director Henrietta Fore, and Africa's CDC Director Dr. John Nkengasong discuss global vaccine efforts with Council Distinguished Fellow Ertharin Cousin.