Burkina Faso: If It's Not Broke, Don't Break It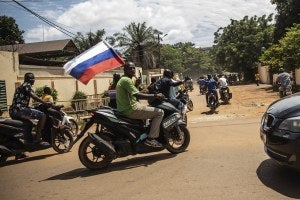 A military strengthened by American training, weapons, and intelligence helped create the very problem US assistance was meant to prevent.
Burkina Faso is a poor, landlocked country in West Africa that gained independence from France in 1960. It faced coups and political struggles frequently during the next three decades, but relative stability emerged after Blaise Compaore took over (also in a coup) in 1987 and began introducing limited democratic reforms. Compaore ruled for 27 years until he was ousted from power himself in the face of popular protests in 2014 following his attempt to defy constitutional limits and stand for a fifth term as president.
While the country held multiparty elections, Burkina Faso during this period was more semi authoritarian than democratic. Nonetheless, it was relatively peaceful and stable, without much of the religious or ethnic conflict that had already begun plaguing other countries in the region.
Conditions in Burkina Faso began to change, though, as often happens when an undemocratic leader has stayed too long and lost touch with the contract between the government and its people. Compaore jealously guarded his power, and the government, dominated by a minority Christian political class, became more oppressive.1  Discontent in the country grew as resources diminished, poverty increased, and a corrupt government failed to alleviate suffering. These conditions made Burkina Faso susceptible to the increasing terrorist insurgencies spreading elsewhere across the Sahel. 
Enter America's Counterterrorism Push
As Burkina Faso's situation under Compaore began to deteriorate, the longstanding ruler got a needed boost of support. In 2009, the United States added Burkina Faso to its Trans-Sahara Counterterrorism Partnership, a program begun as part of a wide-ranging preventative counterterrorism approach launched after the September 11 attacks.2
Though the country was home to no specific terrorist threats during this time, and certainly none to the United States, the US government began supplying a significant influx of funding, weapons, and training to Burkina Faso's military. The connection between this assistance and US national security interests was tangential at best, and there was little reason to be confident that Burkina Faso's military would be a good steward of America's generous support.
Before 2009, US security assistance to Burkina Faso was minimal by US standards, about $200,000 per year. It jumped to $1.8 million in 2010 and grew to more than $16 million by 2018, though these publicly disclosed numbers are only part of the story. Since money spent on US counterterrorism efforts notoriously lacks transparency, actual spending was likely far higher. Some estimates based on investigative research put the figure closer to $100 million.3  The government of Burkina Faso followed suit and also increased its military spending more than threefold by 2019. 4  All of this helped push the government to see military solutions to any problem.
In 2016, only a few weeks after Roch Marc Christian Kabore was elected to succeed Compaore, the insurgency that had begun in Mali in 2012 began to take root across the border in Burkina Faso too. That year, an al-Qaeda affiliate launched a terrorist attack in Burkina Faso's capital city of Ouagadougou, and Burkina Faso saw its own insurgency emerge in the north.
Kabore inherited a mess. He was reelected in 2020 but faced growing discontent over the security situation and poor economy.5  He struggled to improve either. Rather than take aim at the underlying causes of grievance within the country, his government continued the path his predecessor had taken, leaning in on the counterterrorism focus the United States had instilled in it for seven years.
Violence ticked up in the country, and the government responded with ruthless counterinsurgency tactics. It quickly became clear that the government's main target was the Fulani ethnic group, a Muslim minority. The cruelty and bias in the government's response, in addition to its broader neglect of citizens' needs, helped drive local recruitment to these otherwise external militant groups, turning a border problem into a homegrown one.
A military strengthened by US training, weapons, and intelligence helped create the very problem US assistance was meant to prevent.
No End in Sight
In 2018, militants launched attacks on several targets in Ouagadougou, including the French embassy and national military headquarters. President Kabore's response was to double down on the Western counterterrorism approach, and he asked the French to expand their operations in the country.
From that time, France became the face of Western counterterrorism operations, but the United States had been present there far longer and remained an active player, contributing intelligence and operating an intelligence, surveillance, and reconnaissance platform in Ouagadougou.6  Despite clear evidence that the approach was not reducing violence and instability in the country, and that the government's own tactics were helping drive locals to the militant cause, no effort was made to realign priorities or approaches, to address growing religious and communal tensions or the state-backed torture and murder that drove citizens to support insurgents.7
The fundamental problem was that the military-first counterterrorism approach only exacerbated the underlying grievances fueling the growing conflict. As the West taught these militaries to be more effective, they used the skills to oppress the population more effectively.
Government forces and state-sponsored "self-defense" groups armed but not managed by the government, such as the Volunteers for the Defense of the Homeland, were implicated in many crimes against civilians, including unlawful killings, torture, and arbitrary detentions, particularly between 2018 and 2020.8  The government responded to public concern by enacting legislation in 2019 to bar citizens from sharing any information on terrorist attacks or military operations in order to help hide the evidence. Rather than investigate these incidents, it has worked to insulate its forces against accountability.9
For the most part, the United States and other international partners were hesitant to condemn violence by Burkina Faso's security services or to push for investigations into their offenses against civilians.10  Instead, they responded to these rights violations by supporting programs to improve the justice system, address prison overcrowding, and provide human rights training for security forces. But these programs provided little more than window dressing to a system embedded with impunity.
In 2021, the state's security forces were responsible for more than 1,100 deaths, nearly half of the people killed in the conflict that year, according to the Armed Conflict Location & Event Data Project.11
The United States occasionally warned that military aid could be cut, including in mid-2020, if human rights concerns were not addressed. The FY 2021 National Defense Authorization Act called on the executive branch to submit a plan to address the human rights violations by Burkinabe security forces and those in other Sahel countries. But no meaningful action was taken until it was too late to change the government's course to a more productive one.
In January 2022, Kabore was ousted in a coup. Lt. Col. Paul-Henri Sandaogo Damiba, who led the coup, had participated in many US military training programs between 2010 and 2020, including in military intelligence, but he wasn't the first. Lt. Col. Isaac Zida, who led the 2014 coup that pushed out Compaore under the guise of public pressure, was also a beneficiary of US counterterrorism and military intelligence training.12
US training promotes the concept of civilian leadership, but US assistance in practice helped build a culture of military primacy in the country, used to justify military intervention in government affairs.13
And the coups didn't stop with the ouster of Kabore. In September 2022, Captain Ibrahim Traore took control from Damiba in another coup. This new junta has promoted greater cooperation with Russia and, as of January 2023, forced out the French military and ambassador.
Today, Western countries that previously had close counterterrorism relationships with Burkina Faso are asking how they can compete with or expel Russian influence in the country and continue addressing their own counterterrorism concerns.
What they should be asking instead is why more than a decade of Western intervention led to less Western influence in the country and wholly failed to prevent violence from emerging and growing.
1US Library of Congress, Congressional Research Service, Burkina Faso: Conflict and Military Rule, by Alexis Arieff, IF10434 (October 17, 2022), 1.
2Stephanie Savell, "U.S. Security Assistance to Burkina Faso Laid the Groundwork for a Coup," Foreign Policy, February 3, 2022.
3Savell, "U.S. Security Assistance."
4Ibid.
5US Library of Congress, Congressional Research Service, In Focus: Burkina Faso, by Alexis Arieff, IF10434 (January 26, 2022), 2.
6Abraham Mahsie, "How the Burkina Faso Coup Could Impact U.S. Air Force Counterterrorism Operations," Air and Space Forces Magazine, January 26, 2022.
7US Library of Congress, Burkina Faso: Conflict and Military Rule, 2.
8Human Rights Watch, "Burkina Faso: Events of 2021." in World Report 2022. New York: Human Rights Watch, December 16, 2021.
9Ibid.
10Ibid.
11Savell, "U.S. Security Assistance."
12Ibid.
13See Mahsie, "Burkina Faso Coup."
Senior Fellow, US Foreign Policy


Elizabeth Shackelford, a former career diplomat who served the US Mission to Somalia and the US Embassy in South Sudan, focuses on building awareness and understanding of a "restraint" approach to foreign policy, which seeks to limit the use of force to core US security interests and favors diplomatic engagement.