Plastic Meat, Disease Outbreak, and Growing in the Dark
July 15, 2022
Check out our roundup of the week's top news and research in food, agriculture, and global development.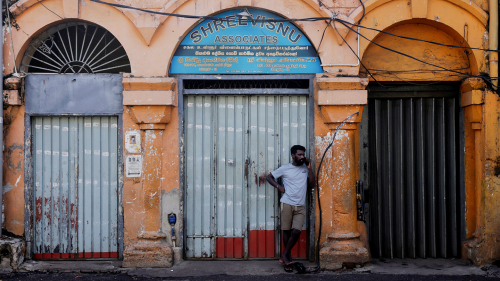 Credit: REUTERS/Dinuka Liyanawatte
Top Story
Food Insecurity in Sri Lanka
Sri Lanka's president resigned in response to a wave of protests, days after the UN reported that a record six million Sri Lankans are food insecure. In the ongoing economic collapse, 61 percent of households resorted to food-based coping strategies, which includes reducing how much food they eat and consuming less nutritious meals. In addition to pandemic-related recession and inflation, last year's abrupt ban on chemical fertilizers in favor of organic alternatives resulted in disastrous crop yields and contributed to Sri Lanka's current state of emergency.
Council Insights
Hunger Pains
"We often talk about the handoff between humanitarian response and development response. We don't need a handoff. We need the work performed simultaneously," said Distinguished Fellow Ertharin Cousin at the GZERO Media and Gates Foundation virtual event, "Hunger Pains: The Growing Global Food Crisis." Watch the full recorded event.
Food and Agricultural Issues
Wheat Corridor
Grain negotiations continue between Russia and Ukraine, aided by the UN and Turkey. If the talks succeed and an agreement is signed, Turkey will provide a safe corridor in the Black Sea for the export of approximately 22 million tons of grain trapped in Ukraine because of Russia's naval blockade. Although Ukraine has not run out of grain storage space yet, it is projected to by the end of September, when corn and sunflower seed harvests begin. Russia expressed concerns that this trade route would be used to smuggle in weapons of war into Ukraine.
Financing Food
World leaders are looking forward to the G20 Summit taking place later this year in Bali, Indonesia. Ahead of the event, FAO proposed a global Food Import Financing Facility with the goal of providing financial assistance to countries facing food insecurity worsened by global inflation. The FAO's multifaceted recommendations include increased support to the hardest hit countries, more efficient global resource management, and policies that promote sustainable production.
Disease Outbreak
Foot-and-mouth disease broke out in Indonesia for the first time since the country eradicated it in 1986. More than three hundred thousand cases of the highly contagious disease have been recorded, and exports of animal products have been halted during the outbreak. The outbreak poses worries for neighboring Australia, where the state of Victoria has begun to mandate electronic tagging for sheep to better trace livestock in the event of a foot-and-mouth disease outbreak.
Deeper Dive
What Is Foot-and-Mouth Disease?
Foot-and-mouth disease is a highly contagious viral disease that affects cows, pigs, sheep, goats, and other livestock with divided hooves. The disease can cause significant economic losses to the agriculture industry and leads to production losses for farmers. Outbreaks often result in export shutdowns, quarantines, and humane destruction of all infected animals. The disease is not zoonotic and is rarely transmitted to humans.
Data Crunch
Fostering Economic Development
Tree-planting groups working in the tropics have increased in number by300 percent since the early 1990s, leading to a 5,000 percent increase in the number of trees planted each year. These programs largely target tree crops with economic development potential, such as cacao, coffee, and mango, despite their small contributions to carbon storage or biodiversity. Although well-intentioned, many organizations are still working towards greater accountability and better planning strategies to target the most vulnerable lands.
Resilience
Plastic Meat
Dutch scientists discovered microplastic particles in beef and pork for the first time. Previously, humans were already known to consume microplastics through food, water, and air, but the study indicates a new medium of microplastic consumption and raises renewed concern on plastic content in animal feed. Although the potential toxicological risks of these findings are unclear, scientists have found microplastics to cause damage to human cells.
Big Ideas
Growing in the Dark
Solar power may be the key to growing crops in the dark, thanks to a process called electrocatalysis. New research suggests that feeding plants the liquid acetate—a molecule combining carbon dioxide, electricity, and water—could allow them to grow with relative efficiency in complete darkness. This technology could benefit vertical farming, which grows fruits and vegetables in controlled, indoor environments.
DC Report
Double Crops, Double Protection
Following President Biden's May commitment to lower food prices and support American farmers, the USDA expanded crop insurance to include double cropping in an attempt to stimulate additional production and stabilize food prices. The expansion will cover soybeans and grain sorghum in over 1,500 counties, mostly east of the Mississippi River.
Big Actors
Climate Adaptation Costs
A recent report found that 11 African countries face climate adaptation costs higher than their national healthcare spending to cover measures like capturing rainwater for irrigation and moving to drought-tolerant crops. The climate adaptation costs could exacerbate the current hunger crisis in East Africa, where four consecutive failed rainy seasons are now causing the worst drought in 40 years.
Trade & Commodities
Fertilizer Imports
The large Moroccan phosphate producer, OCP, is optimistic that it will once again enter the US market for phosphate fertilizer. During the Trump administration, the US International Trade Commission ruled that the OCP had severely damaged the domestic fertilizer market, which allowed the US to place a 20 percent duty on OCP imports. Recent hearings suggest that the prior legal argument may not hold up, permitting Moroccan phosphate fertilizer to re-enter the US market as farmers face inflation and rising domestic fertilizer costs.
Council Events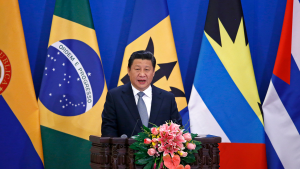 A panel of experts discusses rising Chinese presence in Latin America and what it means for politics and economics throughout the region.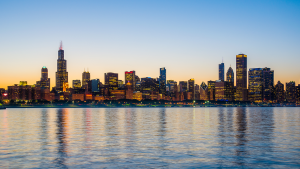 Angela Tovar joins local and international leaders to discuss climate solutions and urban resiliency efforts.
Did you miss one of our previous livestreams? Don't worry! All past events are available on our website to watch at any time.​​​​​
Other Upcoming Events
Faces of Agriculture – USDA Speaker Series
Date: July 20
Time: 2:00 - 3:00 p.m. CT

Strengthening Policy Research and Analysis Capacity: The Role of Institutional Development Programs
Date: July 21
Time: 9:00 - 10:30 a.m. ET

Farm Commons Webinar for Illinois Farmers: Land Leasing Basics
Date: July 25
Time: 6:00 - 7:00 p.m. CT
---
Land Acknowledgement Statement
The Center on Global Food and Agriculture recognizes it occupies the ancestral land of the Kiikaapoi, Peoria, Kaskaskia, Bodwéwadmi, and Myaamia people. Indigenous communities around the world disproportionately experience the pressures of climate change, global conflicts, and the COVID-19 pandemic, while simultaneously stewarding 80 percent of the world's biodiversity. These Indigenous tribes and nations are the original owners of this land and continue to be systemically erased by policies and practices that ignore their histories. To learn more about Indigenous foodways and practices, check out our 2022 blog series "Stewardship, Sovereignty, and Solutions."
Communications Officer

Natalie Burdsall joined the Chicago Council on Global Affairs in 2022 as the communications officer for the Center on Global Food and Agriculture. In this role, they promote the work and impact of the Center to expand public engagement in global food and agriculture, and assist in bringing the Council's digital transformation to fruition.