New Hope, Halting Hunger, and Smart Potatoes
June 9, 2023
Check out our roundup of the week's top news and research in food, agriculture, and global development.

Credit: AP Photos/Ebrahim Noroozi
Top Story 
Destruction of Ukrainian Dam Threatens Farmland 
The destruction of the pivotal Nova Kakhovka dam in southern Ukraine flooded local farmland and destroyed the region's agricultural irrigation system. It will take years of repairs before water flows through the irrigation system again, effectively turning at least 500,000 hectares of land into deserts and destroying their harvest prospects. The dam's collapse also adds to global wheat supply concerns, increasing prices once again. 
Council Insights 
Closing the Gap
"The next Farm Bill can be a watershed moment in solving food loss and waste in the United States," writes Clayton Elbel in a Global Food for Thought blog. "Food loss and waste pose significant challenges to the US food system and require immediate action." Check it out to learn more about potential policy options.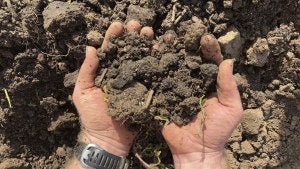 Food and Agriculture 
Opinion – A Preventable Crisis
The hunger crisis in Afghanistan is reaching new extremes as over 19.9 million Afghans—half the population—are not consuming enough food. Yet the crisis was not completely out of our hands. With more international support for agricultural growth and development projects focused on wheat, the crisis could have been prevented. 
Policy Overhaul
Japan's government is proceeding with preliminary plans to overhaul its agricultural policy, with the goal of improving the nation's food security. The plan will increase domestic production to reduce dependence on imports, while securing a stable food supply by stockpiling. 
Wheat Woes
Two weeks of continuous rain in regions of China created oversaturated wheat crops and left fields too wet to harvest. Also causing kernels to sprout too early and consequently produce worse quality flower, the rains are significantly lowering national grain production, which may lead to higher imports and ultimately raise global food prices. 
Deeper Dive  
How Are Afghans Coping with the Hunger Crisis?
Nine out of ten families are not able to afford enough food in Afghanistan, forcing people to turn to more profitable endeavors. Some are joining the Taliban—fighting often pays more than farming—while others resort to growing opium poppies. 
Resilience 
New Hope
Climate change is rapidly progressing, but so are innovative farming practices. A few of the latest developments include self-planting seeds, plant sensors, bee-monitoring thermal sensors, vertical farming, and robot fruit harvesters. 
DC Report 
Halting Hunger
USAID is investing nearly $54 million in new funding in Haiti to help combat a sharp rise in hunger. Nearly half of Haiti's population is facing acute food insecurity, with 19,000 living in catastrophic famine conditions. 
Big Actors 
Joining Forces
Indonesia and Malaysia might be joining forces in the fight against the EU's palm oil ban. As the world's top two producers and exporters of palm oil, Indonesia and Malaysia are facing significant hits from the EU's ban on imports of commodities linked to deforestation. 
Big Ideas 
Smart Potatoes
A new IoT mobile application—Smart Potato Greenhouse Technology (SPGT)—could help improve farming practices and climate resilience in Rwanda. By using sensors to determine soil quality and temperature and automate irrigation, SPGT provides data via a cloud-based platform that helps farmers make more informed decisions. 
Ask an Expert  
What do you hope to see come out of the Bonn Climate Change Conference? 
"The world is experiencing reoccurring climate catastrophes of increasing severity, putting the food system at risk and raising hunger to calamitous levels. The Bonn Climate Conference offers an opportunity to change this. Sparking collaborative discussions of and action towards advancing sustainable food systems, the conference can become a catalyst for change that provides a fresh perspective imperative to tackling climate change. I hope the conference will serve as an opportunity for global actors to find unity in the fight against climate change, ultimately providing new financing and support for not only responding to current food crises, but also preventing new ones in the future." 
— Peggy Tsai Yih, Managing Director of the Center on Global Food and Agriculture, in Axios
Managing Director, Center on Global Food and Agriculture


Peggy Tsai Yih leads the Council's continued work on global food and nutrition security and in advancing a more sustainable and resilient food system. She has 20 years of experience in food, agriculture, and natural resource policy, with nearly 15 years at the National Academies of Sciences, Engineering, and Medicine in Washington, DC.



Join Baroness Catherine Ashton for a discussion on 21st century diplomacy and how it can address the many challenges the world faces today.
Did you miss one of our previous livestreams? Don't worry! They are all available on our website to watch at any time.
Other Upcoming Events
Bonn Climate Change Conference 
Date: June 5 – 15
IFAD13 Roundtable with Farmers' Organizations, Indigenous Peoples, and Youth  
Date: June 12
Time: 1:30 – 4:00 p.m.
Africa's Discussion of IFPRI's 2023 Global Food Policy Report: Rethinking Food Crisis Responses 
Date: June 22
Time: 9:00 – 10:00 a.m. ET
IFAD Innovation Day 2023 
Date: June 28
Becoming Friends with Plants 
Date: July 12
Time: 10:00 a.m. - 4:00 p.m. ET
---
Land Acknowledgement Statement
The Center on Global Food and Agriculture recognizes it occupies the ancestral land of the Kiikaapoi, Peoria, Kaskaskia, Bodwéwadmi, and Myaamia people. Indigenous communities around the world disproportionately experience the pressures of climate change, global conflicts, and the COVID-19 pandemic, while simultaneously stewarding 80 percent of the world's biodiversity. These Indigenous tribes and nations are the original owners of this land and continue to be systemically erased by policies and practices that ignore their histories. To learn more about Indigenous foodways and practices, check out our 2022 blog series "Stewardship, Sovereignty, and Solutions."
Communications Officer

Natalie Burdsall joined the Chicago Council on Global Affairs in 2022 as the communications officer for the Center on Global Food and Agriculture. In this role, they promote the work and impact of the Center to expand public engagement in global food and agriculture, and assist in bringing the Council's digital transformation to fruition.

Intern, Center on Global Food and Agriculture

Clayton Elbel joined the Council as a 2023 spring intern with the Center on Global Food and Agriculture.