Indigenous Land, Tense Talks, and Going Green
May 5, 2023
Check out our roundup of the week's top news and research in food, agriculture, and global development.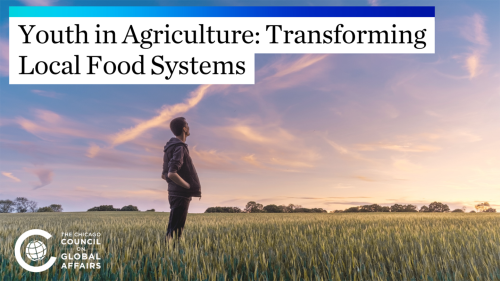 Credit: Benjamin Davies
Top Story 
Brazil Recognizes Indigenous Lands 
Brazilian President Luiz Inácio Lula da Silva officially recognized nearly 800 square miles of Indigenous lands in the Amazon to protect the rainforest from exploitation by mining and commercial farming and logging. The land remains under the federal government's jurisdiction, but the designation grants Indigenous peoples the right to use it in their traditional manner. The newly recognized territories are larger than Los Angeles and New York City combined, and are home to more than 4,000 Indigenous people.  
To learn more about Indigenous communities and the issues that affect them most, check out our recent blog series "Stewardship, Sovereignty, and Solutions."  
Council Insights 
Engaging the Next Generation
Agriculture is an aging industry, with the average age of US farmers increasing to 60 years old in 2022, which leads us to ask: why aren't young people getting involved? This week on our first episode of the limited podcast series Youth in Agriculture: Transforming Local Food Systems, Avani Rai and Sarah Evanega dive into youth engagement in agriculture, discussing the different avenues youth can take to get involved and the pressing issues they are confronting. 

The Next Generation: Engaging Youth in Agriculture
Young people are the future of agriculture—so why aren't they getting involved?
Food & Agriculture  
USAID Pulls Out
WFP Back In
Dutch Carbon Scheme
Deeper Dive  
What Is the Global State of Food Insecurity?
Resilience 
Fishmeal Goes Green
Innovafeed SAS, a French company, has built the world's largest insect farm in Nesle, France, capable of producing 15,000 tons of insect protein per year. Innovafeed uses black soldier flies to produce larvae that are then used to feed salmon and shrimp, thereby reducing the carbon footprint of traditional fishmeal. Currently, about 30 percent of all fish caught is transformed into conventional fishmeal. 
DC Report  
Loan Relief
The US Department of Agriculture (USDA) announced an additional $130 million in assistance to financially distressed borrowers, bringing the total farm loan relief for producers to approximately $1.1 billion since last fall. The aid was provided in response to the $3.1 billion that was earmarked in the Inflation Reduction Act for "farm loan immediate relief for borrowers with at-risk agricultural operations." 
Big Actors  
Tense Talks
Talks continue between the Kremlin and the West on extending the Black Sea grain deal, but may not be for much longer. Russia has repeatedly stated that it is prepared to walk away from the deal on May 18, its expiration date, if its demands for easing restrictions on agricultural exports are not met. The West says sanctions do not directly target Russia's agricultural sector, but Russia claims its exports are struggling nonetheless. 
Big Ideas 
Floating Gardens
Floating gardens, a traditional form of hydroponics that dates back at least 400 years, are now being recognized as a climate-resilient solution to increasing floods. Built on rectangular rafts made from the weed water hyacinth and topped with a layer of manure, floating gardens are a low-cost option for rural farmers and have proved especially viable for those in Bangladesh, a country heavily affected by rising sea levels and severe monsoons.  
Ask an Expert 
What can college students do to get engaged in the food and agriculture sectors? 
"It's easy to get sequestered away in the university world and forget that you actually are living in the context of a community, and that you, as a college student, can also engage in that community. So, I would say keep doing what you're doing, look around, find the organizations that interest you—if they're not there, build them yourself, find mentors, find partners. The resources are there if you look. You can do anything." 
— Sarah Evanega in episode one of Youth in Agriculture: Transforming Local Food Systems
Director for Stakeholder Communication, Pairwise


Sarah Evanega serves as the director for stakeholder communication at Pairwise—a food and tech start-up committed to building a healthier world through better fruits and vegetables.



Join the Council for a screening of Bernard-Henri Lévy's  "Slava Ukraini," a war diary from the front lines of the Russia-Ukraine conflict.
Did you miss one of our previous livestreams? Don't worry! They are all available on our website to watch at any time.
Other Upcoming Events
AIM for Climate Summit 
Date: May 8 – 10
Sustainable EweMass Panel with Danielle Peláez 
Date: May 12
Time: 4:00 – 6:00 p.m.
2023 Food Waste Solutions Summit 
Date: May 16 – 18
Farm Subsidies and International Trade Rules 
Date: May 25
Time: 9:30 – 11:00 a.m. ET
IFAD Innovation Day 2023 
Date: June 28
Time: 7:00 a.m. GMT
---
Land Acknowledgement Statement
The Center on Global Food and Agriculture recognizes it occupies the ancestral land of the Kiikaapoi, Peoria, Kaskaskia, Bodwéwadmi, and Myaamia people. Indigenous communities around the world disproportionately experience the pressures of climate change, global conflicts, and the COVID-19 pandemic, while simultaneously stewarding 80 percent of the world's biodiversity. These Indigenous tribes and nations are the original owners of this land and continue to be systemically erased by policies and practices that ignore their histories. To learn more about Indigenous foodways and practices, check out our 2022 blog series "Stewardship, Sovereignty, and Solutions."
Communications Officer

Natalie Burdsall joined the Chicago Council on Global Affairs in 2022 as the communications officer for the Center on Global Food and Agriculture. In this role, they promote the work and impact of the Center to expand public engagement in global food and agriculture, and assist in bringing the Council's digital transformation to fruition.

Intern, Center on Global Food and Agriculture

Clayton Elbel joined the Council as a 2023 spring intern with the Center on Global Food and Agriculture.