The Transatlantic Relationship in the 21st Century: An Irish Perspective
Ambassador Geraldine Byrne Nason provides her perspective on the future of the relationship between Ireland and the United States.
About This Event
President Joe Biden's recent visit to Ireland underscored the historically close relationship and deep connections between Washington and Dublin. Biden's visit also marked the 25th anniversary of the Good Friday Agreement, a deal that ended 30 years of conflict in Northern Ireland and continues to preserve peace to this day. Yet how will the next generation of leaders preserve this peace, especially after Brexit? And how will the Ireland-United States relationship continue to shape transatlantic ties in the 21st century? Join Ambassador Geraldine Byrne Nason at the Chicago Council on Global Affairs for a timely discussion on the state of Ireland-US relations.
Event Schedule
| Time | Agenda |
| --- | --- |
| 9:15 am CT | Registration |
| 9:30 am | Welcome Remarks |
| 9:32 am | Discussion Begins |
| 10:15 am | Adjournment |
Ambassador of Ireland to the United States


Geraldine Byrne Nason assumed her role as Ireland's 19th Ambassador to the United States in August 2022. Geraldine was Ambassador and Permanent Representative of Ireland to the United Nations in New York (2017-22).


Related Content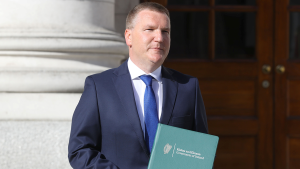 Irish Finance Minister Michael McGrath discusses how the Good Friday Agreement built peace in Northern Ireland, and how it continues to keep peace to this day.