World Review: Russia vs Europe, Northern Ireland, and Globalization's End?
Caroline de Gruyter, James Harding, and Ryan Heath join Ivo Daalder to discuss the week's top news stories.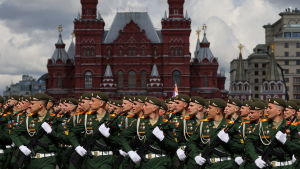 About This Episode
Caroline de Gruyter, James Harding, and Ryan Heath join World Review with Ivo Daalder to discuss two competing views on Europe—Putin's and Macron's. Then, how a Sinn Fein victory in Northern Ireland could affect the Brexit deal's Ireland asterisk and what trade disruptions and China's zero-COVID fallout mean for globalization.
Highlights
Prefer to Listen?
Subscribe to our podcast edition on the following platforms.
Europe Correspondent and Columnist, NRC Handelsblad


Caroline de Gruyter is a columnist at Foreign Policy and a Europe correspondent and columnist for the Dutch newspaper NRC Handelsblad.


Editor and Cofounder, Tortoise Media


Before James Harding was at Tortoise Media, he was the director of news and current affairs at the BBC.


Global Technology Correspondent, Axios


Ryan Heath is the global technology correspondent at Axios and co-author of Axios Login, Axios' daily technology newsletter. Previously, Ryan was the host of Global Insider, POLITICO's global newsletter and podcast, and previously authored POLITICO's U.N. Playbook, Brussels Playbook, and Davos Playbook.


President, Chicago Council on Global Affairs


Ivo H. Daalder served as the US ambassador to NATO from 2009 to 2013 prior to becoming President of the Council. Previously, he was a senior fellow in foreign policy studies at the Brookings Institution and served as director for European affairs on President Bill Clinton's National Security Council. He is the author or editor of 10 books.