World Review: Fallout from Pelosi's Taiwan Visit and Elections in Kenya
Emily Feng, Nirmal Ghosh, and James Harding join Ivo Daalder to discuss the week's top news stories.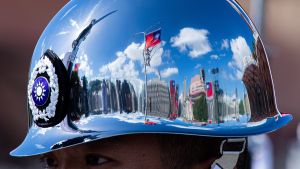 About This Episode
This week: far from standing down in the Taiwan Strait, China has pledged to regularly patrol the area and remain ready for combat. How might this aggressive stance play out in the wake of Nancy Pelosi's visit, and what position should the United States take in plotting a path forward? Then, elections in Kenya and what low turnout means for the future of democracy.
Joining us – Emily Feng of NPR, Nirmal Ghosh of the Straits Times, and James Harding of Tortoise Media
Prefer to Listen?
Subscribe to our podcast edition on the following platforms.