Prosecuting War Crimes in Ukraine and Beyond
How can the world hold Russia accountable for the atrocities in Ukraine? Karen Alter and Rebecca Hamilton discuss.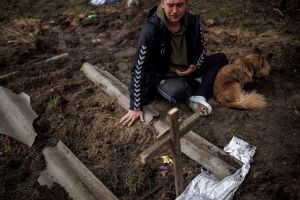 About the Episode
Shocking images and accounts emerged from Bucha over the weekend, providing more evidence of Russian atrocities in their war on Ukraine. Forty-one countries, including the United States, have now referred Russia to the International Criminal Court for prosecution. Karen Alter and Rebecca Hamilton join Deep Dish to look at the system for prosecuting war crimes, its record of success, its limitations, as well as the politics behind who gets prosecuted and why.
Like the show? Leave us a rating and review wherever you get your podcasts. 
Professor, Political Science and Law, Northwestern University


Karen Alter is the Norman Dwight Harris professor of International Relations and professor of Political Science and Law at Northwestern University. Alter's research focuses on the construction of global economic rules regulating trade and money, and on the determinants of politically sustainable capitalism. Alter is author of book "The New Terrain of International Law: Courts, Politics, Rights".


Associate Professor, Law, American University, Washington College of Law


Rebecca Hamilton is an associate professor of Law at American University, Washington College of Law, teaching criminal law, national security law, & international law. Her work draws on her experience in the prosecution of genocide, war crimes, and crimes against humanity, as well as her work in conflict zones as a foreign correspondent. She is also author of book "Fighting for Darfur: Public Action and the Struggle to Stop Genocide".


Vice President, Studies


Brian Hanson is the Vice President of Studies at the Chicago Council on Global Affairs. He oversees the Council's research operations and hosts the Council's weekly podcast, Deep Dish on Global Affairs.