Can Sanctions Stop Putin's War?
New York Times reporter Matina Stevis-Gridneff and sanctions expert Nicholas Mulder join Deep Dish to discuss how the sanctions crippling Russia affect the global economy.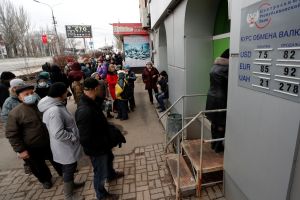 About the Episode
The United States, the European Union, and a host of other countries (even Switzerland!) are hoping to stop Putin's war on Ukraine by placing Russia under the most extreme sanctions package ever enacted on a single country. But will it make a difference? The New York Times' Matina Stevis-Gridneff and sanctions expert Nicholas Mulder join Deep Dish to explain how sanctions work, what they mean for real people, and whether they are likely to stop the war or make it worse. 
Like the show? Leave us a review wherever you get your podcasts.
Assistant Professor, History, Cornell University


Nicholas Mulder works on European and international history from 1870 to the present at Cornell University. His research focuses on political, economic, and intellectual history, with particular attention to the era of the world wars between 1914 and 1945. He is author of the new book "The Economic Weapon: The Rise of Sanctions as a Tool of Modern War" that provides a history of the interwar origins of economic sanctions, showing how they reconfigured international affairs by enabling distant coercion against civilian societies in peacetime.


Brussels Bureau Chief, New York Times


Matina Stevis-Gridneff is the Brussels bureau chief for The New York Times, covering the European Union. Prior to this role, she covered East Africa for The Wall Street Journal for five years. Stevis-Gridneff was Europe correspondent for The Wall Street Journal between 2011 and 2014, covering the eurozone and the migration crises. She was posted to Nairobi, Kenya, between 2014 and 2019 for The Journal, where she reported on state-building efforts in Somalia, the civil war in South Sudan, the refugee exodus from Eritrea and tumult in Ethiopia & Sudan. 


Vice President, Studies


Brian Hanson is the Vice President of Studies at the Chicago Council on Global Affairs. He oversees the Council's research operations and hosts the Council's weekly podcast, Deep Dish on Global Affairs.