India's Actions Don't Mean Support for Putin's War
Tanvi Mandan and Srinath Raghavan unpack India's foreign policy calculations between Russia, China, and a unified West.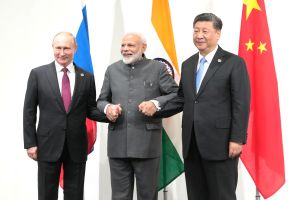 About the Episode
India's choice to remain neutral on the Ukraine war aligns with their historic foreign policy choices and current security interests, Tanvi Mandan and Srinath Raghavan argue. They join Deep Dish host Brian Hanson to explain the long-term relationship between Delhi and Moscow, why the United States shouldn't pressure India to choose sides, and where China fits in India's calculations. 

Like the show? Leave us a rating and review wherever you get your podcasts. 
Senior Fellow, Foreign Policy, Brookings Institution


Tanvi Madan is a senior fellow in the Project on International Order and Strategy in the Foreign Policy program, and director of The India Project at the Brookings Institution. Madan's work explores India's role in the world and its foreign policy, focusing in particular on India's relations with China & the United States. Madan is the author of the book "Fateful Triangle: How China Shaped US-India Relations during the Cold War".


Senior Fellow, Carnegie India


Srinath Raghavan is a nonresident senior fellow at Carnegie India. He is also a professor of International Relations and History at Ashoka University. His primary research focus is on the contemporary and historical aspects of India's foreign and security policies. He is author of the book, "The most Dangerous Place: A history of the United States in South Asia."


Vice President, Studies


Brian Hanson is the Vice President of Studies at the Chicago Council on Global Affairs. He oversees the Council's research operations and hosts the Council's weekly podcast, Deep Dish on Global Affairs.