Who Has the Advantage in Ukraine?

American perceptions of whether Russia or Ukraine is winning the war are key to support for ongoing US assistance to Kyiv.
Since September, Ukrainian forces have recaptured some areas of their country previously taken by Russia earlier in the year, most notably around the southern city of Kherson and the northeastern area around Kharkiv. But Russia has also had some gains around Bakhmut in eastern Ukraine. While many analysts have been surprised by the poor performance of the Russian forces since the beginning of the invasion, Moscow still holds about 20 percent of the country (according to the Institute for the Study of War).  
Two recent surveys found that Americans were more likely to say that Ukraine has the upper hand in the war. A University of Maryland October survey reported a significant increase in the percentage of Americans who thought Russia was failing (from 29% in June to 48% in October). When asked about Ukraine, 43 percent responded that Ukraine was succeeding, up from 27 percent in June.  
A November 26-29 Economist-YouGov survey also found that 31 percent of Americans believed that Ukraine is currently winning the war against Russia, an increase from a low of 14 percent in August 2022. Just 16 percent in the November poll, down from 25 percent in August, thought Russia was winning. Among the rest, 31 percent said neither side is winning and 22 percent are unsure. 
Chicago Council Survey Shows as Many Say Russia Winning as Say Ukraine Is
A just-completed Chicago Council survey conducted November 18-20 somewhat contradicts these shifts. In the Council poll, an equal share of Americans think Russia has the advantage in the current conflict as think Ukraine does (26% each). Democrats are more likely to say Ukraine has the advantage (32%, compared to 23% of Republicans and 22% of Independents). But an overall plurality (46%) believes that neither Ukraine nor Russia has the advantage.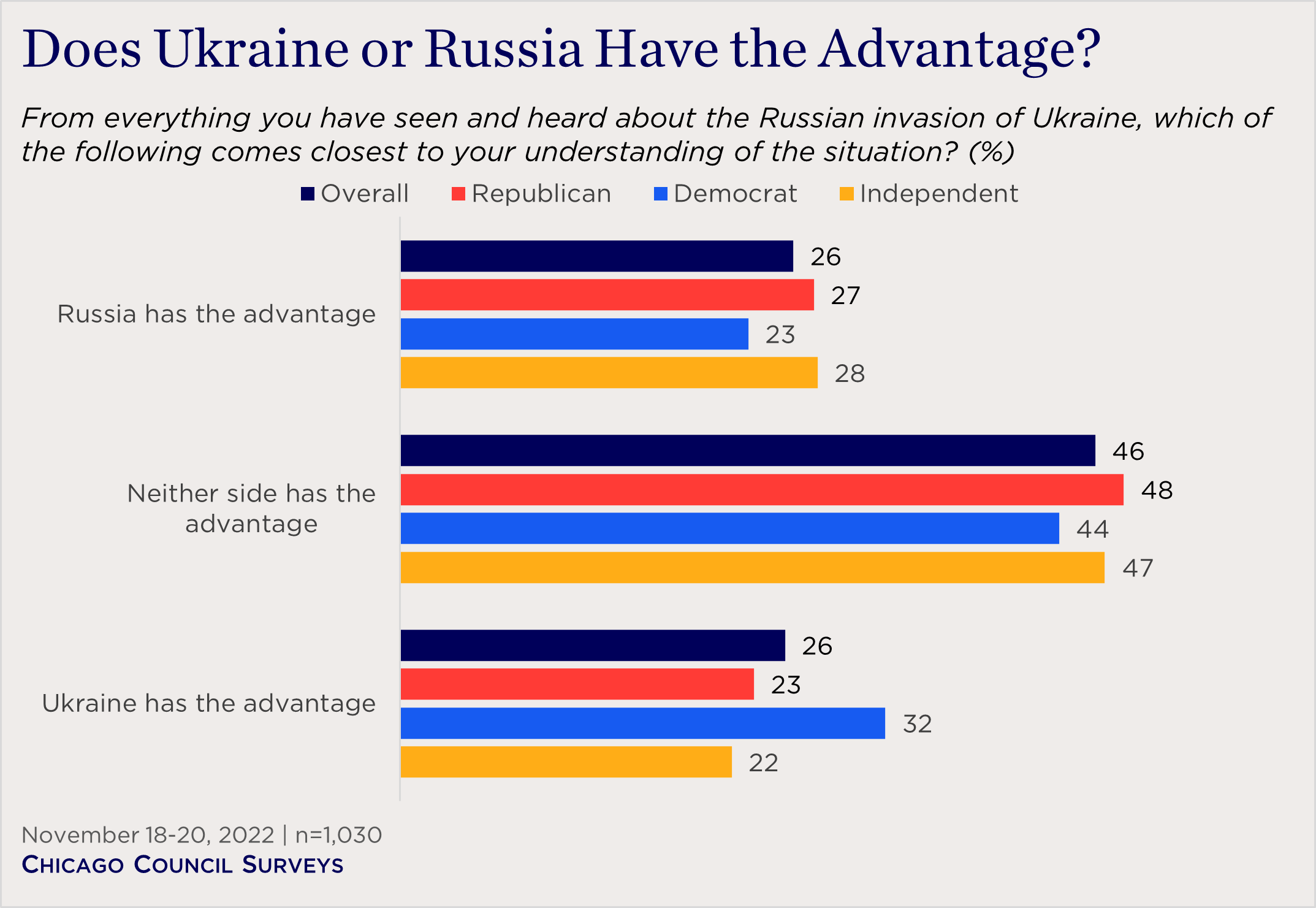 Everyone Loves a Winner

 
Perceptions of who is winning versus losing are important because they impact support for various US policies toward Ukraine. For example, the University of Maryland poll found that Americans who thought Ukraine was succeeding and Russia was losing were more willing to pay higher energy prices and tolerate increased inflation.  
In the Council's November survey, those who sense that Ukraine has the advantage in the war are more likely than those who think Russia has the advantage (or neither side does) to support increasing economic and diplomatic sanctions against Russia (89% vs. 70% among those who think Russia is winning); sending additional arms and military supplies to Ukraine (84% vs. 56%); providing economic assistance to Ukraine (79% vs. 61%);  and accepting Ukrainian refugees into the United States (84% vs. 70%)  
In separate questions aimed at measuring American support for continued assistance to Kyiv, a majority of those who think Ukraine has the advantage say the United States should continue the current level of assistance indefinitely (56%). On the other hand, those who think Russia has the advantage are more likely than others to prefer that the United States gradually withdraw its support for Ukraine (36%) or intervene militarily to bring the war to an end (33%).  
Corroborating the patterns above, a large majority of those who think Ukraine has the advantage in the current conflict say the United States should support Ukraine for as long as it takes (71% vs. 38% of those who think Russia has the advantage). By contrast, a majority of those who think Russia has the advantage think the United States should pressure Ukraine to settle for peace as soon as possible (60% vs. 27% among those who think Ukraine has the advantage).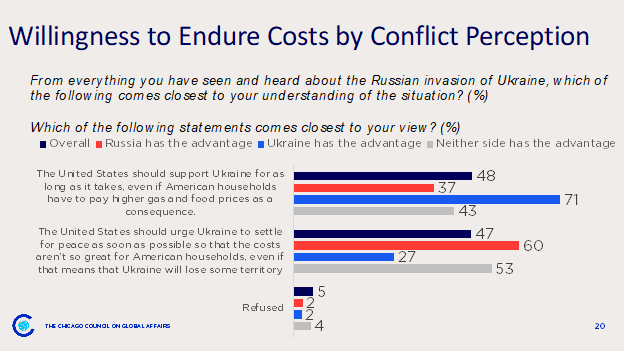 Conclusion

 
While American support for the current US policies intended to assist Kyiv economically and militarily remains solid, the influence of perceptions of which side is succeeding on the battlefield could chip away at the public's endurance to partially foot the bill for Ukraine's defense along with other allies and partners. The impact that perceptions of who is winning and losing have on support for continued assistance demonstrates the important role of media in affecting public views about the situation on the ground. 
Senior Fellow, Public Opinion and Foreign Policy

Dina Smeltz, a polling expert, has more than 25 years of experience designing and fielding international social and political surveys. Prior to joining the Council to lead its annual survey of American attitudes on US foreign policy, she served in the Bureau of Intelligence and Research at the US State Department's Office of Research from 1992 to 2008.