The United Nations Food Systems Summit: All You Need to Know

Ahead of the United Nations Food Systems Summit (UNFSS) in September and the pre-summit on July 26th, check out a breakdown of everything you need to know.
The United Nations will convene a Food Systems Summit (UNFSS) in September of this year that will take place alongside the UN General Assembly. In preparation for the UNFSS, a pre-summit conference will be held on July 26-28 in Rome, Italy, with a hybrid in-person/virtual format that enables full participation of civil society organizations and allows widespread accessibility. Both the summit and pre-summit aim to involve state representatives along with a wide array of civil society stakeholders, including smallholder farmers, youth, indigenous peoples, researchers, private sector participants, and policymakers.
Goals of the Summit
The UNFSS seeks to achieve four major goals. First, to produce action and progress towards the 2030 Sustainable Development Goals (SDGs). Second, to create an open and broad public discourse regarding the relationship of food systems to SDGs. Third, to develop principles which can effectively guide states and other entities towards using their food systems to achieve SDGs. And fourth, to create a system of evaluation that can ensure the UNFSS is effective in driving action. Current challenges—how to feed a growing populace, how to make food systems more resilient in the face of growing vulnerability, and how to reduce the environmental footprint of global agriculture as the climate crisis worsens—also create additional framing, as well as underscore the urgency of concrete outcomes from the summit.
To achieve these major goals and address pressing challenges, meetings and discussions are organized around five major action tracks: (1) ensuring access to safe and nutritious food for all, (2) shift to sustainable consumption patterns, (3) boost nature-positive production, (4) advance equitable livelihoods, and (5) build resilience to vulnerabilities, shocks and stress (see figure below). Each of these themes emphasize the major areas of policy-making within food systems around which stakeholders would develop their ideas and goals.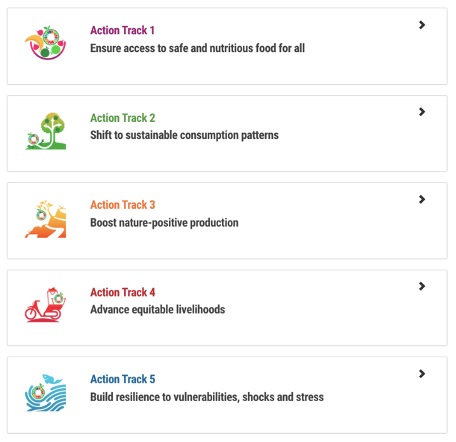 While the United States has yet to announce an overarching, coordinated agenda, it will likely be heavily involved in both pre-summit and summit discussions, with subsequent pledging moments also anticipated. Both USAID and USDA have hosted listening sessions and dialogues around the five action tracks to receive input from civil society organizations. USDA has also encouraged general participation in the UNFSS and welcomed citizens to host independent dialogues.
Necessary Summit Outcomes
Like many global efforts, the UNFSS will almost undoubtedly attract many exciting but vague promises from member states. Ahead of the summit and pre-summit, UNFSS organizers have emphasized the importance of creating meaningful mechanisms to ensure that the ideals and goals outlined at the UNFSS are not simply a set of remarks, but blueprints for the future. The summit should result in actionable, tangible outcomes with strong accountability and evaluation mechanisms. Members such as the United States must use this moment to consider ambitious pledges with clear goals to which they, civil society organizations, multilateral organizations, and citizens (including farmers) can monitor progress and evaluate pledge fulfillment.
In addition to concrete outcomes, the UNFSS must meet its ambitious goal to act as a "people's summit," and seek direction from those most intimately involved with our food system. The UNFSS should elevate voices that have historically been excluded in discussions around food systems and justice. Some academics and activists have criticized the inclusion of corporate interests and the primacy of major nations like the United States, believing that the UNFSS will reinforce corporate, Global North control of global food systems. Proponents of the UNFSS point to the inclusion of indigenous peoples and smallholder farmers as evidence that it will incorporate all perspectives. While inclusion is a stated goal of UNFSS organizers, true elevation of marginalized voices will need to continue at both the summit itself and in subsequent execution of summit promises and accountability. Smallholder farmers, particularly women, provide valuable expertise about our food systems and their voices should be included in every part of the discussion and policy-making.
The UNFSS is one step in a long series of dialogues regarding food systems in 2021. In November 2021, the 26th UN Climate Change Conference of the Parties (COP26), will be held in Glasgow, Scotland, and will undoubtedly address global food and agricultural systems as part of climate discussions. In December 2021, the Nutrition for Growth (N4G) Summit will be held in Japan and will specifically focus on improving nutrition within global food systems. N4G presents a crucial opportunity for UNFSS stakeholders to further develop and evaluate the goals set at the UNFSS this September.
The next six months are ripe for opportunities to discuss how we address current and future food systems challenges, and the UNFSS is positioned as a vital catalyst to create momentum for needed change.  We welcome you to join us as we follow these exciting events throughout the course of this year. 
Update: Actual Summit Outcomes
Following the UNFSS, the Biden administration committed to invest $10 billion in domestic and global food systems. Domestically, $5 billion will be invested via the USDA in systems and infrastructure for healthy diets, fair and efficient markets, and a new strategy for Climate Smart Agriculture and Forestry (CSAF). 
An additional $5 billion will be invested in USAID's Feed the Future over the next five years, and the initiative will expand its number of target countries. This includes a $60 million investment for research on food loss and waste reduction. At least $25 million of this will be allocated to Tufts University to lead a new Feed the Future Innovation Lab for Food Systems Nutrition.  
USAID has committed to a number of new partnerships and initiatives. The agency announced Gender Responsive Agricultural Systems Policy (GRASP), a new three-and-a-half-year fellowship program for African women policymakers. USAID committed to investing $38 million in the expansion of food fortification and will launch a new food-fortification partnership with the Bill & Melinda Gates Foundation and UNICEF. Additionally, USAID is joining the Global Nutrition Funding Alliance, an existing collaboration between the US International Development Finance Corporation (DFC) and the Eleanor Crook Foundation. DFC has set a five-year goal of providing $1 billion in financing for food security and agriculture projects.  
The US joined two global coalitions: "School Meals: Nutrition and Education for Every Child," and "Food is Never Waste."  
The Council will continue monitoring progress towards these commitments as future global moments like Nutrition for Growth transpire.
Delivery from the District
This post is a part of our "Delivery from the District" blog series, which analyzes the implications of executive and legislative policy on global food security.
Government Relations Intern
Daniel Harris is a government relations intern for the Center on Global Food and Agriculture.
Former Assistant Director, Government Relations
Gloria Dabek was formerly the assistant director of government relations within the Center on Global Food and Agriculture. While at the Council, she developed publications oriented toward policy solutions for global food and agriculture challenges and lead outreach and education to both congressional offices and the administration.