Profiles of Power: Biden, Xi Discuss "Competition Without Conflict," Climate

While Biden and Xi met in Bali, the UN's COP27 climate summit in Sharm el-Sheikh is being re-energized by the discussion between the world leaders.
The global community saw quite a moment today when Xi Jinping and Joe Biden were in the same room: The President of the United States and the most powerful man in the world.
Xi Jinping doesn't need to worry about midterm election results, or opinion polls, or partisan political squabbles. He holds supreme power in China, ruling over more than a billion people with few checks and balances.
Over a period of many years, Biden has met Xi on numerous occasions, the Democrat meeting the authoritarian. But today's meeting on the sidelines of the G20 summit in Bali was their first face-to-face encounter since Biden was elected President, and Xi strengthened his own position last month, at the 20th National Congress of the Chinese Communist Party.
Today's meeting highlights one of the biggest tensions of the 21st century: China's challenge to the American superpower; and the necessity for these nations to cooperate in fighting climate change.
Competition not Conflict
President Biden is proud of the rough and tumble of democracy. And at a press conference after his meeting with Xi, he began by highlighting the results of last week's elections as "an emphatic statement that in America the will of the people prevails."
The contrast with China was obvious. Xi's highly orchestrated party congress saw him win an unprecedented third five-year term as leader of the Communist Party and break numerous established precedents as he handpicked the top team which surrounds him. He is the most powerful leader in Beijing since Chairman Mao.
The congress also reaffirmed explicitly in the party constitution that to question Xi is to question the party itself. And that is a matter of national security.
How Xi chooses to wield this extraordinary concentration of power matters hugely to the United States, and to the rest of the world. The news so far this decade has been dominated by the twin shocks of the COVID pandemic, and Russia launching Europe's worst war since 1945. But China's rise, and its challenge to the United States, is still one of the stories which will define the 21st century.
Biden needs to figure out how to deal with Xi's version of assertive Chinese nationalism. After today's meeting, which lasted for three and a half hours, he described their conversation as open, candid and blunt. And he went out of his way to emphasize that "I absolutely believe there need not be a new Cold War with China."

Since he took office, though, his administration has treated China as a growing economic and military threat. And while Biden has said his own approach to China is based on "competition not conflict," he now has to decide — to put it bluntly — if he really thinks Xi feels the same.
China's President certainly has plenty of internal problems to deal with. The Chinese economy is slowing, its population is ageing, and youth unemployment is stubbornly high. The zero-COVID policy, which has received Xi's personal backing, is unpopular with many Chinese citizens and problematic for foreign investors.
But Xi has shifted focus. For most of the last thirty years, China has been geared towards growth first and foremost. Now national security — in all walks of life — has replaced economic growth as the central theme of Chinese policymaking. Making the securitization of everything the top priority is a huge change.
A more self-sufficient "fortress" economy is being built, although its reliance on imports of semi-conductors remains a big challenge; there is a very rapid build-up of China's nuclear capability; and above all there is sabre rattling over Taiwan, a key US partner, which Beijing views as a breakaway province.
According to former Australian Prime Minister Kevin Rudd's bleak assessment in Foreign Affairs magazine, China is pursuing "increasingly assertive foreign and security policies aimed at changing the international status quo." Xi Jinping, he argues, is now "preparing for China's renewed long-term struggle against the old enemy: the separatists in Taiwan."
How far and how fast will that develop? No one can say for sure. Peaceful reunification with Taiwan is still the official goal in Beijing, but the use of force has never been ruled out entirely. Concern is now growing in many quarters that if Xi wants to cement his place in Chinese history, he may be tempted by a military option.
The Biden administration's assertive pronouncements, that the United States stands ready to defend Taiwan should it come under attack from China, have upped the ante. But today the tone was more measured. Our "One China" policy has not changed, Biden said, adding that he did not think there was any imminent move on behalf of China to invade Taiwan.
It was a deliberate attempt to cool the temperature, and there are now encouraging signs that some of the hostility of recent months may be easing just a little. A Chinese statement described the meeting in Bali as "thoroughgoing, frank, and constructive," although it warned that the issue of Taiwan was "the core of China's core interests… and a red line that cannot be crossed in the China-US relationship."
Resuming Climate Conversations
Biden's more measured tone, coming in a week when the UN's COP27 climate summit is taking place in Sharm El Sheikh in Egypt, was well timed. Rising tension in recent months has had a direct impact on the other story defining the 21st century, one which is unfolding alarmingly quickly. The brutal truth is that the fight against climate change will struggle to make meaningful progress unless the United States and China cooperate.
They can of course make progress separately, and they are. The United States has passed the Inflation Reduction Act, unlocking hundreds of billions of dollars in spending on a green transition. The failure of a red wave of climate-skeptical Republicans to win office this month offers further encouragement.
For its part, China is forging ahead in the race to install renewable energy. Last year it installed more offshore wind than the rest of the world put together, and there are good reasons to be confident that trend will continue.
There was little mention of climate policy at the Communist Party congress, but the drive to enhance China's renewable energy capacity dovetails with President XI's focus on security and self-sufficiency. Beijing needs to reduce dependence on the oil imports which arrive by sea from the Middle East, an obvious strategic vulnerability.
So, no matter how bad bilateral relations become, both Washington and Beijing will continue to spend big on decarbonization. It is a process which does not grind to a halt when the United States and China aren't talking. But this is a global emergency, and it demands a global response, coordinated by the two largest economies, and the two largest emitters of greenhouse gases, in the world.
Both countries know they must work together on climate issues. At the UN's COP26 climate summit in Scotland a year ago, the American envoy John Kerry and his Chinese counterpart Xie Zhenhua surprised everyone by issuing a joint declaration committing their countries to climate cooperation.
But the goodwill didn't last long. China suspended official talks on the climate crisis, and many other formal exchanges with the United States, after a visit to Taiwan in August by the Speaker of the US House of Representatives, Nancy Pelosi.
As the mood darkened, a series of scheduled meetings in September, on critical issues such as methane emissions, clean energy, and reforestation, were canceled. And at the COP27 summit in Egypt this week, the big news was that Kerry and Xie met at all, for what were described as informal conversations.
It is too soon to say whether the meeting in Bali may have unlocked any significant movement on climate policy, but the ground appears to have been laid for more intensive contacts to resume. That in itself is to be welcomed, even if another surprise announcement looks unlikely.
The road will always be rocky, because the United States and China are destined to be rivals for global power and influence. But the climate crisis transcends bilateral competition, no matter how big the players are.
More must be done to rebuild confidence throughout the relationship, and setbacks are all but guaranteed. But if leadership is the need of the hour, this meeting may have been one where both men delivered.
Related Past Event Video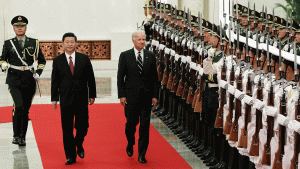 Former Australian Prime Minister Kevin Rudd discussed the foreign policy objectives of the United States and China and how these superpowers can prevent competition from sparking a conflict.
Writer and Former Correspondent, BBC News


Chris Morris is a writer based in London. He was a BBC correspondent for 30 years, based in Europe, the Middle East, South Asia and the United States. From 2017-2022 he was the BBC's Reality Check correspondent, leading the BBC's on-air fact-checking service.


Explore Related Commentary & Analysis