The Pandemic is Not "Over" for Everyone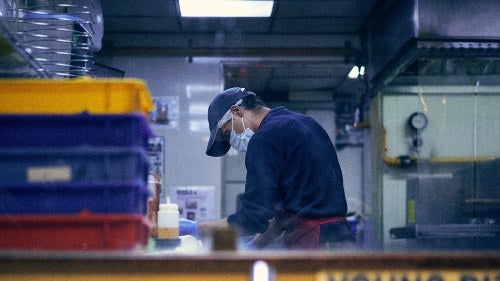 President Joe Biden declared an end to the public health crisis, but many racial minority and lower-income groups around the world haven't moved on.
Recent Council polling shows that the proportion of Americans who regard the COVID-19 pandemic as a critical threat has halved since August 2021. Only one in three continue to see the pandemic as a critical threat to the vital interests of the United States (32%), and public attention has turned towards other issues like inflation and the Russian invasion of Ukraine.
Americans are not outliers in this respect. In Ipsos' 28-country Global Advisor poll, COVID-19 was only the thirteenth-most worrying topic in October, after having topped respondents' list as recently as February. However, not everyone has moved on from the pandemic. Racial minorities and people with lower incomes, who face disparities in access to health care, remain considerably more concerned.
Black and Hispanic Americans More Likely to View COVID-19 as a Critical Threat
A majority of Black Americans (64%) and a plurality of Hispanic Americans (44%) continue to view the COVID-19 pandemic as a "critical threat" as opposed to an "important but not critical threat" or "not an important threat." Only one in five white respondents (22%) agree.
These views are diverging: the gap between Black and Hispanic Americans' views and white Americans' views of the pandemic is nearly twice as large as it was in 2020. While this pattern holds true for any party preference, Democrats' views have diverged the most. Black and white Democrats held virtually identical views on COVID-19 in 2020, but Black Democrats are twice as likely to name the pandemic as a critical threat (75%) in 2022.
This widening gap in opinion may reflect disparities in how Americans from racial minority groups experienced the pandemic. Black and Hispanic Americans faced hospitalization and death rates that were roughly twice that of white Americans through summer 2022. This is attributed in part to disparities in health care; Black and Hispanic Americans receive less effective and affordable health care on average and are significantly less likely to be insured than white Americans. These gaps are most acute for Black Americans, who express the highest degree of concern with the pandemic.
Lower-Income Americans Twice as Likely to Perceive COVID-19 as a Critical Threat
Americans' views of the COVID-19 pandemic also vary significantly by income. While two-thirds of those making less than $10,000 a year (67%) view the pandemic as a critical threat, less than one-third of those making more than $100,000 agree (27%).
The 40-point gap between the poorest and wealthiest Americans is almost seven times larger than it was in 2021 (6 percentage points). Among the lowest-income Americans, concern did not decrease between 2021 and 2022, compared to a 31-point decrease among the highest-income Americans.
This makes sense, given that the pandemic revealed wide disparities in medical access between wealthier and poorer communities. For example, while 97% of the highest-income communities had local ICU beds in 2020, only 51% of the lowest-income communities did.
COVID-19 also had a larger financial impact on lower-income Americans. Lower-wage workers are more likely to work in industries like hospitality and construction, where few jobs can be performed remotely. As a result, widespread job losses during the period of social distancing contributed to a more protracted and pronounced drop in incomes. Furthermore, one year into the pandemic, the Kaiser Family Foundation found that 35% of low-income Americans (whose households make less than $40,000 per year) considered COVID-19 to have had major negative impact on their mental health, compared to 17% of high-income Americans (whose households make more than $90,000 per year).
Broadly, Black, Hispanic, and lower-income Americans are worse-served by the American health care system, which has made them more vulnerable in a public health crisis. Public opinion suggests that these disparities have been deeply felt; these groups remain more apprehensive about the pandemic even as other Americans have largely deprioritized the issue. As the country moves on from the pandemic despite their concerns, they are at risk of being left behind again.
Racial and Income Differences in COVID-19 Perceptions Are a Global Phenomenon
Evidence of deeper concern about the COVID-19 pandemic among racial minorities and people with lower incomes is not unique to the United States. This is not surprising, given that the United States is not the only country that struggles with discrimination and disparities in its health care system. For example, gaps in health care during the pandemic have also been documented in countries like Britain, France, and Canada.
In the Arab Barometer's survey of 12 countries in the Middle East and North Africa, for instance, one in three individuals whose households face significant financial difficulties are very concerned about the pandemic (33%), compared to less than one in four individuals whose households are financially stable enough to save (24%). Furthermore, close to two-thirds believe that the coronavirus has a more harmful impact on those who are poor (65%), as opposed to an equal (18%) or less harmful impact (8%).
In Australia, data from the Lowy Institute Poll show that immigrants from Asian countries and their children (who make up the bulk of the country's nonwhite population) have felt less safe since the pandemic began. Among Australians with at least one parent born in an Asian country, the percentage who felt safe was nearly 40 points lower in 2022 than in 2018, compared to a 25-point drop for Australians whose parents were both born in Australia. While Australians' safety likely reflects many factors, the largest decline was recorded in the 2020 survey, following the emergence of COVID-19. Asian Australians' diminished feelings of safety likely reflect concern over both contracting COVID and incidents of discrimination, including racially motivated attacks. In 2020 and 2021, nearly two in 10 Chinese Australians reported being physically threatened or attacked because of their ethnicity (18%).
The COVID-19 pandemic did not spare any segment of society. Yet that does not mean that it was an equalizer: across the world, disparities in health care access, financial impacts, discrimination, and other factors have shaped different (and more severe) pandemic experiences for racial minorities and lower-income groups. For many, those gaps have contributed to an elevated, persistent sense of threat from COVID-19. As more countries declare the pandemic "over," their concern merits attention.
Public Opinion Intern


Phillip Meng joined the Council in September 2022 as an intern on the public opinion team.